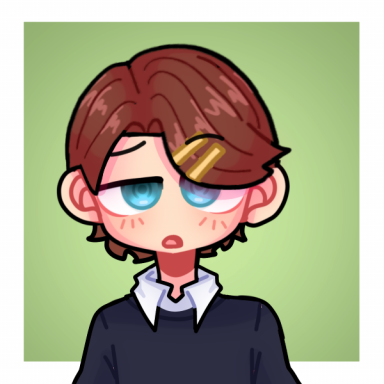 they/them
Original poster
Invitation Status

Look for groups
Posting Speed

Multiple posts per day
Writing Levels

Intermediate
Advanced
Adaptable
Preferred Character Gender

No Preferences
Genres

Fantasy and sci-fi!
The Bianchi group worked out of an old part of town, the sidewalks lined with cobblestone and iron wrought fences. Pinned by progress on all sides, the neighborhood was preserved by militant groups of history buffs, some of them funded by Orland himself. It was well worth the cost, if you asked him-- It kept the surrounding streets quiet and clean, exactly the kind of neighborhood that cops wouldn't come looking for trouble in. Orland always made very, very sure he was the only trouble his town ever saw.
Across the street from Kennedy Park, overlooking the antique playground, was the Bianchi building. Once inside, the historical atmosphere didn't fade. Filled with over-large leather chairs and giant, creaking desks, the only concessions to modernity were the necessities for day to day life: phones and computers, mostly. Orland's private study, however, had banned even that. His single exception was the safe under his desk. (Orland himself had first cracked an antique safe at 17. He wasn't risking it.) Other than that, there wasn't even a book on his shelf that been published after 1950. His lieutenants often joked that even the dust was older than Orland.
However, the familiar fantasy of the old-school gentleman mobster couldn't brighten Orland's mood today. The past few months had been one power struggle after another, which had culminated in one of Orland's best informants, a cop by the name of Cisco Davis, no longer taking his calls. Orland could have forgiven that-- the man had a family after all, and Orland considered himself a reasonable man --but there were whispers that Davis had been seen with a couple of the boys down on 18th Street.
That
Orland couldn't ignore; They were a gang without a name, none of them powerful or brave enough to pin their face to their movements, but they had become a constant thorn in Orland's side. No amount of bargaining or intimidation had made them respect the boundaries of Bianchi territory, and now that had someone in their ear, feeding them everything known about Orland's operation. Something had to be done.
While it would have been very easy to wipe them out, something in Orland hesitated at what amounted to slaughtering teenagers play-acting at being gangsters. After all the things he had done trying to make a better place for the kids of his city, he couldn't turn his back on them at the first sign of trouble. He had one last message for them, and if they took the hint, all of this could go away.
He would have to kill Cisco Davis.
Not himself, of course. And there was no way Orland could ask his own men to kill him. A gangland hit on a local unranked detective would only draw attention to his dealings within the force. It had to be subtle, and whatever his boys were, subtle wasn't it. Left with very little in the way of options, Orland had to make the decision he hated most.
No, for this one, Orland had to call in Casper.
It wasn't that Orland disliked Casper-- the opposite, in fact. He enjoyed Casper's company when business brought them together, and he had nothing but appreciation for the man's skills. The work Casper had done for Orland was indispensable to creating the empire Orland reigned over today. Which was exactly why Orland hated asking him to do it again Ever job Cass did for the Bianchi Group only made it more and more obvious to anyone who bothered to look the nature of the work he did.
And, God help him, how important he was to Orland.
Orland had decided a long time ago, during one of his endless nights debating his own morality, that the only way to make up for his own evils was to make sure no one else got hurt when his house of cards inevitably came tumbling down. His inner circle, the men who had been by his side since he'd started this game, were just as lost as him, but the younger men and the consultants... Orland could shield them from the worst of it, if it came to that. There would be sacrifices at times, yes, but no cop in the world would go after a goon when the center of the web was offering himself up as a prize. It meant a lot of stupid decisions, and would surely mean his end came far before he was due, but that was a risk Orland was willing to take.
When the ever-sticking door to his office began to groan, protesting being forced into usefulness in its own age, Orland pulled himself up from his slump until he resembled the man in control he was supposed to be. "Mr. Lauri-- Good afternoon. Please come in, make yourself at home. I trust you found no trouble on your way here?"