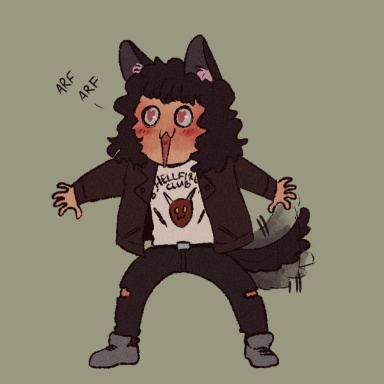 My sun sets to rise again.
Original poster
ADMINISTRATOR
Roleplay Invitations

Group Roleplays, One on One Roleplays, Chat Roleplays
Posting Speed

Speed of Light, Slow As Molasses
My Usual Online Time

It varies a lot depending on my schedule, unfortunately.
Writing Levels

Adaptable
Genders You Prefer Playing

Primarily Prefer Male
Playing Style- Passive or Aggressive

I play what's needed, but I do like to take the lead. In my one-on-ones, I often like being the "Game Master" in the sense of creating the setting, controlling NPCs, and steering the plot. But I still like input and collaboration from my partners. In group games, I prefer to be the GM or to play a leading or mentor role.
Favorite Genres

I love a little bit of everything. My top choices would be Horror, Modern Fantasy, Urban Fantasy, Magical Realism, Noir, Steampunk, Cyberpunk, Splatterpunk, Post-Apocalyptic, Historical, Mystery, old-school High Fantasy, and Sci-Fi (especially Spacesagas). I'd love to do some occasional Clockpunk or Weird West or Wuxia or Dieselpunk, too.
Genre You DON'T Like

I guess the only thing I don't particularly care for is high school drama, and even that can be fun with a good hook.
This is a thread for reporting anything you believe to be a bug! We have just updated the forum to a whole new software version, so there are bound to be errors. Please post ALL bug reports here for the time being.
LIST OF KNOWN ISSUES (CHECK THIS LIST BEFORE POSTING):
Some BBcodes may be broken! Please DO NOT report BBcode issues here. Go to this thread instead.
Some permission settings may be broken. Please DO report any issues you have with viewing or using thread, post, or other tools.
The styles are not finished. Please DO report anything that causes visibility issues.
The Ads Manager and roleplay ad banners are currently unavailable. There is an error that is top priority to fix, don't worry.
Some Google Fonts are not displaying correctly.
The bump tool for threads is not compatible with 2.0. We are working to find a replacement but there is currently not a viable option. :[
Signatures are displaying full size rather than collapsing. We are also trying to fix this, but until then, please use smol signatures and do not stretch the page. Signatures now auto scroll if they are too tall.
Post ratings got eaten in the database transfer. We unfortunately can't do anything about this one. They still are counted towards your ranking for most likes on the Members page, but may not all appear on your posts or on your profile count. UPDATE: Post reaction counts for profiles should now be FIXED. Some reactions still did not transfer over, specifically those from deleted users or those given to posts by deleted users.
Custom site styles are no longer a thing because the new version of UIX does not include a style chooser. To make up for this, new site styles are on the way! We'll be adding a variety of color styles to go with our greyscale options. (ALSO CLOWN FIESTA.)
Prefixes for Inbox Conversations didn't make it, but you can now create categories!
STAR FORUMS ARE CURRENTLY NOT ACCESSIBLE. We are working on a fix for this but this one was a major nasty surprise. Please hold tight, this just became top priority. Go

here

to get this fixed!

Character Gallery bio fields are not displaying properly, but don't worry! They're not lost! We'll have them up as soon as possible. Bios are now visible! There is still an error with the field phrases though.
"Restricted" Clans are hidden to everyone except specific usergroups (currently, none). If your Clan is set to Restricted and you can no longer view it, contact an Admin for help.
Alerts are given for every new post reaction. Until this is fixed, you can turn off notifications for reactions in your Preferences.
Sidebars and conversation info may not be displaying in Firefox. Chrome and IE display correctly.
Dice roller and results are not displaying. They SHOULD still be in there, however, so we'll get those back soon. The new dice roller could not transfer the data in to the new system - HOWEVER the data still exists. If you need dice roll records, give us the post id for each roll and we can get that for you.
Zero Star is not hiding the star forums from the index.
Ban reasons now show on profiles and not on banned members' posts. Their posts are not greyed-out and their avatars are not removed. We lost this addon.
After leaving conversations, they still count towards the category tally.
The Ignore Forum function got lost. Currently no viable alternative addon.
Element Clans have reverted to gender selections. We'll switch this back ASAP, since we can't remove this field. GUESS WHAT? WE CAN FINALLY DELETE THIS. It is kill.
BbCode in Profile Posts is currently turned OFF due to a massive error. It will return once that error is fixed.
LIST OF KNOWN STYLE ISSUES
Roleplay resumes are squished and cut off in the thread view (below avatars).
Thread prefixes at the top of the forum index are scrolling endlessly to the right rather than moving to a new row. Fixed.
Mobile does not have an easy way to access your own profile from the dropdown menu.
Thread export is cutting off at 3000 posts. The cut off is now 300,000 posts. If that is not enough, damn.
Alert flags on mobile do not show unless you click the menu.
Conversations are squished.
Block notices are appearing below thread titles and tags.
There is a huge empty space on mobile between the user info and the post field for posts.
Last edited by a moderator: