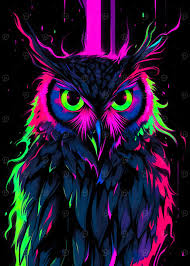 RADIOACTIVE OWL GHOUL
Original poster
ADMINISTRATOR
MYTHICAL MEMBER
Invitation Status

Not accepting invites at this time
Posting Speed

1-3 posts per week
Slow As Molasses
Online Availability

10AM - 10PM Daily
Writing Levels

Adaptable
Preferred Character Gender

Female
Genres

Romance, Supernatural, Fantasy, Thriller, Space Exploration, Slice of Life
I woke up in the morning with a hangover and twenty questions. My shadow looming over me like one of those old creepin' coroners in the old west. Gabbin' at me before I could even down a cup of coffee. Not even my ex wife talked that much. Though, the woman barely spoke three words to me before I left...

It doesn't matter. She disappeared in the blink of an eye. My shadow, not my ex wife. Can't be too sure where she vanished off too, but I'm grateful for the time to think. I got a family looking for a missing girl, and I'm not too sure how many missing dames I can juggle at once.​
Sebastian Fox was sitting in his office, nursing his sixth cup of coffee during the rainy October afternoon. The skies outside were so overcast, one could mistake it for evening. But he was keeping an eye on the clock. He needed to get out of his office. Strewn across the top was a layer of papers. Lists of names with all of the people currently residing on the island. Photos where he could get them. Addresses of business. His journal near toppling off the far edge and being balanced precariously by a jar of pens.
Last night had been a joy. A real humdinger. Not everyday a shadow pops up asking for help. But he already had one missing girl to deal with, looking for the identity of a shadow with no memory wasn't high up there on his list. His coffee mug clonked on the desktop as he pushed away in his chair. Sebastian shrugged on his jacket, warily looking around his office for that shadow again. She'd be around here somewhere. He wasn't lucky.
Sebastian stepped out of his office in to the drizzly afternoon.