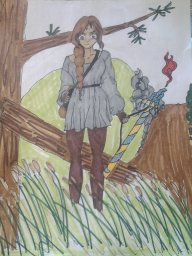 Authoress
Original poster
LURKER MEMBER
FOLKLORE MEMBER
Invitation Status
Posting Speed

Speed of Light
One post per day
One post per week
Slow As Molasses
Writing Levels

Intermediate
Adept
Advanced
Adaptable
Preferred Character Gender

Male
Female
Transgender
Primarily Prefer Female
Genres

Fantasy, Romance, A bit of horror, magical, and almost everything.
Vampires had always prided themselves on being hidden from the world. They waited until the night to prowl, always killed swiftly and cleanly, and never ever let their victims live. Cristina Vasile was extremely proud of her ability to leave no witnesses. She was the best at stealthily feasting, known throughout vampire circles as the best of the best. At least, until that night. Cristina Vasile had been thirsty and went out to find a victim when she met
Eren Young. She started her routine, leading Eren Young away without raising alarm. However, as soon as she tried to bite the girl, she had a horrible reaction to the blood. Cristina Vasile didn't know that Eren Young was anemic, nor that such a disease existed. Since she couldn't kill her, Cristina Vasile decided that she would nurse Eren Young back to health so she could properly drain her and not ruin her perfect record. What could go wrong?
It was a calm night in the bustling city of Walsenburg. While activity burst from the different bars and clubs, there seemed to be no incidents. Everyone was simply having a good time. No criminals seemed to be lurking about, no crimes alerting the police that trouble was afoot. For once in a long while, everything was peaceful. No one noticed the creatures out hunting that night, too absorbed in the night life that Walsenburg had to offer.
Eren Young had always loved to dance. Even when she was just a baby, she had always had to be moving. So, it was only natural that her late night area of choice was a well-known club in the heart of the Walsenburg night life. She held onto a drink, some kind of fruity concoction the girl she was trying to woo liked, and danced on the floor with a pretty dark haired girl. In Eren's eyes, the girl's skin was the perfect compliment to her pale figure, the ebony to her alabaster if she got all poetic. She wasn't sure if the girl was simply drunk or actually interested in her, but the young red head was going to take the chance. After all, it was simply fun. No harm done.
"Are you all right?" The girl, taller than Eren, asked as she noted how Eren was puffing through her smile. "We can go sit down if you'd like?" That was a plus to the red head. A caring girl was always one of the best girlfriends, in her humble opinion.
Giving a fox-like grin, Eren shook her head. "No, I'm alright. I wouldn't give up dancing with a pretty girl like you for anything." She turned her charm on, the silver hoop in her nose twinkling under the club's lights. Her ripped skinny jeans hugged her legs as she moved closer to the girl she was dancing with. Her muscle shirt bounced underneath her leather jacket. Bad girl, many a people would call her. If it got her the catch, then a bad girl she would be.
The girl seemed to take Eren's answer at heart, downing the rest of her drink and setting it some place before going back to Eren. The red head discarded her own drink, moving her hands to the girl's hips. Her hands hovered for a moment before placing themselves there, pulling the girl in front of her towards her body. The two seemed to almost grind against each other, a sexual tension tinting Eren's vision. Oh yeah, this could possibly work!
"Babe, there you are!" And it was all ripped from her grasp. The dark skinned girl abandoned Eren in favor of kissing some guy. Oh. So she was straight. Damn it. "What were you doing, Bae?" The man asked, throwing his arm around the girl as they started to move to the music.
"Just dancing with a new friend, but I think I'm ready to leave." And a double kill! Eren could only watch as the couple walked out of the bar, staring at the girl who she thought had been really interested. Sighing, the red head sulked back to the bar area of the club. She grabbed a shot, tossed it down, and returned to the dance floor. Not drunk in the slightest, the red head let her limbs fly as she danced to the music, not bothering with the fact that fatigue was starting to taint her night. Nope, if she couldn't get the girl then she was going to have a fun night regardless. She swung her hips to the beat of the song, dancing on her own despite the groups surrounding her. She was alone, with no one to worry about her if she were to suddenly disappear.
Last edited: