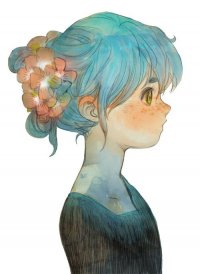 Starlight Keeper
Original poster
Roleplay Invitations

Group Roleplays, One on One Roleplays
Posting Speed

A Few Posts A Day
Writing Levels

Intermediate, Adept, Advanced, Prestige
Playing Style- Passive or Aggressive

Both; depends on the character really.
Favorite Genres

I really like modern roleplays, especially hings involving romance and family. I also love fantasy, especially anything involving magic, mythical creatures, or gods and goddesses. Fandoms are nice, if I can play an OC. Since history is one of my passions, I like doing historical roleplays, mostly renaissance, 1800's, early 1900's, ancient civilizations, and anything wild west-like or based on pioneers. I do like Sci-Fi, mostly dystopian with some sort of rebellion or strict customs, something like that. I also like roleplays that take place in space if they have a good explanation of the universe that it takes place in. I'm not a big fan of horror or mystery, unless the horror is a sub-element to something else.
Genre You DON'T Like

I don't really do much libertine, only because I have no experience in that way... >.< Nothing without some kind of drama in one way or another. In other words, something that has perfect relationships and a perfect life. I avoid anything where the GM creates an over powerful character and I don't do fandom roleplays if they're only canon characters, unless it's a canon next generation that hasn't been explored: Naruto and Harry Potter for example. I can't stand utopian anything because human nature is just not perfect and I won't do anything with just male characters or yaoi. I have nothing against it, I just don't do gay males as opposed to the fact I do lesbian females. I also won't do fantasy without some kind of magic or magical element.
1x1 Between

~Happily.Ever.After~
and
Felilla
The Carre family has long since been the owners of one of the largest publishing companies in the world. They are public figures with ties dating back to the prestigious upper-side families of the 19th century and for the most part, they are a close-knit group. But the world is never that black and white. Behind the scenes lays heartbreak, drama, and yes, love.
The recent tragedy of the deaths of the matriarch and patriarch of the family, Jane and Darwin, and their oldest daughter, Chantel, have brought the family and their affairs back into the spotlight. This also means that attention has been brought to all those associated with the family.
But through blood and through water, they will survive this difficult time.
They always do.
Theme:
Saturn
by Sleeping at Last​