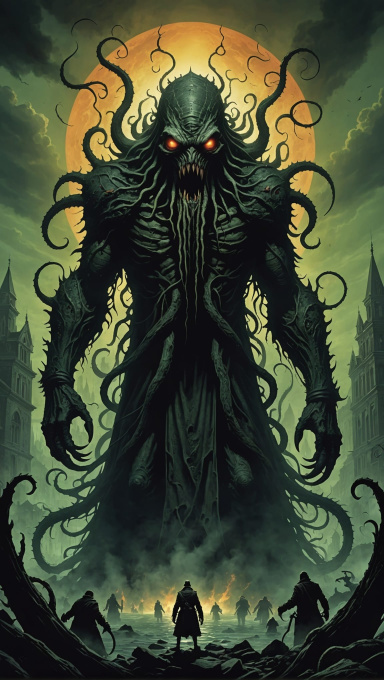 Waiting for Wit
Original poster
SECURITY DEPARTMENT
FOLKLORE MEMBER
Invitation Status

Looking for partners
Posting Speed

1-3 posts per day
Multiple posts per week
One post per week
Slow As Molasses
Online Availability

On fairly regularly, every day. I'll notice a PM almost immediately. Replies come randomly.
Writing Levels

Adept
Advanced
Preferred Character Gender

Primarily Prefer Male
No Preferences
Genres

High fantasy is my personal favorite, followed closely by modern fantasy and post-apocalyptic, but I can happily play in any genre if the plot is good enough.
All his life, Careth had done his best to avoid listening to the strange voice that whispered in his mind. His mother had one, as had his mom's father, and probably his father before him. Everyone in his family knew that the voice only ever led to trouble. All the same, as Careth grew older, that task became harder and harder. Back when he had been a child, the voice, Idir, as it called itself, had only spoken on rare occasions. In those instances, it was easy enough to disregard what it had to say. But, when Careth had become a teenager the voice had started talking simply to talk. Or, perhaps more because it began to realize that Careth had a harder and harder time not listening the more it talked. Sometimes Careth would respond just to get it to shut up.

"You listenin', Doe?" Careth flinched, ducking his head to try and cover up the grimace of frustration that had involuntarily crossed his face. Back when he had just been a kid, before he had started running with the Red Arrows, Careth's mother had called him deer-eyes, in reference to his large, soft brown eyes that always seemed so kind an innocent, even when Careth was plotting. The one time he had accidentally let that slip to one of the gang was all it had taken; before the evening was out the name had spread all over the group. It hadn't taken long after that for people to start calling him Doe.

"Yesir." Crow, a glowing nineteen year old, gave him one final look before continuing on the plan. After many years as a kid gang, the various members of the Red Arrow were getting old enough that they were starting to look a threat to the bigger gangs. Crow was making plans to gather together a large tithe to appease whichever gang came first, and then make a bid to join in.

They are coming.

"Be quiet!' Careth hissed.

"You got som't to add, Doe?"

Careth flinched again. "Nosir."

"Then keep your gorram mouth shut and get to work."

Despite being 18 years of age, Careth still looked barely older than fifteen. Combine that with a little bit of dirt on his face, a hack-job of a hair cut, a solid limp, and a slight quaver in his voice, Careth was still one of the most successful beggars in Elosa. If you put it just in his own age group he was the best ten times over. Of course, Careth could find other lines of work, but he had a tithe to pay, and it seemed a poor idea to push his way into a new field when he had one that already paid well enough for him to give his dues to Crow, and still have a bit left over.

The gang of young adults scattered, and Careth went with them. They split up through the streets, some heading towards the rich quarters, others heading towards the slums, and the rest, Careth among them, making their way to the market. Some there would steal merchandise, some would pickpocket, some would try and beg.

By this point, Careth's routine had become so familiar that he could practically do it in his sleep. As he got closer to his usual busy corner, a place he was able to defend because of his age and his ties with the Red Arrow, Careth slowed, affecting a twisted foot and a limp. He knew the game well. Be desperate but polite, never make the mark feel guilty, always accept food with grace, and eat it while the mark is still looking, and take full advantage of blows or shouting. Pity was one of the greatest motivators.

The one problem with falling so completely into a routine was that Idir always seemed to take it as the perfect opportunity to start bothering Careth.

Your life is about to change.

Shut up.

Just over half an hour from when Careth had started begging, a giant, rich looking man passed by. Careth moved forwards, soft-eyed and pleading. The man was clearly rich, and just as clearly in no mood to tolerate beggars. Dragging his leg, Careth moved forward slowly. "please, sir..."

"Out of my way, filth!" The man's bodyguard moved forward at the man's gesture, and struck Careth across the side of the head. Careth threw himself sideways just an instant before the blow struck, getting the full sound but easily quartering the force. It looked good, and it left little more than a faint sting across his face. It wouldn't even bruise. In an instant Careth's eyes filled with tears, most of them faked, prepared to graciously accept the courtesy of whoever came to aid him.

They are here.

Careth looked up in surprise, eyes still filled with the fake tears, right into the chest of a finely bred horse. On his back had to be by far the finest man Careth had ever seen. Out of the corner of his eye, he could see the other members of the Red Arrow, circling in close with greed filled eyes. It wasn't hard to imagine what was happening. This was one of the Lords, the members of a powerful and magic family who ruled somewhere around a third of the valley. There were others behind the horse in front of him, all likewise mounted. Every single one of them was staring right at him.

Stand up.

Shut up!

"This is the one we are looking for? There must be some sort of mistake."
Last edited: