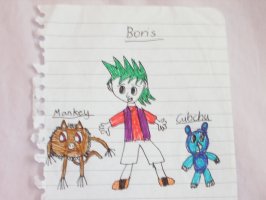 Edgeknight
Original poster
List of Bleach canon characters you can play as in the rp if you want.
Gotei 13
1st Division Captain: Shigekuni Yamamoto Genryusai:
1st Division Lieutenant: Chojiro Sasakibe:
2nd Division Captain: Soi Fon:
2nd Division Lieutenant: Marechiyo Omeada:
3rd Division Captain:
3rd Division Lieutenant: Izuru Kira: ME
4th Division Captain: Retsu Unohana:
4th Division Lieutenant: Isane Kotetsu:
5th Division Captain:
5th Division Lieutenant: Momo Hinamori:
6th Division Captain: Byakuya Kuchiki:
6th Division Lientenant: Renji Abarai:
7th Division Captain: Sajin Komamura:
7th Division Lieutenant: Tetsuzaemon Iba
8th Division Captain: Shunsui Kyoraku
8th Division Lieutenant: Nanao Ise:
9th Division Captain:
9th Division Lieutenant: Shuuhei Hisagi:
10th Division Captain: Toushirou Hitsugaya:
10th Division Lieutenant: Rangiku Matsumoto:
11th Division Captain: Kenpachi:
Rainier Ashton Bernhardt
11th Division Lieutenant: Yachiru Kusajishi:
12th Division Captain: Mayuri Kurotsuchi:
12th Division Lieutenant: Nemu Kurotsuchi:
13th Division Captain: Jushiro Ukitake:
13th Division Lieutenant: Rukia Kuchiki:
Other Main and Minor Bleach canon characters you can choose to RP as
Ichigo Kurosaki:
Karin Kurosaki: ME
Yuzu Kurosaki: ME
Isshin Kurosaki:
Uryuu Ishida:
Ryuuken Ishida:
Orihime Inoue:
Chad Yasutora:
Tatsuki Arisawa: ME
Keigo Asano: ME
Mizuho Asano:
Mizuiro Kojima:
Ikkaku Madarame: ME
Yumichika Ayasegawa:
Hanataro Yamada:
Ganju Shiba:
Kukaku Shiba:
Kisuke Urahara:
Yoruichi Shihouin:
Rurichiyo Kasamioji:
Kenryu:
Enryu:
Shu Kannogi:
Senna:
Kusaka Sojiro:
Ashido Kano: ME
The Vizords Characters list. You can choose to rp any of their characters as well.
Shinji Hirako:
Hachigen Ushoda:
Rojuro(Rose) Otoribashi:
Love Aikawa:
Hiyori Sarugaki:
Lisa Yadomaru:
Mashiro Kuna:
Kensei Muguruma:
__________________________________________________________________________________________________________________________________________________________________
If you want to be a character in the rp from either of those lists or characters from more than one list just let me know and I will put your name beside the characters from the list that you want to play.
If you want to rp an OC just post the name and description or your character here.
If you want to do both canon characters and OCs that's great too. Just let me know.
Also concerning the character lists
The Gotei 13 list, as some of you who are pretty far along in the bleach anime who are RPing in this roleplay are aware, some of the characters
aren't in the gotei 13 anymore such as Yamamoto, Sasukibe, Ukitake, and Yachiru. But I put those characters in the list still for those who are beginning with the anime. I am setting the plot's timeline to be after Aizen, Ichimaru, and Tousen's defection from the soul society though. So those three characters are in the Espada list instead and left the 3rd division, 5th division, and 9th division captain slots in the gotei 13 without any particular character name beside the rank.
________________________________________________________________________________________________________________________________________
Last edited: