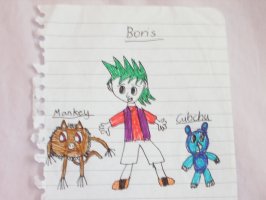 Edgeknight
Original poster
LURKER MEMBER
FOLKLORE MEMBER
Invitation Status
Posting Speed

Multiple posts per day
Writing Levels

Beginner
Elementary
Intermediate
Adaptable
Preferred Character Gender

Male
Female
Genres

anime and modern mostly
but fine with any genre i guess
After several months of battling, which before then was pretty much a war of battles that lasted for about 3 years, things were starting to return to normal for Ichigo and all his friends in Karakura Town, as well as for the soul reapers and the soul society. Or so it seemed. After the defeat of the full bringers group, Ichigo was able to regain his soul reaper abilities, but Karin's powers had reached a higher level during the time Ichigo didn't have his soul reaper powers due to using the final getsuga against Aizen, and they remained at that level even after Ichigo got his powers back with the help of Rukia, Byakuya, Renji, Toshiro, and the others. And this meant that now, Karin was probably just as strong as her brother was at the start when Rukia first introduced him to the soul reaper power and the duties that came with it. But it wasn't just Karin.
It didn't fully begin for her until her's and Karin's 13 birthday, but after recieving a necklace with a pendant that was passed down to her from her mom, her mom having instructed her dad to give the necklace to Yuzu when she turned 13, Yuzu also had a change in her spiritual powers, and she was now able to see the hollows more frequently and more clearly, instead of just off an on like before. She didn't know why it took so long before her abilities reached the level where she could see what they were dealing with that entire time and be able to help out. But even if she had no clue what had changed in her from that day and the present day, Yuzu now could see them and finally do something about it, or to the very least help Karin, or even Jinta and Ururu in the battles against the hollows.
And up in the Soul Society, for the time being, Rose, Shinji, Kensei, from the Vizards group, were back to being captains now for the 3rd, 5th, and 9th divisions. So now at least Izuru Kira lieutenant of the 3rd division, Momo Hinamori lieutenant of the 5th division, and Shuuhei Hisagi lieutenant of the 9th division had a steady ground to stand on so they could recover from all that happened, now that they each had a steady leader to follow again who could help the three of them in handling the weight, instead of Izuru, Momo, and Shuuhei having to handle it all on their own, like what all fell onto their shoulders the moment that Gin Ichimaru, Sosuke Aizen, and Kaname Tosen deserted them all that day, no one knowing at the time, nor to this very day that it was really only Sosuke who was the real deserter and Gin and Kaname were just taking it into their own hands to try and stop him, and therefore followed off after him, even though Gin and Kaname failed to stop Sosuke's plans themselves, and Ichigo ended up being the one that had to defeat Aizen in the end and kill him.