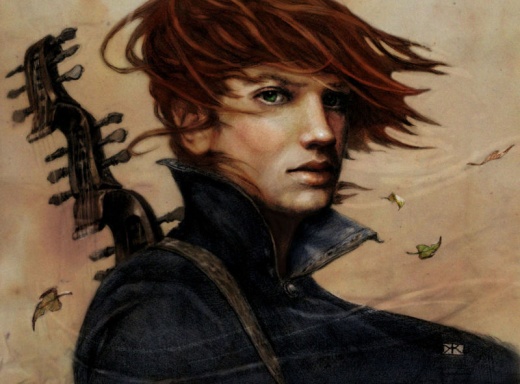 A Warrior in a Garden
Original poster
Roleplay Invitations

Not Taking RP Invites at this Time
Posting Speed

A Few Posts a Week, One Post a Week, Slow As Molasses
Writing Levels

Adept, Advanced, Prestige
Genders You Prefer Playing

Male, Female, Primarily Prefer Male
Playing Style- Passive or Aggressive

Both/Either
Favorite Genres

Fantasy, SciFi, Modern, Magical
The sliver of the waning moon cast a dim light upon the village below, illuminating little. Here and there, orange beams of light ebbed against the evening sky, the lanterns flickering gently in an unseen breeze. Save for the odd patrolman, the streets bore no activity; the incursion of the Westerners and the influence they had brought with them had left the country in no small state of unrest, and those who otherwise wished to avoid any violence at all were as a rule locked within their homes well before the curfew.
Perhaps it is unfair to say the streets bore no activity. A pair of figures stood on opposite ends of a block, facing one another in positions of defense. Two orbs, piercingly red, glared daggers at the man that stood before them. Irritating little bug, with its irritating little stinger. It needed food, yes; food enough to sate the hunger for a few precious seconds longer. Safer food. Weaker food. Other-
With a sharp howl, it stepped back, clawed hand clutching at the stump that was moments before its other. It took a step back, hesitant, and blasted out a desperate and angry cry.
G͙͈̘̜̻͓Ì͏̴̮̠͚̻̘̬̦̱V̸̙̲͡E̷̫̰͚̥͝ ̡̜͓͙̘M͓̦͠E̢̹̱̮̲͎̙͈ ͏̘͍́͞F̥̙̳͕̱̫͠O̼̝̩͔͔̘̯O҉̷͏͙̞̞Ḍ̰͘
"Sorry," came the stupidly calm reply. "You'd only get a stomach ache."
The little bug, the
Shinigami
, vanished, its stinger with it. Suddenly the world exploded from behind the bleached white of the grotesque mask, blinding and damning pain tracing its way down between the piercing red orbs, straight through its razor-filled jaw. Agony tainted fury followed it, but it did not remain. Instead the fury softened, fading, carrying the pain away as tranquility bled through and filled the emptiness it had sought to fill with others. It-
she
exhaled deeply, and like falling into bed beneath a mountain of blankets, she disappeared from the World of the Living to be greeted in the Soul Society. Sheathing his Zanpakuto sword, the Shinigami called Shinji Fujikawa merely stared at the emptiness it left behind, face expressionless but eyes hard.
"This is stupid."
Still apparently uncomfortable in the long robes of the captain of 2nd Division, Captain Shihōin raised a hand to her neck, driving away the blossoming itch that had grown only more persistent. Despite being the newest promotion in the Gotei 13, she bore no hesitation in speaking out.
Thirteen persons lined the generous space of the Captain Commander's Hall, each of them wearing varying cuts of a white coat, and each coat bore a unique symbol on its back, specifying to which Division each captain belonged. Most stood at some form of military attention, while a few lounged. One, a man of apparent age wearing a long beard, sat upon a high backed chair, shoulders squared and back bent, the very picture of power and frailty. On one side, another man cleared his throat.
Captain Miyamoto was perhaps Shihōin's opposite in every way. Male to her female, experienced to her amateur, restrained to her brazen. Even in appearance, they were different: his pale skin clashed appreciably against her own dark tone. He bowed his head minutely to his neighbor in the formation of captains.
"Captain Shihōin," he addressed her, irritatingly abiding by formality despite their equality in rank, "I can assure you that it isn't. 3rd Division keeps records of Hollows in every regard we can, down to their length of stay from their time of change from a Plus to their time of cleansing."
"And I can corroborate," came the raspy addition from Captain Ukitake. He paused, covering his mouth in the crook of his arm as a fit of coughing incapacitated him. The others waited, some shifting awkwardly, until he gathered his composure. "Apologies. As I was saying, 13th Division has seen a decrease in Hollow contacts of late as well. My guess is that they are sheltering in Hueco Mundo and avoiding the World of the Living, though for what reason, I couldn't guess."
From the floor, a small voice broke in. The 6th Captain lounged in her spot, propped up on her hands as she leaned backwards.
"Then let's not just guess!" Captain Kuchiki's tone was chipper as ever. It drew her some disapproving if long-suffering looks, but all remained silent. Kuchiki continued. "Let's get a team together, yeah? Go poke around their stomping grounds and see what's going on."
"That is not how we do things, Lemara. You know this quite well."
The single figure not standing aligned with the others in their formation, the Captain Commander held the 6th Captain in a steady, blank gaze through blades of stark white eyebrows. His voice was harsh and cutting, torn and rebuilt by long ages of combating threats against the Soul Society. The room echoed gently with a chorus of quiet creaks as more than a few of the captains shifted uncomfortably in their places, and Kuchiki was no exception. Her mouth snapped shut against any retort, and eyes downcast, she stood to a respectful position. Genryūsai Yamamoto slowly shifted his gaze from one captain to the next, and no one dared meet his eye. Ostensibly his equal, they knew well that whatever the 1st Captain said, went. And there would be no arguing it.
"I think I need not spell out for you what this could mean, if it be a sign of the worst." Hand lifting from where it had rested atop its brother on his characteristic staff, the Captain Commander gestured beyond them, toward the doors, and to the world beyond. "The Hollows are but wayward Souls: if not for our own cleansing, we might otherwise be them ourselves. Remember: we fight them to heal them, and their true destruction is as much a cause for concern for us as would the true demise of one of our own.
"Meet with your seated officers, everyone. Prepare them for what may come, that we not be caught unawares." Slowly his staff raised and quickly descended, and the resulting clack against the wooden flooring raced passed them with ferocity. "They have been notified. Now, to your posts! And may the Soul King guide us."
Another Hollow cleansed. Yet another Soul filled with unrepentant sin forgiven. A job well done, as ever; routine, but necessary. Shinji turned and walked away, trying to avoid thinking too much about it. Behind him came the telltale shouts of one of the humans, calling for assistance; the inexplicable destruction such a battle usually resulted in garnered immediate attention, usually, and the so called "police" of the human world would be responding quickly, even despite the late hour. Shinji gave a glance over his shoulder, the edge of his mouth tightening in consideration. Not too long ago, these men would be dressed in rough parallel to himself. Now, they wore strange uniforms, with pants and shirts fitting too tightly on their bodies for his own liking. And they carried strange weapons, some of them, not unlike their cannons, only in miniature. 12th Division has reported that these "rifles" loosed miniature shot called "bullets". But that was for Research and Development to concern themselves with; he still needed to be on the lookout.
It had been a slow night. At least three Hollows would have been dispatched by this point on any other night, but the moonlit streets seemed preternaturally quiet. Gathering strength in his legs, he leapt to the peak of a nearby house, finding a point of balance from which to survey. It was an uncomfortable feeling, to expect- well, not disaster so much, but a certain level of danger, only for that expectation to not be met. It was like expecting one more stair step, only to find that you'd reached the top already.
S҉h̫͎̮͚̬̲͟e̹̦ ͕w̳̱͍a҉͉̭̟̳s̟̦̼͖ ̜̯͔̪m̱̲̯̺͖̰ͅy͝ ̯̰̲̖̪̮ņ̬̰̼̮̮̯̲e҉x͔t͔̝̭͡ͅ m̴̜̣͉è͉̥̜a̞͕͓̱̤̺͖l͎̹̦̭͙̥,̬́ ̶y̼̩ͅo̜̱̟͇̣̤ͅu̝͚͙ k͏̣̘̙̗͈̤n̗͇͇̪̠̞̣o̝̰̘͙̫w.̴̝̜ ̤͎̬S̪̞̻̪̹̜̠͟h̝͈̟è̥̺̙̣ ̖w͉̬͍̹̲̠a͇s̨̹̩͓͙̯ ̲̘g̨̘̺̳o̴i̷n̡͎̬̤̩̙̭g͓͈ ̰̩͕t҉̭ǫ̹̲̖ ͞b͚̹e ̺̭t̰͕̼̫̙͜ͅas̱͎ṱ̭͎͙̟y̫̪͇.̵ ̵̻̜̝̗̪̩
Shinji spun, his Zanpakuto Akuma coming loose from the sheath to point at the strangely composed voice. A creature stood some twenty feet away on the same rooftop, hunched and bowed, yet quite obviously hiding an intimidating girth that likely rivaled one of the Seireitei's mighty gates. Still bearing the desperate fury of the damned in its tone, this Hollow yet indulged in
conversation
, and with a Shinigami it no doubt meant to try to eat. Tongue tracing the inside of his teeth as he tried to work out
why
exactly it had done so, Shinji gestured at the beast with his blade.
"Why not go find another weak Hollow to snack on, then? Why pick a fight with me?"
T̛̜̩h̖̩̲̖̟e͠r̵̘̘̭͇̭e͕͎͕͍͉̣̠ ̞i͙̦͕ͅs̵͎ ̖͖͍̤p͚l̪̫͉̹ea͔̟̗̦s͙͉̫͉͚̲͖u̘r̰̩͉e͓͚̺̳͕̙ ̞̬̤͔̦̕i̘̰̼͞ǹ͉̰̰͍̱ ̱̱͜a͢ ̵̹͎h́u͏͎n̸̠̪̩̪t̟̜̳̹̺̙͡,͚͍̭͕̝̜͠ ̺̼̖R̤͉̹̩̳͇͕͝e͚͙̘͜ap̷͕͙̣ͅe͈̬r̯̜̩̳̟̤̗;̼̦̥̱ ͍̫̼͚͟s̯̠̝u͍͈͈r̀e̟̞͓̖̘̦̞ḻ͖̲̘y̴̥ ͘y̮̦̝̘̤̘͍o̬͕̼͚̭u̺̰ ̙͕͔̖̠͘k͏̯̠͎͚͕̤̞ņ̬͓o̖̬͖̺̳͈w̴̳ ̴͎̭̖̣ͅț̨̱̝͕͉̲h̹̪̞̖̞i̞͓̭͍̜s̙͎͔̀.̗̳̟̯̤͔ ̳̝̣̟̮̠T̢̝ͅo͓̣ ̘̺̮͔b͓̝͉͈̲̖e̪͖̙͜g͉͙̘̰̻͖͘i̞̱̭̳͙̬͞ņ̹̫̼ ͇̜̮f̤̱̣͉̭r͇̬̗̘ͅͅo̺͠m͙̺ͅ ͕̭̠̜s̟̙̠̜̱̥͝ͅc͇͜r͙̪̦̬̮̝̩ąt̩̠̞͖̜̥̯c͚̙̠͖̕h̵͓̼̖̦͓̣̮ ̵͔̗̹͙ͅi̝͉͉͔s̸̩̙̟̱̖̝̯ ͟.̴̜̼͇̼͓..̡̣̹̩̙̪͕ ̦͈t̻̝̙i̜̩͚̦̟͔ͅr̢̙e̫s͍̪̩̫o̞͞m͎̮̦̞̼̥e͏̥̣̯̮̥.͉͈̞͚̰͍͢ ̛͍̮̠
"Fine, I get that." Mentally, he tried to squash the twist his stomach was doing at the comparison. "Still, instead of eating something else, you came to me. Hollows don't normally do that."
R̻̪̫͉e̩͇̝̬͢g̛̳̰r͎͚͍̜̟͈ͅe͕t̥t͙̳̼̭̬́ḁ̖͇b̺͡l̳̻̥̣y,͎̪̩͖̭͔̀ͅ ͇͖̣̣̝w̬e͞ ̸̭͈̮͓͕̖t̤̱̪͇̣̗w̺o͓̖̪̼͎ͅ ̫̦̩̗̀a͜r̶͖̻e͇ ͙̘n͕͕o͈͓t̜̱̞̤̮͕̩͘ ̧̙̗̺͍ṭ͔̼̯̻̱͙̕h͕̥̳ẹ͇͎ ̯͓̮͖̪̯o̸̰nl̫̺͢y̗̼̘͇̤ ̶͈͈̟̼̙H̺̙͙͇̦͔̝̀u̹̫͉̱͕̙͕n̙̳̫̜t͚͎̜͓̼͖͘e̠̦̫̙̣͍͙͘ṟ̟͡ͅs̺̬̘̹,̼͇͍̻̬͇͍ ̭͙̬͈̣a͓͉̖̠̖̮͎̕n̜͍̙̖̜̜̳d̙́ ̭̜̙̝͈̙̞͞ę̩v͈̤̩e̶̫̣n̢̼͖ ̝̭ẃ̳̱̙̱͍̗e̹̟̗̳͇͍̗ ̡̟̻̖̝H͔͉͚̭̗͈o̜̱͕̟̘̼͝l̳l̺̠͙̤̕o̘̘̖̖w ̯M͇̣̼͔̹̯̠a̦̮y̴̦̼͍̼ ̘̞b̨̮͖e̳c̗͉ọ̜m̖̗̫͍͓̞̹͟e̥͔̗̼̳͜ͅ ̤͇̙̮̻̩p̠̹̠͜r͉̭͇͡e̜̝͈̩y͎̱̣̣̪ ͚̻͙̩t̗̳̰͖o͔̰ ̟͚̦͎a̦͇͖̹̭̬̜n̴̫̜̗̼̥͕ ̖̳͇͍͕o̻͙̪̘ͅu̴̗t̛͔̰̫͉͉s̭i͏̬̤d̳̘͖e͉̪̯͙̻r̦̺̝̩̳̦.
It grimaced. Or perhaps it smiled ruefully through the maw of ragged teeth. It traced a line vertically down its mask, the gesture obvious in intent.
̻̼͎̖͓͚C̩͍͍̰̭ͅḷ̞̹̫̱͎ẹ̙̳ạ̰͉n͏̙̜̟̜̠ͅs̢i͍̖n̬͉̺̼̼ǵ͖̹̯͉ ̪̠̩͔̞i҉̘s̴̮̦ ̘̳̦̺a̤̭̭̬̺͕f̖͚͔͈̳̖t̳͎͔̯͍͎͝e̕r̦̜̬ ̰̲̪̦̥a̜l̨͇l̠̮̗̹͟ ̠̙̜̝t̩̖̭̫͍̱͉͡h̳e̢͙ ͈͎p͎̼rḛ̥̪f̩̫͢e̜̥̠͘r̴͎͎̦͕̘̝a͓͍̝̣̗͓b̼̙̘̩̼̲͈̀l͚͙̭͎̠͉e̢ ̞̱̙̙o͚̗̲̹͚̫̯͝p̻̫ṭ̺͚̳̜i̤̝̗̭͠o̡̠͉n҉̗̖.̠̟̠͞ ͉͍
Akuma lowered in Shinji's hand as his face twisted in confusion. What was going on? A Hollow sought to be killed? Such an act would cause the damned Soul to lose its identity as such in favor of regaining its Whole cognizance. But it seemed to know this. To think it better than-
"The preferable option to
what
, exactly?"
In apparent answer, the Hollow's mask cracked into pieces as fine as sand, an unnatural blue light filling the spaces between. The light seemed to shove the pieces away, for the mask shattered. Screaming in terror filled agony, the Hollow collapsed to the rooftop. The mask gone, Shinji could see it's exposed face. Frozen in horror, the widened eyes of a old man perhaps 80 years old stared up at him, and between those eyes was a hole the diameter of a fishing pole. The body lay still for the briefest moment before a kind of accelerated rot seemed to take it, destroying flesh and bone in the span of seconds before there was nothing left but ash.
Stunned, Shinji had merely stood where he was, unsure of what to do. As the Hollow finally faded from existence, a shadow broke off from its surroundings and dropped to the street level. Shouting a
Halt!
, Shinji gave chase, and though he was on the street mere moments later, there was no sign of anyone. Scoffing in frustration, he turned his head as the soft sound of a bell rang in his ear. A Hell Butterfly, black as jet and almost unnoticeable in the darkness, flew to his shoulder, bearing the Captain Commander's news and orders.
Good. Maybe someone might actually have answers. Gesturing to his sudden companion, Shinji followed the Butterfly through the gates that led back to the Seireitei that had suddenly appeared in the air, leaving behind for a moment his patrol in favor of finding out just what the hell it was that was going on.
Here we go! Use your first post or two to set up some characterization for your characters, and feel free to build and use NPCs as needed! I'm going to be posting another GM post in two weeks or so to give people time to give themselves a foundation. At the end of your second post, please have your character be heading to meet with the captain, as instructions will be divvied out to each Division in the best GM post.
Thanks! Looking forward to getting this off the ground!

Greenie

Nemopedia

SkittlesAndSpike

Doctor Jax
Krag_Jorgensen

Kuno

Aero Blue
Last edited: