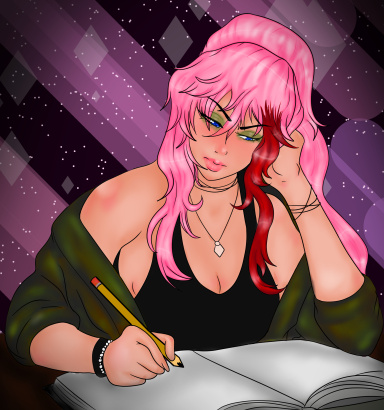 Yandere Queen
Original poster
Hiya! I got my hands on a really nice art tablet so I'm setting up shop!
About Me:
I've always loved drawing and art and have dabbled in commissions before but never devoted most of my time to it. I have a chronic injury which has recently gotten bad enough I am unable to do traditional work, so I find myself with a bit more free time.
Style and Services:
My style is anime and I am offering digital artwork. You may use my art as you like so long as you give credit and do not use it for commercial purposes. I reserve the right to post the art on social media. You may also post to social media as long as credit is given.
Will Do:
-Male and Female characters
-Nekomimi
-Mild Gore and Horror
-SFW and NSFW* (NSFW content may or may not be accepted depending on request)
-OCs and Fanart
-Furries
-Real people in my style
Won't Do:
-Graphic Gore
-Mecha
-Animals
-Detailed Backgrounds
Pricing and Options:
Depending on the complexity of your request the price may increase. I only accept PayPal for payments and I require payment in advance. I will not begin on your request until payment has been received. Unfortunately in the past I have had people skip out on payment so I must insist on this. I only require payment of the active commission so if you're on the wait list you don't have to send payment until I'm ready to begin your piece. Everything is priced in USD.
Chibi-
Sketch bust/Headshot - $3
Sketch full body- $5
Line art bust/headshot- $5
Line art full body- $8
Full color headshot/bust- $8
Full color full body- $10
(Flat color + $3 / +$5 on full body)
Sketch:
Headshot/Bust- $8
3/4th Body- $10
Full Body- $15
Lineart:
Headshot/bust: $15
3/4 Body: $18
Full Body: $20
Full Color:
Headshot/bust: $20
3/4th Body: $25
Full Body: $30
Multiple characters will increase price depending on difficulty or request.
Examples:
Active Commission:
-OPEN-
Waiting List:
1. [EMPTY]
2. [EMPTY]
3. [EMPTY]
Please feel free to chat and comment here. You can request a slot here but I will send a PM to you to get the details for your order. I often stream while I'm working so I will be sure to let everyone know when my stream is online.
My Stream:
BitterBats - Picarto
Tumblr:
Tumblr
​