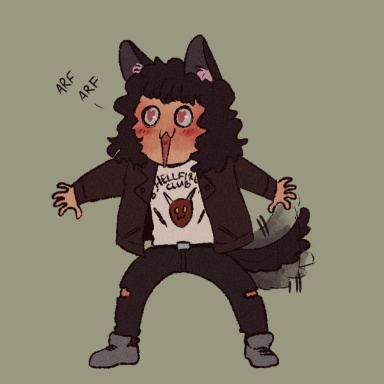 My sun sets to rise again.
Original poster
ADMINISTRATOR
Roleplay Invitations

Group Roleplays, One on One Roleplays, Chat Roleplays
Posting Speed

Speed of Light, Slow As Molasses
My Usual Online Time

It varies a lot depending on my schedule, unfortunately.
Writing Levels

Adaptable
Genders You Prefer Playing

Primarily Prefer Male
Playing Style- Passive or Aggressive

I play what's needed, but I do like to take the lead. In my one-on-ones, I often like being the "Game Master" in the sense of creating the setting, controlling NPCs, and steering the plot. But I still like input and collaboration from my partners. In group games, I prefer to be the GM or to play a leading or mentor role.
Favorite Genres

I love a little bit of everything. My top choices would be Horror, Modern Fantasy, Urban Fantasy, Magical Realism, Noir, Steampunk, Cyberpunk, Splatterpunk, Post-Apocalyptic, Historical, Mystery, old-school High Fantasy, and Sci-Fi (especially Spacesagas). I'd love to do some occasional Clockpunk or Weird West or Wuxia or Dieselpunk, too.
Genre You DON'T Like

I guess the only thing I don't particularly care for is high school drama, and even that can be fun with a good hook.
Welcome to the special Summer 2019 iteration of BITE: the Biannual Iwaku Tale Event!
BITE is a short story (or "tale") writing contest that is usually held twice yearly: once in the Fall and once in the Spring. Members of Iwaku are challenged to write a tale based on this season's prompt. Two winners are chosen at the end of the contest (one by community vote, and one by the judging contest managers' consensus).
Both winners will receive cash-value prizes by way of Donator perks and
actual cash prizes
for the Manager's Pick!
---
SUMMER 2019's theme is...
SUMMER BYTES
Your tale should include elements of SCI-FI as well as a theme of NOSTALGIA. You don't have to be 100% scientifically accurate, but we would like to see some advanced technology in there!​
You have three weeks to write your short story based on the prompt provided above. The submission deadline is the end of the day on June 21st; as soon as the date rolls over into June 22, entries are closed and late entries will not be accepted. Date rollover is based on the site's local time (North American Central/GMT-6). Send your entry via a single Inbox Conversation to all three BITE managers:

Astaroth

,

Diana

, and @Kitti.

There will be two winners: a Manager's Pick and a Community Pick.

The Manager's Pick, determined (obviously) by the contest managers, will receive a spot in our special Hall of Fame thread, a permanent trophy for their profile proclaiming their winning status, three months of Donator status (complete with perks) for free, and up to $25 USD worth of gift cards or straight cash transferred via PayPal.

The Community Pick winner will be selected by public vote and will win a spot in the Hall of Fame along with a trophy for their profile and three months of donator status.



Send completed entries in a single private message to all three contest managers (Astaroth, Kitti, Diana) with some sort of title that lets us know it's a contest entry.




All site members except BITE contest managers are allowed to enter. Anyone from a new member to an admin (assuming at some point there's an admin who's not a manager) can join the fun, it's all good.




Only one entry is allowed per person. You can submit a replacement entry if the submission period is still open, but we'll only count and post the most recent entry that we have from you. If your entry is denied for any reason then you can fix the problem and submit it again as long as the submission period is still open.




Entries must be written in prose and tell some kind of story, because that's what the contest is all about. Poems or screenplay format works will not be accepted. Entries written mainly in prose with small chunks of poetry are acceptable.




Non-fiction entries aren't allowed. Sorry, but BITE is a creative writing contest, not an autobiography contest. Feel free to write such things and post them in the Showcasing section of the forum if you'd like to try your hand at non-fiction writing.




This contest has a strict word limit of 10,000 words, but we suggest not going over 5,000 to be nice to voters and reviewers. Any entries that go over 10k words will be rejected. Entries that end up between 5k and 10k words will be allowed, but keep in mind that there may be a ton of entries and the people who want to read them all and vote and give feedback have lives outside of Iwaku that won't wait for them to read a few novels worth of entries in a week.




Entries have to fulfill any criteria required by the prompt. Some will tell you to use a specific theme or phrase, others might be more open and have you write something inspired by an image, but make sure to use any of the specific requirements or your entry will be denied.




Entries need to be original works created for this contest specifically, not something you wrote in the past. They also must be your own work because plagiarism is against site rules and defeats the entire purpose of the contest.




Entries should not contain characters, settings, or identifiable elements from your previous stories or roleplays. If we recognize it, chances are your friends and roleplay partners will too.




Entries may be homages, twists, or inspired by other works, but simple retellings with little to no originality added will be rejected.




Entries can't be posted elsewhere on Iwaku or off-site until after the voting period ends to avoid unintentional vote manipulation, but after it's done feel free to post them anywhere you like.




Collaborative entries are not allowed. Getting feedback or advice from people who are not Iwaku members, however, is fine.




BBCode post formatting is allowed for use in your entry, but we reserve the right to change things (particularly colors) if they would make it hard for people to read. We have a few different background colors thanks to the different site themes, and some colors are very hard to read on some backgrounds. If you aren't sure which colors are safe then please take a look at this handy guide. Also, we do not allow pictures/music/videos/etc to be embedded in entries, any entries sent in containing these things will be edited or rejected.




Your entry may contain sexual content, but it has to follow the normal Iwaku rule of no characters under 13 years old shown engaging in sexual conduct or involved in a sexual scene. Anything else is fair game, but it will be clearly marked in the voting thread as a story containing NSFW content and some people may choose to skip your entry because of that.




Giving your entry a title isn't required, but it's useful and encouraged. If you title your entry then we'll use it for the title of the spoiler your entry will be contained in in the voting thread.




All entries must follow all Iwaku site rules, obviously. Don't air your drama with other members in a story, don't write an entry to mock or harass other members, so on and so forth. Be cool and just have fun writing.




There will be two winners for each iteration of BITE: the Community Pick that receives the most votes, and a Manager Pick that will be decided in secret by the BITE managers. Each will receive separate but similar prizes for their accomplishment. Monetary prizes are awarded only to the Manager Pick winner in order to prevent giving an incentive to manipulate the vote.




The entry with the most votes at the end of the voting period will be declared the Community Pick for that month. However, if the community makes the same selection as the managers, then the second highest vote recipient will be named Community Pick; we don't intend to make the vote seem like it's playing second fiddle to our pick, it's just how it has to work so prize distribution makes sense when there are gift certificates or similar to be won, sorry! The winning entries will win fabulous prizes (fabulousness not guaranteed) and will win a permanent spot in the BITE Hall of Fame thread for all eternity (or until Iwaku explodes).




In the case of a tie in the public vote, each winner will receive the Community Pick prize package.




All entries will be posted anonymously. Voters will need to make a selection based on the quality of the piece, not the name attached to it.




You aren't allowed to tell anyone which entry is yours until AFTER the voting period is over. Doing anything to solicit votes is not allowed and will get you disqualified, and perhaps even banned from BITE altogether. Telling your friends "hey, I entered BITE, go read the entries and vote for one" is fine; telling people "go vote for #4, that's my entry" is not okay.




People who have entered the contest can vote, but they can't vote for their own entry or it may be disqualified. If you vote for your own entry by mistake and inform the contest managers of it promptly then we can do some shenanigans to fix it, but intentionally voting for your own is not allowed at all. Show some love to your fellow writers or don't vote, whatever feels right to you. Votes will be public knowledge so we can keep track of this.




BITE is a contest to see who can tell the best story. The managers will be mainly focusing on deciding which entry put together the best story, meaning which entry made the best use of the prompt and their own concepts and characters to put together a complete and satisfying plot. You are welcome to choose your own criteria for voting and for reviewing entries, but do keep in mind that this is a storytelling contest rather than a technical writing skills contest.




Voters are highly encouraged to read through every entry before voting. We know we can't enforce this, but try to give everyone a chance before picking your favorite.






Voters are highly encouraged to post in the voting thread to explain their choice. Full reviews or critiques of the entries are very welcome, but please keep any criticism constructive and civil. Telling someone that their spelling errors and odd word choice made it hard to read is fine, but telling them that they write like shit is not okay.




Number/letter grades are also highly discouraged as they tend to be arbitrary and to vary widely in interpretation. This applies to any form of comparative grading. It is better to list strengths and weaknesses from the rubric for each entry based on its individual merit rather than assigning a grade.




If you're unsure how to give good feedback or would like some more instructive guidelines on how to critique a written work, read Jorick's guide on the subject.
Last edited: