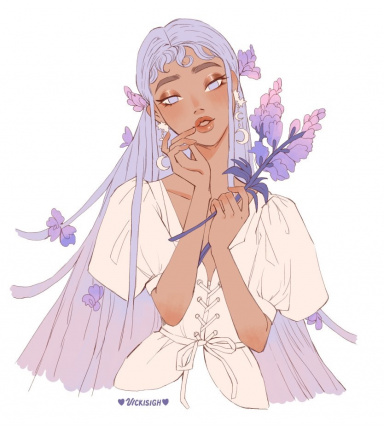 Rotten and Delicious
Original poster
LURKER MEMBER
FOLKLORE MEMBER
Invitation Status

Not accepting invites at this time
Posting Speed

Multiple posts per day
1-3 posts per day
One post per day
1-3 posts per week
One post per week
Writing Levels

Adept
Advanced
Prestige
Preferred Character Gender

Female
Nonbinary
Primarily Prefer Female
Genres

Fantasy, Horror, Romance, Yaoi, Magical Girl, Supernatural, Victorian Goth, Steam Punk
Isla
The city of Harthwaite seemed busier than usual as the bell at Archmouth's Grand Cathedral rang out. Civilians would notice it was several hours early, but this wasn't unusual given the time of year. It signified the start of spring break as students burst through the doors, their enthusiasm written all over their face. They were all excited at the nearly three weeks off from organized prayer, which felt more like drills than anything, and the tough curriculum. The break was much needed, and students from the other schools would be feeling the same relief as their school day ended prematurely.
Like all the girls, Isla was rushing through the doors and out into the fragrant spring air. The sun was shining brightly and there wasn't a cloud in sight, but Harthwaite was always the perfect temperature in spring. It wasn't too hot or too cold, but Isla kept a cardigan on to shield her from the occasional breeze. She walked forward through groups of girls all chatting away happily about their plans and towards her designated meeting spot underneath the trees.
Every day after school, Isla, or Fiorana would wait underneath the trees and walk home together. They weren't overly close, and some days were spent in silence, but Isla enjoyed the company since they were both housemates. At home, they were friendly and Isla appreciated more than anything having another witch around. Being that Archmouth's curriculum was anti-magic, anti-supernatural anything, sitting through hours upon hours of that could wear down any young witch.
Of course if it had been up to Isla she would be attending Rochdale or Berxely. Unfortunately for Isla, her parents requested she only attend a religious institute, wanting her to keep in good graces with the gods, or whatever since her entire existence may have been enough to offend them.
Why am I even thinking about that...?
Isla poked her lips out and sighed deeply. She had a good life outside of school, something she had to remind herself of whenever she started to get angry about attending Archmouth. All of her housemates, and BellaDonna herself were all positive influences in her life. But, the sooner Fiorana arrived the better.

Isla clutched her briefcase and scanned the crowds briefly. It was difficult to tell anyone apart since they were all wearing the same blue uniform and hat, but not many girls had a head of beautiful silver hair like Fiorana. There was no sight of her friend yet, but it wasn't unusual for either of them to be running a little late on any given day. She relaxed her shoulders and leaned back against a tree.

"Isla!"
"Hey, Isla!"
Two girls, one with blonde hair and another with curly red hair approached Isla cheerfully. Isla looked over with a smile, clearly glad to see them as she pushed off of the tree to greet them.

"Hey, Bonnibell. Elizabeth!"
Isla said, then tilted her head to the side curiously after a moment of silence. She wasn't used to seeing the two of them after school, their parents usually picked them up around the front of the cathedral.

"Oh, silly! You must have forgotten."
Bonnie laughed, wrapping an arm around Isla's shoulders. Elizabeth came around to do the same, giggling.

"Don't you remember? You invited us over to come hang out for spring break, since, you know... We've been bestfriends for three years and neither of us have even seen your room."
Elizabeth reminded, grinning wide.
"And you can't tell us no, because this is already set in stone. You promised, and daddy didn't come because I told him we'd spend the night with you."

Isla looked between the two, taking a moment to recall these specific events as the girls leaned all their weight on her. She snapped her fingers.
"Oh, yeah! B-But I don't know if today is the right day, since..."

"Come on! You promised."
The girls replied in unison, leaving Isla no choice but to give in to their pleas.

"Okay. Yeah, I'm sure the others would...love to meet you. We just need to wait for Fiorana, and then we can take the le-...lightrails home!"
Isla said, then almost slipped up. She only hoped the rest of the 'family' would be okay with the unexpected guests. BellaDonna wouldn't be back until later that evening, and surely she would understand. It's not like guests were forbidden, or anything.

"Amazing! Do you think Fiorana would let us see her room, as well?"
​
Last edited: