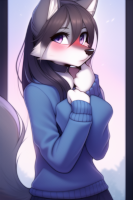 Hopeless Romantic
Original poster
This is a world where Flora and Fauna run rampant, large and strong. This is a world where humans and their allies live in large, fortress-like cities - walled from the dangers of the outside. This is a world where humans known as hunters venture out into the wilds to gather resources and slay the large creatures which cause problems. This is a world where your standard longsword is nothing more than a toothpick, and your weapon tends to be as tall as you are. This is a world where humans are not in control, but fight just like everything else.
However, in this world there is another calling. A strange one, not truly understood but very much respected. The Beast Tamer. Every generation, a number of younglings from the fortresses feel a call to leave into the wilds. This call grows as they do until it becomes too much, and they slip away in the dead of night to leave into the deadly wilds. However, the wilds do not devour them. They wander, following the call until they reach an old fortress, forgotten and overgrown. There the young ones meet one another, and also meet the master. They are trained for years in the ways of the greatest hunters, find the weapon that calls to them, and learn to be a champion of the people.
The last thing they learn, is how to raise and tame their beast. Invariably, a trainee will come across a baby monster in its path that will follow them no matter what. This is known as their companion, and will grow alongside the trainee. They learn to fight together, learn to live together, and they are connected by an bond unbreakable even by death. This is what a Beast Tamer is known for. After their training, each generation of tamers is a team, travelling between fortresses to help humanity survive.
And Beast Tamers are needed now more than ever. They have been found murdered in the wilds, by human hands. Systematically the population of tamers has been destroyed, and there are few left. Ancient portents speak of a great evil, preceded by the loss of humanity's greatest champions. There is no doubt in scholar's minds that this evil is on its way.. and the fate of humanity is no longer stable...
-------------
The players in this RP will play new tamers, in one of two starting scenarios. Either arriving at the fortress with their companion, and then a few training scenes, or skipping all of that to the start where they are fully trained with juvenile companions, and ready to leave. From there they will travel, slay troublesome monsters, pursue missions, and unravel the coming darkness.
If this interests you, please don't hesitate to drop your interest in a post! I am hoping for at least 4 people before I start an OOC (GMPC may or may not occur)

Thank you for your time!​