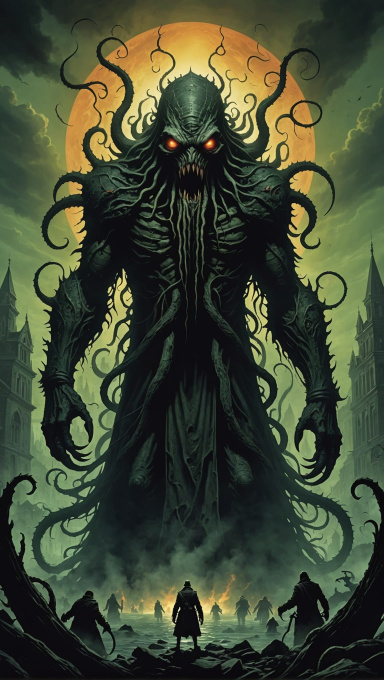 Waiting for Wit
Original poster
SECURITY DEPARTMENT
Invitation Status

Looking for partners
Posting Speed

1-3 posts per day
Multiple posts per week
One post per week
Slow As Molasses
Online Availability

On fairly regularly, every day. I'll notice a PM almost immediately. Replies come randomly.
Writing Levels

Adept
Advanced
Preferred Character Gender

Primarily Prefer Male
No Preferences
Genres

High fantasy is my personal favorite, followed closely by modern fantasy and post-apocalyptic, but I can happily play in any genre if the plot is good enough.

[spoili]
Around the turn of the 22nd century a small company run entirely by a group of highly talented, intelligent, and creative programmers created the TITAN System, and completely revolutionized the VR gaming experience. TITAN built and managed entire worlds using fundamental data given to it by the developers of the game. The worlds TITAN built were, like the real world, cohesive wholes, where changes made by both players and NPCs would have a lasting effect on the world around it. Each quest could be completed only once, and each reward was unique. TITAN was able to analyze the lore of the world, both the lore created by the developers and the player-created lore to create an infinite number of world-appropriate quests at various levels, tracking the changes that the players made and using everything to maintain a world that truly feels alive.

A decade later, and the TITAN System now runs and maintains all VRMMO gaming worlds across the entire planet. Contained in millions of servers, TITAN has grown far beyond the dreams of the original developers, and, with access to more data and computational power, has even grown in complexity. On top of TITAN's ability to build quests, it has several other core features that define the TITAN gameplay experience.
SKILLS: The skills and leveling system of TITAN works in reverse of the standard approach to MMOs. Rather than a player gaining experience, leveling up, and then distributing a limited number of stat points into predefined fields which have a very specific effect, players level up through an almost completely opposite method. Players gain experience in certain fields by using a skill, and become better at that particular skill the more it is used. A player's level is, therefore, a cumulative representation of their experience in all the skills present in a game.
Depending upon the type of game, the different available player skills can completely change. To best illustrate the TITAN system, I am going to exemplify a standard fantasy MMO, based off the RL game Skyrim. Every game has certain fundamental skills that everyone can learn. For this example, the standard skills shall be "one handed" "two handed" "unarmed" "block" and "archery". Any individual who wishes to pursue one of those fields must first learn enough to master the basics. Every person has these same requirements. However, after an individual has earned enough experience in one of these fields to have mastered the basic skill, it is possible to start branching out into more specialized fields. For instance, a player who gained enough experience in the "one handed" skill to have filled the basic skill would then be able to branch out into more specific styles such as "dual wielding" " slicing" "stabbing" "bludgeoning" and various combinations thereof. As players continued to learn more in the specialization, it would allow them to specialize even more. At a high enough experience level TITAN would start creating brand new branches based off of the player's unique combat styles, which it would be very probable that only they could pursue. However, if a player comes up with a brand new combat type at a lower level that is still appropriate within the lore of the world, it would be possible to submit it to the server and TITAN may turn it into a unique skill. For instance, once someone mastered the basics of one handed, they may be able to submit for a skill for "whips" as long as it fit in with the world lore. It would, however, be impossible to redistribute skills, as there are no actual points, simply learning. If a player wanted to change class, they would have to learn from the ground up.
​
MAGIC: As long as it is appropriate in the VR world, TITAN will implement a system of magic that is mostly consistent through the different games, with small variations to make sure that players cannot directly transfer the skill from one game to another. Like physical skills, players must learn the basics of magic, and then they can begin to specialize. All magic is summoned and targeted through ritualistic hand and arm motion, where the player's fingers trace symbols and patterns in the air and a spell will be triggered that way.
Unlike most RL games, where players learn a spell and are then able to execute it as long as they have enough MP, TITAN does not have individual spells, but rather requires players to build spells through a system of runes. Individual runes are very small and simple, based off of a gesture that can be completed quickly and simply. However, true spells cannot be cast with only a single rune, and these individual runes must be woven together, with themselves and with other runes, in repeating patterns to have a strong effect that could be called a "spell". It is possible to show someone a spell through the combination of runes, which could be viewed as a "rune" in and of itself. However, it is also possible for players to experiment and build their own spells through combinations of runes that other people haven't attempted yet. Along with players needing to actually learn the combinations of runes in order to cast a spell, they must also have the requisite knowledge in that kind of magic. If they do not have the knowledge required for the spell, it will cast but fizzle before completion, as opposed to simply failing to cast. There are also certain kinds of runes that cannot be cast unless the player has completed a quest to "earn" that rune. Each rune has a unique branch at the top of the "magic" skill tree, and successfully casting that rune increases the player's experience.

In order to make sure that all games provide a challenge in learning magic, the meaning of the different runes do not transfer from game to game. Luckily, to avoid player confusion in transitions from game to game, once a player successfully casts a spell the pattern is saved in a player's "spellbook", and they can select that spell and bring up a pattern that they can then trace in the air. Other players cannot see the trace, but are able to see the runes the player leaves behind in preparing to cast.

​
MAGIC SUBSTITUTES: If magic is not appropriate for a world, or if the game requires more options for magic-like skills, TITAN is able to create other systems that use different methods to achieve similar effects. "Alchemy" and "Enchanting" are two common ones, although there are others. Unlike magic, which can be cast anywhere, magic substitutes require specific tools to prepare things before they can be used. However, magic substitutes are completely different skills from magic, so in a world where both magic and magic substitutes exist a player who is good at a specific spell would not necessarily be able to enchant an object with that spell. They would have to share the spell with an enchanter, who would then enchant the object with the spell.

NPCs: In order to bring the world to life TITAN fills all game worlds with NPCs, who are like characters in a story. Each has a unique personality and behavior traits, and when they die they cannot come back to life unless resurrected. NPCs also do not contain dialogue loops and are able to keep track of the passage of time. However, while it is undoubtedly possible to have an extended conversation with a NPC that is not necessarily directly related to their quests or businesses, it is always possible to tell an NPC from a PC because of more limited reactions and conversation bounds. If a conversation strays too far outside of an NPCs programming, it will change the subject.
Of the numerous games that fill the TITAN playspace, here are but a few that are particularly well-known.
Djinni: Darkness of Ages Past




After being driven from their ancestral home thousands of years ago by a rampant, bloodthirsty demonic hoard, the Djinni moved across the sea, and the few survivors ultimately built a thriving metropolis. But now the population has grown beyond that which the land can handle, and the thoughts of the population have turned towards reclaiming their former home. Since that time, brave soldiers have been sent across the ocean, to join in the fight against the demons, rebuild their lost land, and eventually find a way to defeat the King of the Demons, cross the range of mountains that separates them from the north, and end the threat of demonic invasion forever.

Choose selected traits from among the 24 different elemental djinni species* to build a completely unique character, and then plunge into a world of swordplay and magic. Complete grand quests, fight monstrous opponents with your friends and guild-mates, build and manage cities, craft powerful weapons and armor, rediscover magic long lost to the ages, and become a renowned soldier to be remembered through the ages.

* The 24 elemental djinni species:

Earth :

Brown

. Water :

Royal Blue

. Fire :

Bright Orange

. Air :

Light Grey

. Metal :

Silver

. Plant :

Dark Green

. Light :

Gold

. Shadow :

Dark Purple

. Ice :

Light Blue

. Lightning :

Aquamarine

. Arcane :

Magenta

. Smoke :

Dark Grey

. Beast :

Tawny

. Life :

Light Green

. Death : [BCOLOR=#ffffff]

Black

[/BCOLOR] . Blood :

Red

. Bone :

Ivory

. Sun :

Yellow

. Moon : [BCOLOR=#000000]

White

[/BCOLOR] . Void :

Purple

. Spirit : [BCOLOR=#000000]

O

p

a

l

i

n

e

[/BCOLOR] . Night :

Blue Black

. Day :

Yellow White

. Crystal :

Rose Pink

Title

Content under construction

Title

Content under construction

Title

Content under construction
[/spoili]
Despite the fact that Alyssa Summers always managed to maintain her grades and get to class and work on time, everyone who knew her even moderately well called her addicted to games. Alyssa, or Tage, her preferred name and most common gaming handle, ultimately cared little for what her family and school friends might have to say about her habits. It was her life, and she would make her own choices. She would do whatever made her happy.
That was why, when Tage began to refuse to touch the TITAN headset, her family was not just worried, they grew downright alarmed. She grew listless and despondent, hiding in her room, staring at the ceiling with eyes rigidly locked wide in a state of seemingly perpetual alarm. Yet, though her terror was obvious to her parents, her younger brother, her teachers, her classmates, and her friends, Alyssa refused to speak about what was bothering her, just as she refused to touch her once-beloved headset.
After two weeks of this behavior, it was a relief for Alyssa's parents when they woke up one Saturday morning, went to check on their daughter, and found her limp in bed, eyes fluttering behind the purple visor that rested on her head. She had re-entered the game world. Her family still had no idea what had happened, but Alyssa had gotten over it. Things had returned to normal. Soon enough they would once more be able to start griping that she played games too much, that she needed to go out into the world and make real connections, just as it was supposed to be.
For the past two weeks Tage had been in denial, but it had been more than a simple refusal to re-enter the world of her beloved virtual realities. It had been a denial that she was afraid to go back in, that she was afraid of what might be waiting for her there. When she finally accepted that she was afraid, and that if she didn't do something she would never go back, that was when she was once more able to put on the headset.
For a moment her hands had trembled so bad that she hadn't been able to plug the thing in, but finally, still faintly shaking, she had succeeded, laid back in bed, closed her eyes, taken a deep, shuddering breath, and initialized the connection between her headset and the TITAN universe.
She didn't even recognize the familiar sights that greeted her as the headset woke and ran through a quick check, or as the familiar words arose before her eyes, faintly glowing on an utterly black background.
When the darkness faded, Tage found herself standing in the middle of a town square, and a corresponding buzz of activity. She didn't know where she was, but this certainly wasn't where she had last logged out. That was almost a relief. If she had been there... it might have been too much. She might have given up before she had even begun.
Before Tage could activate the map in her inventory, check where exactly in the world she was, her vision was suddenly dominated by what seemed to be right around 100 contact alerts. All of them were from the same person.
Halperion:
omg
OMG
OMG!!!!
Tage Tage! You are back! Where have you been? What happened? I thought you were going to be gone forever.
You didn't even say goodbye... D:
Before her best friend could drown her in any more notification, Tage quickly connected the two of them via a live-speak channel.
"Halp, relax!" she said, before her friend could even start speaking. The statement seemed to do nothing to lessen the tide of words that followed.
"Tage! Holy crap, I missed you so much! Where on earth have you been? Two weeks, not a single log-in. I was worried that your parents finally acted on their threat to confiscate your TITAN, and that you were never going to log in, ever, ever again. You missed the festival. It was amazing! My village had this dancer, this gorgeous day/fire/sun djinni. You should have seen her. Oh, but don't worry. I got you all the stuff. Although you are going to have to pay me back for it. Some of this stuff was so damn expensive.... Oh, and you missed a massive event. This twenty foot demon appeared out of nowhere and attacked Port City, and all the newbies were like AAAAAAHHHH!"
Tage winced as her friend screamed into her ear, but was able to take the moment while Halp regained his breath from the scream to actually get a word in edgewise.
"Halp. Halp! You can tell me all about it later, but right now I've got to.... find out where I am and get something taken care of."
"Find out where you are? What do you mean?"
"There's some sort of bug in my account. I'm not where I logged out."
"Oh. My. God. There's a bug in your account? That's sooooo awful. Is that why you haven't been able to log in? There's been something blocking your account. Oh, all the tech people must have been so utterly useless, and I'm sure you tried to be patient but they're just so..."
"Stop getting ahead of yourself!" Tage reprimanded. "Anyways, I've got to go now..."
"I'm just so glad you are back! It just wasn't the same without you. I tried to go on a raid with the guild, but all of them were just so..."
"I'm disconnecting now." Tage said. Halp spoke up until the last second, when a faint beep cut him off as Tage left the live-speak channel. It would not have surprised her in the least to learn that he had kept speaking long after they had disconnected, not realizing he was speaking only to empty air.
Before her friend could realize his mistake and start blasting her again, she put him (temporarily, of course) on ignore. She loved Halperion, and he had been a great friend to her since they had met a little while ago when they both arrived in Djinni at the same time, but right now she couldn't deal with him. She needed to focus.
Tage couldn't decide whether it was a relief or not to learn that she wasn't far from her goal. In fact, now that she knew where she was, it wasn't hard for her to recognize some of the familiar things about the little village. This was where it had begun. That quest. The quest that had caused this whole nightmare. That meant that the cave was only a five minute walk to the north.
Tage shuddered, and a strand of long, gold hair fell in front of her eyes. She tucked it back away with the rest of its fellows somewhat impatiently. It really was about time for her to change her hairstyle. Long hair had been fun for a time, but now it was just getting obnoxious. Reminding herself to stay on task, Tage turned to the north.
It seemed impossible that she could want to turn around as many times as she did on that short walk, but in reality Tage was only ever one stray thought away from calling the whole thing off. She didn't need to be doing this. Not really. She could go back to town, contact Halp again, find a signpost and travel to wherever he was, and let his incessant chatter drive away all thoughts of the quest and the cave. She didn't need to be doing this.
But, deep down inside, Tage knew she did. She knew she did not just because both cave and quest had been an utter anomaly within the TITAN universe, and was therefore something that should be documented, but because, if she didn't, the memory of it would haunt her for the rest of her life. If she didn't go back to it, face it, she would never get over it. And if that happened, she might end up like her mom, fearing all new technology, untrusting of what it might bring. Tage could never allow that to happen.
The approach to the cave was remarkably anticlimactic, despite how tense Tage had been. The whole walk she had moved with her eyes peeled, taking cautious steps, waiting for the beasts that had attacked her that night. Those spectral demons which had risen silently from the ground and attacked without warning, giving her no relief as she battled her way towards the cave, desperately racing the clock to reach the child there, the child she had protected for days worth of game time, the child who would be sacrificed at midnight if she didn't make it in time. But now... now there was nothing. The forest was peaceful, quiet except for the faint sound of the wind through the branches and the occasional melodic note of birdsong. It seemed like a completely different place, and were it not for the marker guiding her towards the cave Tage would have been completely convinced that she was on the wrong path.
The cave was different too. All the items that had surrounded it, the candles and the remnants of demonic ritual were gone. Undoubtedly they had been removed as soon as her quest was over. The cave looked like a peaceful place now, somewhere she would have been happy to stumble across on the journey to another place. Tage felt herself shake again, but it was such an abstract sensation as she approached the mouth of the cave and stepped inside. Her mind was lost to memories of that night, of the chanting, the flame, the light of the moon streaming through the hole in the roof, the sound of a little girl's desperate crying, the taste of panic filling her mouth, and then the world as it had gone dark, so utterly dark, and all her magic had failed.
There was no darkness now, no sounds of an obscure, demonic ritual, and no giant, hate-filled eye filling that hole in the ceiling, blocking off the light of the moon before everything went dark. Gentle sunlight streamed through it now, catching on swirling dust motes in a showering cascade of golden light.
Tage felt her knees quivering. She wanted to collapse on the floor, to sob, to finally let out all that painful emotion that had been trapped in her for so long, causing her to wake up in the middle of the night gasping, desperately biting her lip to keep from screaming less her parents understand exactly what was wrong. At that moment Tage wanted to do those things more than she had ever wanted to do anything. But she couldn't.
She couldn't do it because there was another person in the cave, and he was watching her.