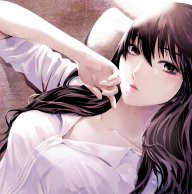 Bookworm with a pen
Original poster
MYTHICAL MEMBER
Posting Speed

One post per day
Multiple posts per week
One post per week
Writing Levels

Intermediate
Adept
Adaptable
Preferred Character Gender

Male
Female
Futanari
Primarily Prefer Female
Genres

Fantasy, romance, yaoi/yuri, vampires (non-twilight vampires preferred) though right now I'm VERY interested in finding a romance fantasy
She was sitting in a tattoo parlor, waiting for the tattooist to turn around with the needle. She swallowed back a little bit of fear and focused on breathing. She had chosen the design--a butterfly made of flames and water. She was technically 18 according to her license since it only said that she became 18 on this day.
She turned brown eyes up at the clock on the wall and fidgeted. 3:42 pm. She had 8 minutes before she would become 18 truly. The tattooist sure was taking a long time. She looked up at the clock as it ticked away. 6 minutes left.
She was starting to debate if she really wanted this damned tattoo when the artist turned around and started to do his work. She looked away and bit her lip to keep from whimpering a little at the pain of the tattoo. It was on the inside of her left wrist--small but beautiful as she watched the design take place.
She flicked her eyes to the clock again and held her breath. 2 minutes. she closed her eyes and breathed deeply to calm herself. When she stopped feeling the needle poking her skin, Yumi Refesti opened her eyes and looked at the clock. 3:50 and 10 seconds. She grinned as the tattooist wrapped her hand in a gauze so that the newly done tattoo was protected from the outside air. She felt something tickle at her but she couldn't really reach it. After she was told she could go out, she walked out of the parlor and stretched.
"Well Yumi, you don't have to run any more," she told herself and walked down the town's sidewalk with a bright smile on her face. She felt her hair play with the wind and fly behind her. Her baggy black pants rested on her hips as her blue button up shirt sat upon shoulders as a black tank beneath hid her skin from view. She did a little victory dance in the sidewalk before walking on. She could hear the jangles of her earrings as they clanked together--two on each ear and then an earcuff in the shape of a snake adorned her left ear while her right had just the two matching. She was finally 18 years old.