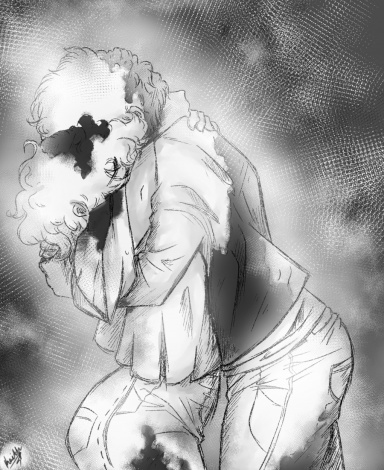 Consume. Smother your doubts. Be fulfilled.
Original poster
DONATING MEMBER
Roleplay Invitations

Group Roleplays, One on One Roleplays, Private Convo Roleplays
Posting Speed

A Few Posts A Day, One Post a Day, A Few Posts a Week
Writing Levels

Intermediate, Adept, Advanced
Genders You Prefer Playing

Male, Female, Primarily Prefer Female, No Preferences
Playing Style- Passive or Aggressive

A bit of both, lean more towards passive.
Favorite Genres

Modern, Romance, Fantasy, Scifi, Drama, Action.
Genre You DON'T Like

Horror, Mystery (I like them, just not good at it)

Time Skip

GM Post | Evening | Earth Battalion Camp
​
The recruits were settled into their tents after soup and bread was served for dinner. The circle surrounding the campfire had been bathed in a tense atmosphere, but not incredibly somber. There was an energy to it, one that never had a chance to breathe when the reckless soldiers were still apart of the force. With them gone, there was a certain... levity now. Subtle. But apparent. General Fong Xu was overall pleased with this development and had come to a conclusion from his previous meditation within his tent.
This would prove to be a beneficial team. He had confidence in them, faith. And no man could hope to shatter this belief.
It was a few hours after this that the sun began to set and with it so did the recruits. A serene stillness filled the camp, nothing but lingering broth and smoke scenting the air. Grounded. Distantly comforting. As one would feel to smell ashes from the collar of an uncle who was always seen with a pipe between his lips. Or wafts of aged jasmine from a grandparent's homely abode. Some, if not all, recruits were sleeping, minds circling around questions, expectations and what-ifs reserved for the morrow.
But, for now, sleep was needed...
---
Smoke snaked the ground like tails of a spirit.
Shadowed figures stalked the outside of camp gates, clouds of gray and ash encircling their ankles. Bows were at the ready in their grasps, arrows knocked and held taught in place. Twelve silhouettes. Perhaps more. The headcount was indistinguishable in the blinding blanket of night, yet they moved with the assurance and stealth of nocturnal beasts. The smoke continued to spread, circumventing and growing closer to the camp's perimeter.
The entrance guards remained trapped in slumber, having fallen asleep hours ago. Snores light. Mouths agape. None the wiser.
Suddenly, all in wordless synchronization, the archers formed a long row and aimed their arrows skyward. One by one, the tips ignited with flames, casting a faint red glow that stretched far beyond them. The voice of one traveled over them in a sharp whisper.

"Aim..."

The muscles in their shoulder's tensed. Breaths were held.
"Release."
Before an eye could blink, the hailstorm of flaming arrows were released, raining down over camp, and the archers rushed forth, leaping the gates with swift and practiced ease. The smoke emitting from their forms swamped the camp quickly and as soldiers started jolting from slumber, their confusion doubled as the smell bit at their lungs. Yells resounded. Weapons were hastily drawn. Fires were set.
"Intruders!"
"Arm yourselves, men--"
"Intru--"
"Alert the general!"
"Someone extinguish the fires!"
"Move, move, move--augh!!"

The shaft of an arrow ripped through the soldier's eye socket, cauterizing the flesh within his skull before he could realize his death. An archer ripped the weapon free of the corpse, shoving it back into his quiver. He looked about the discord surrounding him.
There was more blood to be spilled.
---
Image of Fire Archer:
---
Tags

:

Elle Joyner

,

SkittlesAndSpike

,

Red Thunder