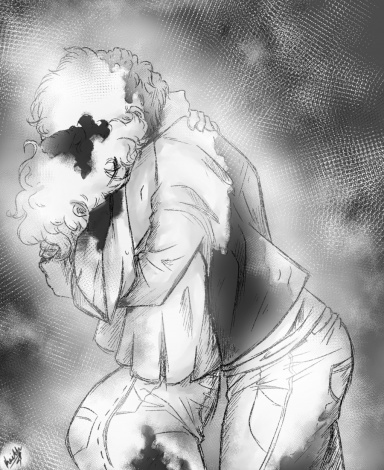 Consume. Smother your doubts. Be fulfilled.
Original poster
AVATAR: THE REBEL ARMADA

Chapter I
Each of you are scheduled to arrive at the gates of General Fong Xu's campsite, which is located on the outskirts of Ba Sing Se. You all have your own reasons for why you decided to join his personal squadron, whether it be for the glory of Rebel Armada, for the thrill of action and adventure, for finding a purpose, for the pride of your origin battalion, or for something else entirely.
Soon, the gates shall open and you will be personally welcomed by General Fong Xu. He will brief you of your mission, provide you food and clothing, analyze your skills, and settle you down within your own tents for the night.
By morning, you will set off for the first Earth Kingdom village currently under Fire Nation siege--Gooling. Trials and tribulations will strike you in abundance, and not a single morrow can be promised.
Tread with caution.
---
Time:

Dusk


Location:

Outside of Ba Sing Se Limits, Earth Battalion Campsite

General Huang Fong Xu
The blood of innocents, rebels, and fire nation alike have long stained the soils of our home. An earthy scent unlike the crisp harmony of nature, but burns our nostrils as a reminder to the discord permeating every inch of our lives. Deaths of the young, of the old, of the naive and wise and confused...the total threatens to reach unimaginable heights. I grow ill at the thought.
But how can this be? How can we suffer any further? What more can this war take from me? From us?
...Knowledge.
Once upon a time, I knew of how this blasted age worked, of what made my men tick and what drummed deep within their hearts. I knew of the hatred and greed that lurks the border between us and our foe. I knew these things. I used to believe that I knew all.
How wrong I am. How foolish.
Now I am struck with an unsettling discovery. The battalions have spread word of non-benders moving the earth beneath their feet, splitting the lakes in two, and reducing homes to smoldering ashes. I would have disregarded this as the imagination of a war-torn mind...And then General Choy of the Northern Water Battalion sent the distress call. The details and fear in his letter is impossible to miss. Even more so to fake...It is all true. I do not know how, but the Fire Nation now has a means of granting bending to anyone they choose.
Rebel Armada is in jeopardy.
I am but a general of the East Battalion. I am no king. No Lord of the lands. But I shall wear the crown, for only a moment, and make a call to those that will listen. I am General Fong Xu of the Eastern Earth Battalion...and I am going to take back our freedom. No matter the costs. No matter how desperate the measures.
My personal squadron shall arrive no later than dusk tomorrow. They are trained. They are seasoned. They are fresh. They are untouched by war. They are stained by the bloods of too many to count. They share all and yet nothing in common. The perfect team.
My own, personal, Rebel Armada.
​
---
General Fong Xu rose before the sun.
His armor weighed heavier upon his shoulders than normal. Perhaps it was his mind toying with him, taunting him, reminding him of the possibilities and consequences. How could he ever forget, though? Surely, he couldn't. No matter how hard he tried. This entire plan was birthed by desperation and epiphany, but the columns supporting it were fragile. Prone to snap in two at any moment. If he wished to apply salve to the cracks and strengthen the base, this morning would have to progress without fail.
It must.
The faint traces of morning sun warmed the campsite, yet not a single head stirred from slumber. His men were always slow to awaken on days other than prep for immediate warfare, a fault in the system that he promised to address at a later date. The general emerged from his tent, figure strong and erect, while sheathing his short swords into the holsters on either sides of his waist. He traversed the cobble path bisecting the camp in two, rows upon rows of fire pits manning him on either side--he could still feel the warmth of last night's crow pig roasting.
General Fong Xu caught sight of his night watch crew up ahead, stationed at the front gates and overseeing land from their raised platform. Their demeanor seemed aloof, but the vigilance was not lost to him, their eyes scanning what he could only assume were his future soldiers loitering outside. Waiting. And they would continue to wait until the bottom curve of the sun climbed beyond the tip of the distant mountain range.
The general stood there, rooted in place with his hands clasped before him, expression forlorn and stone-like. If he was anything, he was a man of patience. This moment was well worth his diligence and self-restraint. His discipline. He refused to succumb to an eagerness betraying his respected reputation and position among the ranks.
Not long after, the sun was in prime position and with a single raised arm, General Huang's voice boomed across the front of camp.
"Open the gates!"
His command was answered immediately. The night watchers descended from their post and fell into solid stances. With mirror-like accuracy, they both dropped hammer fists into the dirt and the row of wooden pikes before them sunk into the ground.
On the other side stood his special squadron.
General Huang approached on slow, measured steps, eyes sweeping over the collection of men and women.

"Welcome to my camp, fellow rebel warriors."
Last edited: