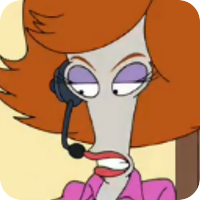 Can I transfer you to my manager?
Original poster
LURKER MEMBER
FOLKLORE MEMBER
Invitation Status
Writing Levels

Intermediate
Adept
Advanced
Preferred Character Gender

Male
Female
Genres

Adventure stories! They can be fantasy, modern, sci-fi, all kinds! Give me some good world travel stories and I'm all over it! I also enjoy romance stories and even though I tend to play females I love playing gay men.
Suzumi Kiyomizu stood on one of the many stoneworked piers of the city Xiu Ying Tse having just disembarked a refugee boat. It had been hard for Suzumi to be on the run so often, whenever she'd find a place to sleep the next day word that the Fire Nation was coming would already be following closely behind her. One day she had heard of Xiu Ying Tse in the Earth Kingdom's northern edge and quickly found her way there. She sighed as she walked forward into the cliff side that the city was carved out of.

Just ahead two Earthbender guards dressed in the typical green uniforms of the Earth Kingdom soldiers slid open a large slab of rock to let some more refugees into the city. Suzumi shook her head and turned down to walk along the beach, avoiding the trapped feeling she'd get if she wandered inside. She'd go inside, just not yet.

On the boat she had heard people talking about the cyclone that her boat had just narrowly escaped had hit the shore around here, taking a couple of what appeared to be Fire Nation boats with it. Suzumi smiled a little at that as she pulled the waves and pushed them back out idly. The sensation calmed her, feeling the waves crashing up towards her as her will deemed and then receding back as she pushed them away. She let out one last soft sigh and sat down, releasing the waves from her control. She listened to the waves quietly, closing her eyes and resting. Soon she'd hear news of the Fire Nation and she'd head to Ba Sing Se or maybe to Omashu but for now everything was calm and quiet, just the way she liked it.