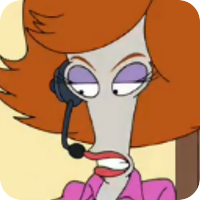 Can I transfer you to my manager?
Original poster
Roleplay Invitations

Group Roleplays, Chat Roleplays
Writing Levels

Intermediate, Adept, Advanced
Genders You Prefer Playing

Male, Female
Playing Style- Passive or Aggressive

I'm good with both! I can lead or follow and I'm equally okay with either. (Although it can change depending on the scene too!)
Favorite Genres

Adventure stories! They can be fantasy, modern, sci-fi, all kinds! Give me some good world travel stories and I'm all over it! I also enjoy romance stories and even though I tend to play females I love playing gay men.
Genre You DON'T Like

Smut. It's not that I dislike it, I just can't write it out, I'm better at just writing smut scenes by myself.
The Avatar Roku has disappeared two years ago and the Fire Nation has began to invade the other kingdoms, destroying the previous era of peace. Without the hope of the Avatar's rescue small factions of warriors have come together to try and fight the war against the fire nation on their own. A group of warriors have come together in the city of Xiu Ying Tse just before an attack from the Fire Nation.
This is where the characters enter in the city of Xiu Ying Tse right before the Fire Nation attacks.
Character List
Minoru - Vay (Firebender)
Akemi Haruto - Kitti (Airbender)
Kurai - Alarice (Fire Nation)
Fei Long - Archy (Firebender)
Tenzing - Ramses (Airbender)
Orion - Orion (Waterbender)
Suzumi Kiyomizu - Zypher (Waterbender)
Iki-Ryo - Loveless (Firebender)
Barret Kiwanja - Redd (Earthbender)
Kiyo - Tuxedo (Airbender)
Risa Aran - Tuxedo (Earth Kingdom)
Jian-Ai - Shiny (Earthbender)
Sub-Characters
Asuka - Alarice
Ts'ao - Alarice
Yuan Ping - Zypher
GENERAL CHARACTER STATISTICS
Character Name:
Name Meaning:
Alias:
Gender:
Species/Race:
Age:
B-Day:
Zodiac Sign:
Bloodtype:
Place of Birth: (Kingdom/Nation)
Current Residence:
Occupation:
School/Grade:
Family:
Gemstone:
More:
PHYSICAL CHARACTERISTICS
Height:
Hair:
Eyes:
Distinguishing Marks:
General Appearance:
Strengths:
Weaknesses:
More:
MENTAL CHARACTERISTICS
Allies:
Enemies:
Current Goal/Purpose:
Aspirations:
Hobbies:
Likes:
Dislikes:
Talents:
Inabilities:
Fears:
General Personality:
Inner Personality:
Fondest Memory:
Biggest Regret:
Secret:
More:
SPECIALTY CHARACTERISTICS
Special Items:
Weapons:
Bending:
More:
HISTORIC BACKGROUND
General History:
Present Life:
Special Historic Notes: