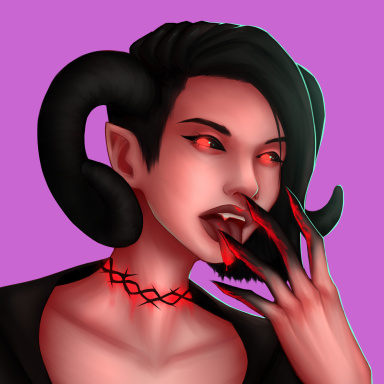 The Demon Liege
FOLKLORE MEMBER
Invitation Status

Looking for partners
Posting Speed

1-3 posts per day
One post per day
Multiple posts per week
1-3 posts per week
One post per week
Slow As Molasses
Online Availability

It varies. I can't promise much consistency due to my chaotic life.
Writing Levels

Intermediate
Adept
Advanced
Preferred Character Gender

Male
Female
Nonbinary
Transgender
Primarily Prefer Male
Genres

Horror, Sci-Fi, Fantasy, Superpowers, Drama. Also, romance is required with me because I will get bored without it.
Everyone's opinions were taken into consideration. Silently, with a nod, she agreed with Yoshino that they wouldn't spend too much time on looking for water. Perhaps they could select a direction and then hope for there to be a source along the way. Then, the search wouldn't get them even more off track.
Noticing that the Earthbenders were getting to work on covering the fire pit, she stood up quickly. There was a faint smile on her lips; better work than she could do for sure. She and Karan always intrigued her with their bending. Part of it had to do with her still getting to know all types of people, she was sure.
Karan's use of 'mommy' made her smirk with amusement. Her motherly traits were dominant in her personality, true, but he was a full grown man who was maybe a decade younger. Even so, it was charming in its own special way.
"Well done,"
she commented with a chuckle. However, the mood swiftly dove in a negative direction after he inquired about her or Makki being able to sense water. The youngest of the group was having another tantrum. Tenten understood the girl's frustrations and wished she could do more to soothe them. At the same time, it could get old...
Much as she wanted to argue that her cooking had nutritional benefits even with bugs in it, this was not the time. They had a mission to stick to! Operation: Get Un-lost, because she didn't have a very wide vocabulary or proper education. That, and her creativity seemed to come and go.
A snort could be heard as air was forced through her flaring nostrils. She was trying her hardest to keep them healthy and alive and it got stressful at times.
"That's enough!"
she barked quietly, not keen on raising her voice in the middle of nowhere. Deciding that was the end of that, she gave her body a turn so she was facing the direction she felt they should take. She was quick to let go of the fact she was annoyed a minute ago. Distractions were risky... The two years she'd served in the Rising was turning her into a more disciplined leader. She wore a brave face and spoke with more clarity:
"We're getting out of here soon. I promise.
Are we ready to go?"