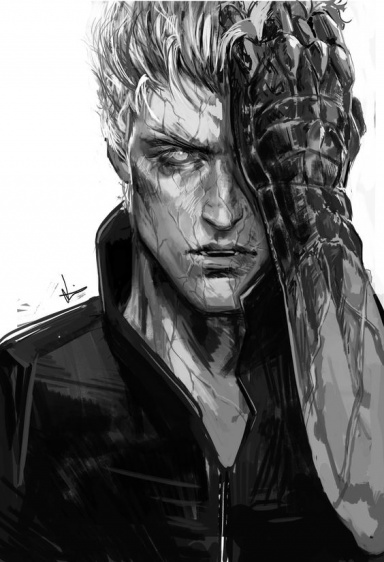 Highlord of the Tal'Darim
Roleplay Invitations

Group Roleplays, One on One Roleplays
Posting Speed

A Few Posts a Week
Writing Levels

Adept, Advanced, Prestige
Genders You Prefer Playing

Male, Primarily Prefer Male
Playing Style- Passive or Aggressive

I'm fine with doing both.
Favorite Genres

Action, Fantasy, Romance, Modern, Magical, Sci-Fi, Steampunk, etc.
Genre You DON'T Like

Slice-of-Life

The Year is 835. Humanity lives confined inside of 50-meter walls. They live like cattle but are content and complacent with the lives they lead because they are safe. Safe from the abominations that wander outside of those very walls. The Titans. Humanoid like abomination that preys and feeds on humans. They don't feed on humans for nourishment or to reproduce. Humanity does not know why the Titans are like this but they seek answers. The Survey Corp. One of the three major branches of the Military specializes in Titan Killing and leaving the confines of the Walls to travel into the outside world in hopes of finding answers. Many believe this is suicidal. Crazy. The dumbest branch that anyone can join unless they truly believed that they could save humanity and make a difference with their sacrifice where others before them had failed. The Survey Corp. is always searching and in need of recruits. They have the highest mortality and turn-over rate of any of the Branches because of the fieldwork they endure. Even with the great perils they face and the doubts that hang heavy over their heads. They have one thing the other branches and even humanity does not seem to grasp or have as a whole. A brotherhood. An understanding and trust between one another through thick and thine. To lay down their lives for each other and for humanity where others would not.

The 98th Training Corp. Camp located east of the Stohess District, deep within the rolling hills and forest of the open area. They were somewhere in the center of the 130km distance between Wall Sina and Wall Rose. Cadets of all shapes and sizes, backgrounds and ideals have been transferred here all over the land, from every district. There were currently four Training Camps being held for the next three years and Kyle Funchess was the poor bastard in charge of running this one. The Training Corp. was a branch that was solely in charge of training new Cadets and teaching them the various skills they would need to know for all three branches. The Cadets are also ranked, with only the top 10 being given the option to join the illustrious and safe Military Police.

----

The heat was becoming unbearable. The sun currently sat at its highest peak as rows of Cadets were lined up in formation, standing inside of what seemed like an abandoned quarry. Nothing but dirt and dust. The camp itself was a wide area and had been carved out of the ground with a winding path leading up and out back onto the green grass and beautiful pastures. All the Cadets were currently wearing the standard military uniform that they would be accustomed to for the rest of their career.

"You are all worthless! Nothing but Titan food just waiting to die like sniveling pieces of shit." Kyle yelled in the faces of the Cadets as he passed through. "You all disgust me. I've been doing this a long time and I know when I look a complete failure." Kyle was weeding out the weak ones. The ones that wouldn't make it a week, let alone the rest of today. "You! What's your name and why are you wasting my time?" He found one already. A young boy who was shaking in his boots already. The grizzled veteran got in the face of the kid who saluted but was sloppy and spoke with a shaky voice.

"M-My name is W-Will Ludger sir! I want to serve humanity!" The kid sounded as if he was about to pass out. Trying to raise his voice and sound proud but instead, his voice cracked and sounded pathetic.

"Humanity doesn't need your pathetic existence." Tough, cruel words would be spoken today and for the next three years on the recruits that do stick around. They needed to be tough and understand none of this was personal. If you didn't have the resolve or the fortitude then the military was not the correct career path and it is best to back out now when you still have a chance and not considered a deserter. This hazing would continue, moving down through the crowd.

"Who are you and why are you here?" Kyle, the Commandant, approached another boy but this one seemed stern and appeared to have some training in posture and poise. The boy gave a proper, quick and proud salute and stood straight with all his pride before him. "My name is Arthur Sutherland. I am from the Stohess District and I want to join the Military Police and protect the King." The commander didn't say anything yet. Just staring into the eyes of the kid, taking into memory who his Father was. A friend, one he had talked to before Camp had been opened and some bribery and money passing through hands happening.

This would continue for hours. The Cadets would be yelled at and tested by the Commander and by other Training Corp members. They would be told to do laps, push ups, sit ups and other physical activities until the sun began to set in the distance and they finally could rest and get dinner.

----

There were ten different cabins on the edges of the dirt camp. five of the buildings were the barracks and the other five were the mess halls were they would be able to eat and relax. With over a hundred cadets remaining after the dropouts on the first night. That would leave around 20 bodies per cabin. The cabins were large enough to hold a few more, rows of bunk beds in 'cubicle' like rooms. Four beds to a room, so two bunk beds. The rooms were nothing more than a small percentage of storage room and beds with little moving room between them. Just enough width to fit a body in a single file line.

Arthur was silently stressing in his mind. Spoon lazily hanging in hand as he stared down into the slop they had been served. Potato stew mixed with a little amount of meat, a piece of bread and water. This would be their meals for the next three years. He had been placed in Cabin A, along with the other promising Cadets that impressed Kyle Funchess today. Did Arthur really belong here or did his Father, a Captain in the Military Police of Stohess somehow set this up. Arthur wouldn't know if he was really a capable soldier or if he could make the top ten on his own, because he already knew deep down that his Father would skew the favors towards him, against all odds. Anything Arthur 'achieves' over the next three years would be hanging over him, doubting himself in believing that he did it or his Father had.

Sitting alone at one of the bench tables. Arthur was pulled from his deep thoughts as other Cadets approached. Talking about the long and tough day they endured. Small chit chat and getting to know one another. Asking why they joined. All those normal things someone would do when trying to make a friend. He had to brace to be asked these sorts of questions as well, and give as little important information on his background as possible. He could talk and make friends with other Cadets, but they couldn't know his Father was a Captain in the Military Police. They might suspect he is being favored and treated better than all of them. He only hoped no one recognized him or his last name if they came from the Stohess District like him.

​
2