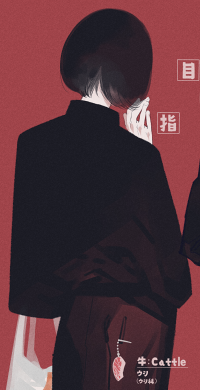 この世は でっかい宝島
Original poster
LURKER MEMBER
MYTHICAL MEMBER
Invitation Status

Not accepting invites at this time

A city of prosperity and opportunities, where the greatest creations are invented, and the hottest location for one to finally achieve their dreams - become rich, become famous and become known in the whole world. Alas, it was also the breeding grounds for strong morals, battling one another for control over one of the most infamous cities; Wisteria City.

Three notable gangs, each with their own motives for taking over Wisteria, run rampant in the city. There are those who are gifted with manipulation of the earth who seek for a world where nature may be preserved in their growing society, ruled by steam and turning gears. Then there are those who play with fire, filled with the burning hot passion for making their city into a military powerhouse, capable of protecting those within its wars and assisting sister cities with capable and powerful soldiers willing to serve their country for the greater good, ironically ridding society of flea-infested criminals. And lastly, those whose worlds revolve around money, gaining profits, and wanting their Wisteria to be a utopia of money and prospering businesses, making their home city the best in the world.

Dangerous terrorist, drug dealers, people smugglers and more - despite their labels, they believe themselves to be justice warriors. Though these three gangs are at war, festering their hatred for each other, there is something else more malicious and terrifying that grows under the city unbeknownst to the head of each gang, preparing for the right moment to strike.

What a shame the three gangs only had eyes for each other, their biggest rivals, unable to work together after so many years of hostility. Even on this night, cloudy and cold after a rainy day, moonlight shying away from the concrete jungle and the trench-coat wearing citizens of Wisteria, the gangs were moving in the shadows of the city.

Each of the three gangs had different departments in charge of different things, and the Firehound Watchdogs were the chaos-loving Operations Department of the Igneus Clan. Normally bounding down alleyways, collecting as much information as they could from the city folk or stealing intel from their enemies, tonight was a rare chance for them to take something they needed for a very, very long time - a healer. As an element of destruction, their clan were mostly offensive folk, and though they did not suffer losses often - they always hit very hard. With little to use on them except mainstream medication, it was magical healing and extensive non-drug knowledge that they needed to sustain themselves in future operations.

Their leader was the Hellhound, a young, slim man who would punch you if you called him a sissy. Lightweight, fast, but never one to be underestimated with - he raced down towards their target location with his 'hounds' silently in tow. A warehouse of sorts, or maybe a greenhouse, for those tree-huggers had been made known recently, and there was a chance that a healer or two might be present.

And that healer was going to be theirs.

But people like them weren't going to make it easy for the group. They neared the worn down building, old but sturdy, at the edge of the city's outer ring where the people of the lower class lived - the slums. It would be unwise to kick the door down, they would probably get a rock pillar to the jaw, but they needed to be chased out so they could pick on the healer like a big feline predator hunting small, baby deer.

"We smoke them out."

Those four words were enough for the black-clad men to pull out suspicious, rounded spheres, nodding at one another before pulling the safety pin with a light 'click', and throwing it squarely at the small windows lining the top of the warehouse, shattering the glass as it flew inside followed by a handful more. Immediately, hissing could be heard as they spun round and round like wheels, spitting and spouting nose and throat burning smoke, intended on making the inside of that building unbearable.