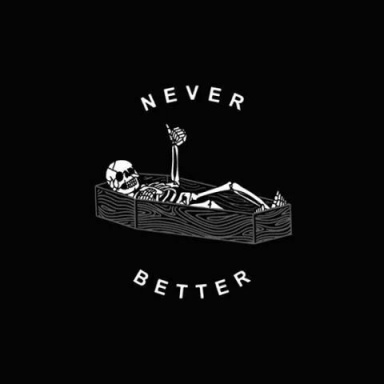 yours truly
Original poster
Posting Speed

1-3 posts per day
1-3 posts per week
Slow As Molasses
Online Availability

weekends
Writing Levels

Adept
Advanced
Adaptable
Preferred Character Gender

Male
Female
Nonbinary
Genres

Romance, fantasy (high, modern, medieval, whatevs), modern, darker themes, slice-of-life, fandom, adventure, etc. I'm pretty much open to anything so just throw any plot ideas you may have my way.

it's ya girl, back at it with the same ideas
(this emoji version is so much worse omg)
Anyway, nothin' like some family trauma to trigger the need for escapism, so saddle up partner - we're going in deep.
WHAT I'M LOOKING FOR
​
Someone who doesn't mind a slow reply rate; right now, I'm mostly online during the weekends and can guarantee one reply a week. But there's potential for 2-3 posts per week as I'm finding myself a lot more active. The patience you give me will be returned ten-fold.

Someone who will read my RP resume, 'cause I don't wanna repeat myself here it might not be the most detailed, so feel free to ask questions!

I am LGBTQ+ friendly, but at the moment, I'm mainly craving MxF pairings. However, that's not to say that I won't play otherwise.

I've got a major hankering for an enemies-to-lovers trope, or at least an unlikely duo forced to work together - maybe something laced with betrayal? Could be a thief, assassin, or usurper paired with someone of high degree (royal, aristocrat, saint, oracle, etc.). I do have a few plots below based around this, but my interests are definitely not limited to it.

Your ideas! I welcome your thoughts, changes, and twists to any of the plots/pairings/ideas below, along with your own original plots.
PLOTS
A kingdom/empire has experienced the throes of tyranny long enough to hear whispers of curses among its citizens. Disease and starvation seem to only affect the slums, as the aristocrats are catered to so long as it benefits the Crown. Dissent among the struggling is paid no mind; the King only squashes it if it poses a real threat, so why waste energy when disease will do the trick in time? But the people can only suffer for so long.
The princess, MC, was raised wanting for nothing, except one thing: to see her people thriving. She never shared her family's superiority complex. She knew there were no curses -only her family's reign and their poor ruling skills were to blame for the kingdom's spiral. Naturally, MC's views resulted in her being treated as the black sheep. Meanwhile, one man, YC, has had enough - a man who has struggled and watched countless others suffer in this plagued kingdom. Resentment tangled within him, he devised a plan to usurp the throne and, over the years, acquired a following large enough to make it happen. When the day of the coup comes, he makes a deal with the King: choose one royal, one family member to kill, and he'd allow the rest to live. The king chooses his only daughter.
She does not die. In a twist of events, YC kills everyone
but
the princess, allowing her to be the only survivor of the royal family.
Notes: I have a few ideas for this, especially thinking long-term, but I'd rather discuss in message than make the thread too long.
On the outskirts of a small, rural village, there was a sealed temple. Children were taught to avoid it like the plague, for within it is a terrifying evil that would doom them all should it be released. The village priests had reinforced the seal on a bi-weekly schedule for as long as Character A could remember. As a child, A wandered close to the temple and heard a sound coming from within the sealed walls. They could hear their parents' warning:
"No matter what you hear, never go near the temple. A trickster easily preys on gullible minds."
For a time, that warning worked. But as A grew older and their curiosity grew stronger, they knew the noise sounded too human to be a monster. It sounded like someone crying.
One day, when the entire village was holding festivities and the security around the temple was lax, A dared to pick the temple's lock and entered. Inside, they could not believe their eyes: another child, Character B, as human as A was, chained to the walls. Curious about each other, it was no surprise they quickly became friends. A would secretly visit as often as was feasible, bringing treats and worldly possessions, essentially teaching B about the outside world.
Years passed. One day, a priest caught them, and Character A was deemed cursed. Out of fear, the village arrested A and sought to execute them before the evil could sink its claws into the rest of the village. Character B, upon hearing this news, loses control and unleashes their power to destroy the village and to save A. The pair goes on the run, travelling in the shadows to escape their fate and the vengeful hunters who vowed to destroy them after the massacre.
Notes: Credit to whoever created this plot; I remember reading it a few years back in the threads. This plot is pretty flexible; we can discuss the ages when they first meet and how many years pass before they go on the run. We could play all this out, do a lot of time-skipping, or set it after they've been on the run and incorporate flash backs. Whatever floats your boat! I do wish for a romance to build between them but it doesn't have to be immediate. We should probably do some worldbuilding in terms of what power(s) B has; are they possessed or is it magic? The world is literally our oyster, let's discuss.
In a world of elemental mages, there is relative peace among the different clans. However, there is a great danger looming, a rising power seeking to turn the world upside down in a twisted quest of righteousness. Rumors of this powerful enemy attempting to raise a demon army have pushed the Head Mages to come together. A group from the Airith clan is tasked to find potential allies, but they end up coming back with someone as a prisoner instead, claiming that he attacked and betrayed them. This man (your character) warns that the leader of the group is actually under the control of a demon, but is accused of being in league with the demons himself. The situation isn't considered to be of immediate importance compared to what's going on in the rest of the world, so for a while, YC is ignored and left to the mercy of his captor, who decides to perform their own personal "interrogations" on him until those cruel activities are shockingly discovered. This is when my character is brought in, the trusted protégé of the Airith's Head Mage, to discern what is really happening here.
Notes: I do have more background/lore for the world and the anti-villain, but again, I don't want to make the thread too long. I also have an idea for YC (he could be a mage). If you're interested, we can definitely discuss everything!
In the far north lies the Lui-Kang dynasty, a family of immense wealth and power that had ruled the nation for two centuries and of which the masses were fond. Comparatively small in size to their neighbors, they are relatively peaceful and fair, but not without the means to protect their nation. While many gave thanks to the highly-skilled army, there were legends of bloodthirsty beasts that stayed hidden in the forests surrounding the nation. Most legends stated they were dutiful to the royal family; others warned bloodthirsty creatures didn't discriminate.
Following tradition, a family's name may only be passed down through the men. The Lui-Kang family had three daughters before they were finally blessed with a son. The entire land felt relieved; many were frightened by the prospect of the end of the Lui-Kang's era. A rival, however, had been planning to take advantage of an heirless family. At the news of a son, the plotting intensified.
When the boy turned five, the royal family received a threat. An anonymous note demanded they sacrifice their son and hand him over to a hired band of mercenaries. Of course, the sender was not without mercy. They gave the Lui-Kang's until their son's eighteenth birthday to meet their demands. In panic, the family devised a series of plans of extraordinary effort to protect their only son.
Years passed. The boy came of age, and the threat had not been forgotten.
Hundreds of ruthless warriors pillaged the nation's capital, serving as a distraction for an elite group to infiltrate the royal palace. Only one Lui-Kang child survived, entrusted to a guard (knight/samurai/etc.) to meet an ally housed several nations away. Dangers lurk in every corner, but like calls to like, and the guard is no stranger to beasts of any kind.
Notes: Again, highly flexible plot. I only ask that your character would be the surviving Lui-Kang, mine would be the trusted guard (he has a ~secret~). This can be MxM (so, the guard and prince) or MxF (guard and princess). Additionally, if a royal family is too big of a scope for your liking, we can simply make them aristocratic.
INTERESTS & FANDOMS
*Please note that we do not have to stick to the fandom's canon world. I immensely enjoy drawing inspiration from the world/stories to create original plots and/or pairings.
​
Runaway x Thief/Rescuer
Captive x Captor (maybe they're double-crossed and have to go on the run, or their ship wrecks and they are the only survivors??)
Fire Royal x Water Royal
Bad Boy x Good Girl (doesn't have to be a modern setting)
Mythical Creature Hunter x Mythical Creature Guardian/Shapeshifter
Someone With an Ancient Bloodline/Rare Power x Enemy (Warlord, king, captor, etc.)
Ex-Warrior Turned Gardener x Princess
Person Injured in the Woods x Mystery Who Nurses Them Back to Health
Shipwrecked/Injured Woman x Infamous Crime Lord
The Grishaverse (read the Shadow and Bone Trilogy)
The Daevabad Trilogy (currently on the last book,
The Empire of Gold
)
Dragon Age
A:TLA/LoK
Tangled/Rapunzel
Please message me if anything catches your eye!​
Last edited: