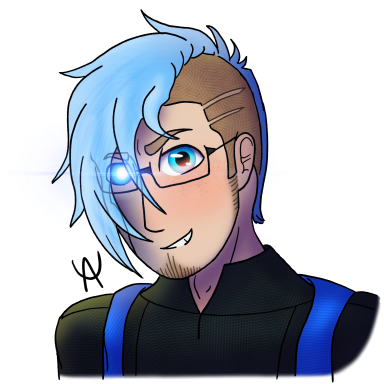 Traverser#824|The Ally|Autobot|Knight of Doom
Original poster
Posting Speed

One post per week, Slow As Molasses
Online Availability

my schedule is very flexible (probably more than it should be tbh) but my best times are generally 4pm-9pm M-F and 12pm-9pm weekends
Writing Levels

Intermediate, Adept, Adaptable
Preferred Character Gender

No Preferences
Genres

fantasy, sci-fi, superheroes, action, adventure, combat, science fantasy, supernatural, hurt/comfort, modern fantasy

Check out my
DeviantART
for my full gallery.
School is officially in session for me now, I'm afraid, but my commissions are still open! My newly tightened schedule just means artwork will take longer to complete.
"Communication is key" has been my motto for many years, so rest assured that I will keep you posted and consult you with any design questions for the entirety of the commission process. It's your idea I'm depicting, after all.
Options
If in doubt or if key parts of your idea are unlisted, absolutely feel free to ask me! I will never be annoyed by someone seeking clarification. Besides, I've probably forgotten many things that could be included on these lists.
▹ Subjects
Excellently: vanilla, interactions
Decently: reference sheets, fandom-related
Poorly: N/A

▹ Objects
Excellently: humans, humanoids, facial expressions
Decently: dogs, horses, buildings, vehicles, most props, injuries/scars, muscle
Poorly: most other animals, heavyset characters

▹ Skills
Excellently: proportions, most poses, full-body shots
Decently: mild foreshortening, short comics, close-up shots
Poorly: extreme foreshortening

Of course, just because a subject, object, or skill is listed as "Poor" doesn't mean I can't do it! It only means that that element of the piece may not be quite up to par and I may be learning as I go.

▹ Subjects: sexually explicit, gore, general obscenity, political
▹ Objects: rude or obscene gestures, obesity
▹ Skills: extensive comics
Style Selection
Example 1

|

Example 2

|

Example 3

My standard style that you see in most of my full pieces and sketches. I've adapted this from manga over time and practice, attracted to the semi-realistic but idealized proportions and crisp line-work.

One piece worked on consistently takes an average of 1-2 weeks to complete. The least amount of time I have spent on a piece is 4 days.

Pricing

$10 baseline + shipping

+$3 per additional figure in image

+$2 for partial background, +$5 for full background

add frame = +price of frame (expect +$10-15)

Example 1

|

Example 2

|

Example 3

A simpler and cuter style than my usual. Biti is to Classic what chibi is to manga. Due to their simplicity, I prefer to keep Biti drawings substantially smaller than Classic.

One piece worked on consistently takes an average of 5 days to complete. The least amount of time I have spent on a piece is a few hours.

Pricing

$5 baseline + shipping

+$1 per additional figure in image

+$0.50 for background

+$2 for printed backing

+$0.75 for fridge magnet (magnets average at 2-3" tall and are made from shrinkable plastic)

add frame = +price of frame (expect +$8-10)
Character Reference Sheets
In addition to traditional art pieces, I also do full character reference sheets. These sheets will always be completed in landscape orientation and can be ordered in one of two types, analyzed below.
Notice: all predictions are assuming a character with humanoid proportions. Significantly different proportions may require more pages, which can marginally increase cost.
Examples: N/A
The more predictable and regular format of the two, the Traditional style is also more rigid in its guidelines, but this lends to a more reliable final result.

Features:
▹ one full four-part turnaround for each distinct form
▹ one additional fifth part with any minor details
Example
More visually interesting than the Traditional format, the Snippet style can be a touch more chaotic in nature, but a high degree of flexibility also allows it to be more customizable.

Features:
▹ one basic front-on pose per form
▹ a handful of "instances" of the character as needed to display all facets
Pricing
$20 baseline + shipping
+$10 per additional form
Medium
▹ 9"x12" drawing pad (Strathmore)
▹ colored pencils (varied, mainly Prismacolor)
▹ shading pencils (varied, mainly Crayola)
▹ ink pens (Micron)
▹ alcohol-based markers (Winsor&Newton)
▹ other miscellaneous tools used at my discretion

I can buy other, small additions to my medium on request as needed for a commission, but the time needed to find and purchase the tool and a portion of the tool's cost will be added to the commission.
Drop a comment if you're interested! Commission communication will be done via PMs, email, or Discord, whichever's easier for you. Transactions will be completed via PayPal.

Please take note: all completed commissions will be posted on my DeviantART account for display purposes unless otherwise requested.
Commissions Slots
1▹
Scarlet "Scar" Rosaline
(Bella)
2▹
James Proudstar aka Warpath
(
Gands
) -
Biti
3▹
4▹
5▹
6▹
7▹
8▹
9▹
10▹
BONUS
11▹
12▹
13▹
14▹
15▹
Last edited: