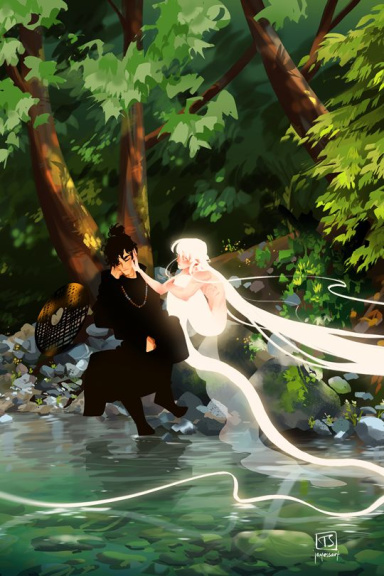 Chaotic Lawful
Original poster
Invitation Status

Not accepting invites at this time
Posting Speed

Slow As Molasses
Online Availability

GMT +1/2 | CET/CEST | Random, mostly on my phone
Writing Levels

Intermediate, Adept, Advanced, Adaptable
Preferred Character Gender

No Preferences
Genres

Tragedy, Psychological, Historical, Steampunk, Mystery, Thriller, Sci-fi, see tag list for more...
Aquarium
---
Welcome to the Aquarium. I write stuff for fun sometimes and need a place to dump them that isn't my gdocs, or my harddrive. Feel free to peek and read. Hands off on the plots, settings, or characters however! Unless you can get me to explicitly agree for you to use it.
If you have any feedback, please PM me! I rather not have anyone post in this thread except from myself.
---
INDEX
A story of how August Yilmaz's parents got together
Dehlia was someone who enjoyed life to its fullest. She enjoyed her youth with late parties, binge-drinking, and flirting her nights away on whomever her eyes would fall upon. It was scandalous, for a woman in this age, but Dehlia was a female far ahead of her time. She didn't care about the whispers and the looks of judgements that they gave her, or that she was made out to be a loose cannon. She enjoyed her time, her life, and none of them could ever think of taming her. Dehlia Galatas was far from ready to settle down as a wife of another man. Her mind was simply not tuned towards the focus of starting a family and having children. Not like her peers, not like how society wanted her to be.
The age-old cliche started when the Greek met Ceyhun, a peculiar man from the history department with an odd fascination for anything magical and mythological. Unrealistic, others called him, judging the Turk for chasing a simple boy's dream he could never let go. However, these were the words spoken by the muggles, who had no idea of the hidden world that existed next to theirs. Serious and reserved the young scholar had approached Dehlia for a commission, having heard a great deal over her talents in arts, but especially in depicting legendary beings so well and vividly like no other could. The very same creatures he was so interested in.
---
"I like you!" Dehlia had little reservation as she said this. Her company, a handsome, apathetic looking man stared back at her in confusion, slightly disturbed from the studies he had immersed himself in. "I like you as well?" he replied, unsure of where she was going with this and went back to his books again. Huffing the female put down her sketch pad and coal, placing her hand over a page.
"H-hey, you're dirtying the pages!" Ceyhun's reaction was probably the only sort of emotion that Dehlia could get out of the man successfully, making her wonder why she even bothered. Was it because they were both magic-users? Different from the rest of the muggles that surrounded them on the campus? Dehlia liked to believe that was the only reason why she kept on returning to this seemingly dull man. However, her thumping heart told her otherwise. Despite her calm demeanour, and many flings she was sweating it. What if he didn't return it in the way she did? Anxious she pulled her hand away, flicking the Turk's head. "I'm getting coffee, do you want some?" Returning to her usual nonchalance the female left the room as Ceyhun hummed, which meant 'yes' in his world.
The second time Dehlia tried to confess she wasn't as straightforward. Deciding to play it safe the female instead tried to stir the man's interests.
"So, Ceyhun?" the female asked one bored afternoon. Mixing some paint together for the right shade she heard her only company hum, meaning that he had heard her and was waiting for her to continue. Rolling her eyes Dehlia wondered how anyone could ever have a full conversation with the wizard, but found it even more peculiar how she had grown used to this quirk of his. "Are you still a virgin?" The sound of a page slipping from Ceyhun's fingers brought a smirk to the Greek's face, regretting the fact that she had her back turned. How she would have loved to see his expression now.
"What makes you think that?" the male spoke slowly, carefully, but she could make out how flustered he was at her question. Oh, the poor man. As reserved and innocent as he was, how could he answer such a scandalous question? Shrugging Dehlia turned around, a coy look on her face as she pointed her brush at him. "You just cross me that way. Always with your nose in the books, grunting instead of properly replying. The only good thing about you is your handsome face!" Cue to another blush from the man who turned his eyes away. "It is not that I'm uninterested…" he mumbled, feeling his face heating up further. Why was he even talking about this, playing along with Dehlia's whims? The man could honestly hit himself for giving Dehlia even more reason to tease.
"Hmm? Not uninterested?" and there it was, that slight lilt in her voice that just sang trouble to him. Hearing the female approach Ceyhun held in a breath, praying that she wouldn't continue. However, his lucky stars weren't shining tonight. Not when he was around Dehlia, never when around that blasted woman. Feeling her body pressing up against him Ceyhun closed his eyes, hating how he was enjoying her attention. "And what does interest you?" she whispered at him. Ceyhun let go of a deep sigh, his eyes focusing on his books again as he tried to ignore the witch.
"Do you like your girls wild?" she started to list off a variety of types that the male drowned out of his thoughts, missing out on the glimmer of hope she had when she slyly described herself.
"Or, perhaps, you like men instead?" Ceyhun twitched a little as he felt her breath going over his ear, annoyance taking over. Shrugging Dehlia off the man straightened himself again, his hand landing heavily on top of his book. "One that knows how to take a hint," was his brisk answer and returned to the yellowed pages and its fine print.
---
He didn't see Dehlia for a week afterwards. After his outburst the female had backed off and apologised, believing that he had been talking about her. He hadn't meant to chase her away. Not entirely. The man had been infatuated with the woman way before he had first approached her, as he had always admired her from afar for her free spirit and fierce independence. That he needed to commission some art was just a simple excuse to finally approach her. That he found out that she was carrying a secret alike to his just cemented their friendship, and he was content in keeping it that way if that meant being near her. However, she wasn't anymore and Ceyhun was missing her dearly.
The female seemed to have the uncanny ability to prevent their paths from crossing. Where the two of them would usually run into each other the Turk had little luck in finding her now. As if the woman was on the run from him, which Ceyhun certainly couldn't blame her for. It just stung, however, as he agonised himself over why Dehlia was taunting him so much only to run out of his life.
He finally did manage to find her, after approaching friends of Dehlia and asking them about her schedule. Information they gladly gave to him. "Dehlia?" his voice was careful as he approached the female enjoying the shade of a tree. He could see the immediate confusion setting as she saw him.
"Shouldn't you be in class?" was her immediate reaction to which Ceyhun chuckled. As he had suspected, the female did know his schedule. Shrugging he stopped a few steps away from her. "I skipped," was his answer, as if he did so on a daily base. However, everyone knew that Ceyhun Yilmaz never skipped class.
Dehlia shifted a little, playing around with an apple in hands. "What is it?" she tried to be cold about it, apathetic in the reason why Ceyhun had appeared in front of her. However, her heart was beating, and a hope was surging through her chest. Could it be?
The male shrugged again in his normal awkward fashion, humming in that annoying tone of his before correcting his posture and looking the female down straight into her eyes. A rare occurrence and Dehlia couldn't help but feel her breath stock. A strange determination was set in his eyes, but also a slight hurt could be read and her hope grew.
"I missed you," Ceyhun said, his voice low, but clear for once. None of that absent-mumbling that drove her crazy, none of that brabbling he did because he was too shy to speak up clearly and too unprepared in every damn social situation. Ceyhun Yilmaz finally spoken in a way Dehlia had been waiting for.
Silence filled between them as Dehlia was struck by his words. The fact that all this was uncommon behaviour for the man had her heart racing, hoping for something she didn't dare to hope for. Could it be? Was it so?
Not daring to ask the question Dehlia instead threw her apple at the man. It wasn't the most romantic gesture, especially as she had already taken a bite of the fruit, but she hoped that the history nerd would take the implications of it.
And so he did. Clumsily catching the fruit, not caring that his hand was over its exposed flesh Ceyhun gave Dehlia a nervous smile. His eyes were still unsure, as he was debating whether this was a proposal or an attack. As he was about to ask for a clarification Dehlia rolled her eyes.
"Don't ruin the moment."
Last edited: