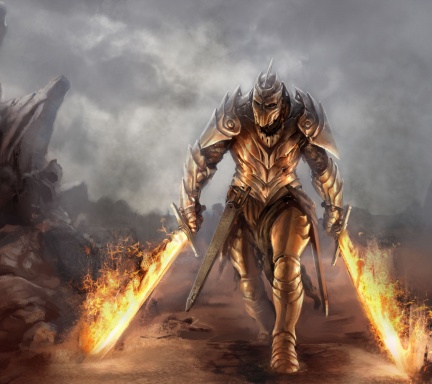 A warrior straight out of legend.
Original poster
In ancient history long before the human race was as large as it is today. it was common knowledge that Angels, and Demons existed. The Angels fought for peace and harmony and sought to defend the humans and protect their souls. The Demons however sought to destroy the humans not by killing them but by corrupting their hearts and minds and turning them into their mortal instruments of death and destruction. War ensued. Demons killing Angels. Angels killing Demons. Innocent humans getting caught in the crossfire.
For a hundred years the war continued until the final ultimate battle between God and Satan erupted. Equally matched the battle continued for days neither gaining the advantage over the other until God doing the only thing he could think of that would save his remaining precious Angels and the humans they sought to protect sacrificed himself to destroy Satan forever. The Angels and Demons leaderless and few in numbers were at a loss for what to do. The demons slunk back into the underworld to plan. The Angels returned to heaven to do the same.
Back on Earth however due to the war between the Angels and Demons the humans were suffering. They had no where to turn their prayers went unanswered now that there was no God to hear them. They needed someone to save them but who? or what? That was when it dawned on both sides. They would be the humans saviors. The Angels and Demons cast themselves out of heaven and sought out souls that were worthy of them. The Demons sought those that had evil in their hearts so they could use the Demons powers of destruction to destroy the earth. The Angles sought those of pure heart who would use the Angels gifts to help protect others and the earth.
After many years of searching both sides found their selected humans and approached them. a deal was struck on both sides the demon/angel would attach themselves to their humans blood line only the ancestors of the one that the deal was struck with can use the powers of the angel or demon. The Humans agreed on the terms that only one person from the bloodline would have to carry on the battle the others of the family would remain oblivious to the fight yet the entire family would be under the demons or angels protection. The deal was made and the Demons and Angels shrunk to a crystallized form which allowed their partner to carry them around with ease and to use their powers they needed to only speak the name of the demon/angel residing in the crystal to summon them and use their powers.
Hundreds of years have passed and the bloodlines have fought long and hard to preserve the deals they had made with their chosen protector, the protectors doing the same with their human. What will become of the bloodlines that were tied to the demons? to the angels? what will become of the Angels and Demons themselves?
---
There are only 8 spots available in this roleplay. The number of characters in the roleplay will be 16. Yes that means if you sign up you will be required to create two characters. Of these characters I am only accepting 4 angels, 4 demons, and 8 humans, One human for each angel or demon.
That being said there has to be 8 male characters and 8 female characters. This roleplay isn't just about fighting it is about romance and drama too.
I want you to have fun that's the most important thing.
If you have an idea or something that you think could make the rp better let me know.
If you have any concerns or questions let me know
If your going to drop out LET ME KNOW Don't just disappear. I wouldn't do it to you so I'm asking you to not do it to me.
I am requiring that you post at the minimum once a week if you do not post for one week you will get a warning, If a second week passes I kill off your characters and you will be booted out.
Going off of rules 6 and 7 I understand real life comes first and things can get hectic. So if you think that a time is going to come that you won't be able to meet the one post a week mark let me know I am very understanding and we can work something out to keep you in the game.
I require at least one GOOD paragraph per character to keep the rp going nice and strong. If I feel that you could put more into your posts I'm going to let you know. I understand that people get writers block but if it is a recurring thing or if I feel like you just aren't trying I'm going to boot you.
Last but not least this is NOT I repeat NOT a sexual rp. If there is going to be any sex you will fade it to black. If you wish to do your own sex scene do it in pm but do not post it in the ic that is between the two of you.
---
Played by
@Andy
name: Micheal (Mike) Hawke
Race: Angel
Age: 2,000 looks 18
s.o: Straight
Appearance: (ignore the cuts and blood)
Holy Form (battle form) :
weapon of choice: long sword
Elemental control: Lightning
personality: Micheal is a kind and heart warming soul. He always tries to comfort others and be there for them whenever he can. He enjoys laughing and making others laugh. His loyalty is like no others he will always stand by his friends and his partner no matter what the case may be. He could be outnumbered a hundred to one yet he will never give up he will fight to his last breath to protect those he cares about. His loyalty and desire to protect his friends however can give him a rash attitude. At times he has been known to rush into things without thinking about the consequences.
Bio: Micheal is one of the oldest of the surviving angels although at the time of the war he was one of the youngest. He fought long and hard and would never give up the fight no matter the odds. When God sacrificed himself Micheal was distraught he couldn't believe that his lord and leader was gone. Before God had sacrificed himself he told Micheal that he would have to take his place as leader of the Angels which he reluctantly accepted. He didn't understand why God had chosen him to take his place especially since he was only 400 at the time which was still quite young for an Angel. Yet he has proven time and time again throughout the decades that God had made the right choice. It was Micheal that ultimately made the decision for the Angels to go out and find a human to bond with and to protect their line until the end of eternity. After the decision was made he flew fast and far to find the human that he thought was pure enough to bond with during his search he vowed to protect them and their families throughout the generations as long as that blood line continued.
Played by
@Nay-nay
Name: Leah Rasyel
Race: Angel
Age: 1657 (looks 18/19)
Sexual orientation: Straight
Just the attire
Weapon of Choice: Small and hidden blades.
Elemental Control: Ice.
Personality:
Leah is a proud angel and a cold, merciless demon killer but has seen enough in her life, to leave space for considering redemption as a possibility in life. She can be pretty caring with her partner but/and will forever be loyal to Uriel's and her duty. That means she sets priorities: 1st comes her partner, 2nd comes her duty and last comes Michael's orders. They already came to argue about it and she doesn't like to take out the subject. Unlike what it could seem, she likes to be around people, expecially known people. Yeah, it's random but she likes hamburgers.
In regard of romantic relationships she never had the time to pursue one even if she would like to try it. She just loves to gaze lazily at couples going hand in hand wondering if she would ever experience something like that.
Bio:
Being raised by Uriel to help him rid the world from Great Sinners, Leah learned fast how to use her powers. She was once a splendid pure and candid winged angel but, due to all the sins and evil she was exposed to, her wings absorbed the bad energy and (purifying it) changed their color. When called 'Fallen angel' she usually replies in a calm but cold and cutting tone: "Their black wings meant they were weak enough to succumb to darkness. Mine are the proof I was strong enough not to." even so, she's a bit conscious of her wings and, if before, only a handful of angels approached her (due to her duty with Uriel), after the change not even them came close to her. As she is pretty slender, she preferred boosting her speed and hidden weapons abilities, mastering her magic on the while. When sent to Earth she went on with her hunt until she found her partner. He was a loyal partner and she cared for him deeply and she was really hurt when s/he died. She had done a good job. From then on she wandered in the human world, keeping on vanquishing evil sinners and survive.
Please note that: her wings are black but she's not tainted by evil, she looks Fallen but it's purer than a lot of other angels...
Played by
@Andy
Name: Natsu Shigami
Race: demon
Age: 3,000 (looks 18)
s.o.: straight
appearance:
Holy form (battle form) :
Weapon of Choice: two handed swords
Elemental Control: fire, He also has the ability as the lord of demons to force the demons to do his bidding even if they don't want to. If they try to resist with just a thought he can inflict the worst pain imaginable upon them.
Personality: Natsu is cold vile and all out despicable, all he cares about is power and control and he will do anything to get that. He's the kind of guy that believes if someone is down you kick them not once but as many times as you can to make them stronger. On the inside he does have a bit of a soft side for the blood line he has bonded with it is the only thing that can be considered a weakness for him. He might be a demon and bent on destroying everything but he will protect his blood line to the end. Whether that's due to the fact that he needs the power of the blood line or for some other reason has yet to be seen though.
Bio: Natsu is one of the oldest demons left since the great war that destroyed Satan and God. He had been Satan's right hand man throughout the war and before it. He was constantly challenging Satan for control and power of the demon armies and every time was defeated by his lord. This did not quell his determination however and when Satan finally died his one and only chance to become leader appeared. He proclaimed himself king of Hell and leader of the Demon armies and slew anyone who opposed him until his rule became official. Yet he knew not of what to do. Their armies were diminished to nothing and they had not the resources to restore the fight. It was when he heard of the Angels and their plans to bond with the humans that he knew what to do. He commanded his remaining Demons to go out into the world and find the humans whose hearts were corrupt and their souls black and to bond with their blood line just as the Angels were doing. It was through this that he was certain that he would eventually come to rule the world and destroy the Angels forever.
Played by
@Nay-nay
Name: Silvia Stride
Race: Human
Age: 17
S.O.: Straight
Appearance:
Humans who carried the crystal before you?: Older brother
Heavenly/Demonic armor and weapon:
Personality:
Very quiet and laid back, she was brought up as her twin brother's shadow. She was given an extremely high education leading to a love for knowledge, books and every thing which could lead to learning. She adored her brother and grew up almost as a second him. Not really having desires of her own. When her brother died she was made the head of the family. She loves books more than people but she's a very loyal and trustworthy person. Even if she's often among people, she's cold most of the time, making her difficult to approach. She's very capable in her job but a little lonely.
Bio:
Silvia was born as the twin sister of the next head of the Stride household. As such, she was brought up as her brother copy and as a male. She liked to learn and grew up as a quiet and beautiful young woman, ignoring her needs to put her family and brother above her own self. They were strict with her brother and even stricter with her as he seemed pretty fragile and inept. Truth was he wasn't fragile nor inept: he was chosen to fight. When her brother died (killed fighting) she was to be new heir. She accepted gladly (not that she had a choice) and she was announced as the true heir. She was finally brought out of the house and she could see the
outside
. She is still oblivious of the real reason her brother died for. Nor does she know about Angels nor Demons.
CS
Name:
Race: (angel, demon, human)
Age:
s.o.: (straight, bi, etc.)
appearance:
humans only) who carried the crystal before you?: (father, mother, brother, sister etc.)
(Humans only) Heavenly/demonic armor and weapon: This will be the armor/form the humans will take during battle the angel/demon has the ability through the bond between the characters to share their powers with the human giving them a special armor and enhanced abilities to protect them.
Angels and demons only) Holy form (battle form) :
(Angels and demons only) Weapon of Choice:
(Angels and demons only) Elemental Control: you get only one power control over fire, light, water, earth, lightning etc.
Personality:
Bio: