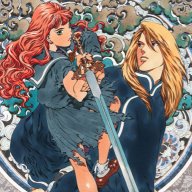 Edgepeasant
Original poster
LURKER MEMBER
FOLKLORE MEMBER
Posting Speed

1-3 posts per week
Writing Levels

Intermediate
Adaptable
Preferred Character Gender

Male
Female
Primarily Prefer Female
Genres

Fantasy, Romance, Modern, Slice-of-Life, Fandom
Dad: I didn't raise you to be like this! When I get up there you and I are going to have a serious discussion.

Laura: So let me get this straight. After some 10 odd years of being a straight A student, shaking hands with important people, and for the most part just minding my own business, you're just going to assume I acted out?

I refuse to discuss anything with you until you hear me out.

——

That was the last text Laura sent to her father. Since then, to say that things have been tense would be the understatement of the year. When her father did arrive, she was met with an onslaught of I-raised-you-better's and how-could-you's. Laura's father, the other student's father, the teacher (who was also the opposing student's mother), and the principal all screamed their heads off. They screamed and scolded and chided. Yet not one of them seemed to remember that she was in the top of her class, had the best behavior that teachers noticed, and was in line to be evaluated by some of the best wizards and mages of the country. But none of that mattered now. Not one ounce of her track record mattered, and no one seemed to have questions. No, no questions. Only judgments and decisions.

"Miss Willow," the principal addressed Laura once more. "I will give you one last chance to apologize, and maybe we will reconsider giving you the worst case scenario."

Laura stared coldly at the principal. Then her gaze moved between everyone in the room. She stopped at the crying student. Laura only had a few interactions with her but didn't know enough to ever have a motive to hate her, let alone sabotage her. Laura skipped over the angry parents and looked to her own father.

Her father looked in her eyes, and Laura could tell he was pleading for her to say something. Something that would prove his little girl was still the same upright person who would admit her own faults. Laura then realized what her dad really wanted was for her to just take the fall for someone else's sin, and she visibly scowled at the thought.

"I'm sorry…" Laura said quietly. She then stood up and spoke again, this time making sure to wound everyone involved with her words.

"I'm sorry that you all are too stupid to realize I would never do such a thing. I'm sorry that I'm going to have to prove my innocence all by myself. I'm sorry that I'm going to have to make an example out of you and whoever thought it was okay to involve me in their petty school wars."

And before Laura opened the door, she addressed her father last. "And I'm sorry, Dad, for ever thinking that you actually had my back."

Laura opened the door calmly, crossed the threshold to the hallway, raised her wand, and with a flick of her wrist slammed the door with intense force. The door cracked around the hinges and it sounded as if thunder rippled through the hallway. Yet despite her display, Laura's face seemed to remain eerily calm. She glanced to see some students looking shocked and fearful. All Laura did was blink at them as she reached for her earbuds and walked calmly down the hallway.

Sure, she seemed calm and collected on the surface. On the inside she was seething. Laura had enough anger in her to start a school-wide riot. But that wouldn't do anything. She would however do what she said she would do - make an example out of the principal, the teacher, and even her father. Laura didn't know how, but Laura went to the nearest table to begin journaling and drafting ideas.

—-

"Now remember class," Professor Albert Grindle's mellow voice soothed the class. Perfect for his subject - Meditating for Strengthening Magic. "Focus inward. Now is not the time to be worrying about homework or tests or games. Once more, inhale… and exhale—"

Suddenly a loud clap of thunder seemed to rock the entire class, causing the students to go into a panic. Professor Grindle took some time to settle down his class, called for silence, and waited till it seemed like everything had calmed. There was mild commotion outside in the halls, but nothing that suggested genuine danger. The professor turned to his class and began to conclude it.

"I understand to chastise you for reacting in this way would be quite unfair. However, this is why we are here and why we learn to keep ourselves grounded no matter what. Some of you are going to see combat and use magic one day. You will need to focus deeply and not let anything deter you from casting your best spells. Unstable emotions?"

The class answered back. "Unstable magic!"

Professor Grindle nodded with approval. "Class is dismissed. Keep an ear out for any announcements from the school."

Today the students hurried out of class instead of staying to talk, either to him or to each other. Poor young freshman, Albert thought to himself. They don't know what they're getting into.

Albert packed his messenger bag and exited the classroom. He went in the direction of noise and stopped at the principal's office. Noting the damages on the door, he reached out to knock but the door slammed open. Albert just narrowly missed the swinging door.

Professor and Mr. Talbot, a teacher and her husband, briskly walked out of the door. Albert tried to get Professor Talbot's attention, but to no avail. He heard something along the lines of "that child is a menace." Albert peered into the doorway to see the principal, but not yet Laura's father.

"Albert," the principal greeted. "I was just about to call for you. Please, have a seat."

"It's probably related to the noise I'm sure. Do I have another student coming to…" Albert paused when he walked further in and saw Laura's father sitting with a distressed expression. "Romero Willow?"