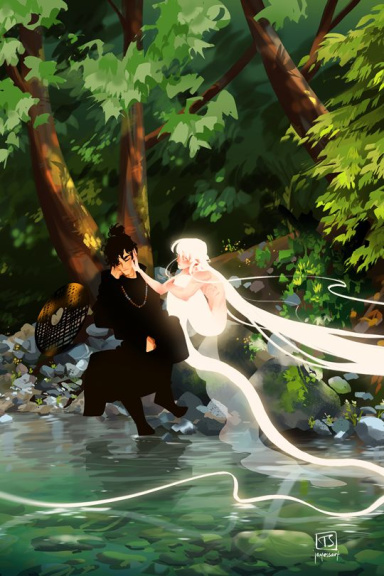 Chaotic Lawful
Original poster
FOLKLORE MEMBER
Invitation Status

Not accepting invites at this time
Posting Speed

One post per week
Slow As Molasses
Writing Levels

Adaptable
Preferred Character Gender

No Preferences
Adelaide Rosier
"We won't be able to keep this from
him
," Pyre had told her the night after the attack on Hogwarts, his usually smiling expression wrinkled away in several layers of worry when Adelaide had come to report with the headmaster. Barely hours after fighting off the ferals from the Hogwarts compound and Virgilius's warning clear in her memory that the Ministry was not to be involved, Adelaide knew that she had to disappoint the respected professor. A thought she hated as she let herself fall into a seat in the headmaster's office, wincing at the phantom pains that rocked through her body.
"We knew the risks, bringing me here under the guise of reintegration. Especially me,"
she murmured in response, her eyes dark as Pyre threw a pitiful look over the young female, a mixture of regret and determination.
"Yet, I couldn't think of anyone else," the headmaster told her, a rare moment of sincerity before he exhaled, a smile breaking through the stern features before breaking the tension in the air, "I don't need to tell you what to do next, do I?" he jested. Adelaide had only smiled back in response, too tired for a quip as she leaned her head back against the plush seat, knowing what was to come ahead.
That had been a week ago. A week of tense silence and pretentious peace before the hairs of the back of her neck stood straight, the chilling goosebumps covering her skin and travelling further and spreading out when a cool and smooth voice called for her.
"Miss Rosier," Branok greeted her coolly, as if surprised to find her in the hallways of Hogwarts, despite the humiliation he had faced in St. Mungos, which had most definitely not been forgotten judging by his next words, "I had not expected your recovery to go so
smoothly
."
It sounded like regret and a great displeasure, giving the female a sense of satisfaction despite the greatest displeasure in meeting the Ministry member, much too soon for her own taste.
"Nothing unexpected, mr. Carrow,"
she had forced over her lips, courteous and polite, as taught, as automatism deemed from her, shoulders tensing and back straightening,
"your appearance is, however,"
she quickly suggested, going straight to the point, such as her charm was known for within the Ministry, to the frustration of many and Branok included.
"Can't a father visit his daughter?" was the quick response, but Adelaide knew just as well that it was just another guise as the man stepped closer, leaning in to whisper to a former colleague, "you didn't think of hiding the attack from
me
, I hope?"
A threat, Adelaide could tell, her chin pointing up as her eyes met his straight on, but both kept their true thoughts shielded and their emotions hidden, steel against steel as if challenging one another with a charged tension before Adelaide finally took a step back, relenting and allowing the man this small victory.
"I wouldn't dare, mr. Carrow. Nigh impossible and a waste of energy,"
she smiles, but anger coursed through her, knowing that both Pyre and she had worked so hard to minimise the reports and the damages, despite knowing the fruitlessness of it all. But every bit of information kept from this man was a win for the future, no matter the detail and the size. She would have to learn to be satisfied with less than perfection.
But Branok took no satisfaction without the whole win, or without perfection. Adelaide knew that, and that only made her all the more determined to not be like him, or what he wanted her to be.
"You are still single, no, miss Rosier?" The man changed the subject and Adelaide knew what was to come, the fake concern all too familiar to her from her own family as she didn't respond, refusing to respond, instead waiting for him to continue, "a shame, truly. The ball is coming soon, your parents will expect you to look quite the
complete
picture," he continued, the insinuation infuriating and disgusting as Adelaide drew in a deeper breath, her smile unfaltering and her hands crossed over her back, that perfect posture she was taught so relentlessly taking over.
"You are quite concerned, how flattering,"
she got out, the flame within her maintained at a steady level, but the magic was itching to come out. Rarely was Adelaide's reaction one of aggression, but Branok was of the kind she would gladly smite off the world, if she could do so without regards to the great consequences of all their hard work.
Another step into her direction and Adelaide, though young, but not oblivious, felt an alarm go off within her as the glint in Branok's changed into something more dangerous, a hand rising up in front of her, palm up as he curtsied, ever so charmingly in the way he had the Ministry wrapped around his finger.
"Of course," he tells her in a low voice, but there is another warning laced through it, one that told her he wouldn't tolerate anything akin to a rejection, "
we
just want what's best for you."
The thought that her parents had approved of this, that there was a possibility that Branok could go behind her back to her parents and believed that to force her hands, brought a bile up her throat, aware of the wall behind her.
"Marvelous,"
she dryly responded, sidestepping the man to free herself from the cramped space into which the man was pushing her, her hands still out of his reach and way before she curtsied back,
"I believe I'm quite satisfiedly set,"
Adelaide tells him.
The shock of the claim, whether lie or not, is enough for Branok to lose his posture for a moment, the word 'satisfiedly', usually by far not enough as 'perfection' was all that was allowed within their circles. Yet, the claim that Adelaide was 'set'
the
Adelaide Rosier was more boggling than anything from which Adelaide took a glee out of, but felt an exasperation at the same time.
"And who could be the lucky fellow?" Branok recovers himself slowly, a smile on his lips, but the humiliation lingering in the similar manner as when the man found out that he had been too late when Adelaide was in St. Mungos. A petty sort of satisfaction for Adelaide, whose smile lifted wider at the corner.
"I consider myself the lucky one,"
she claimed, the lie not entirely a lie, Adelaide counted herself lucky to not be stuck with
anyone
, especially not with anyone approved by the likes of
him
or her parents. However, she was aware of the dangerous waters she was treading herself into,
knowing
that she was summoning
more
eyes on her.
The options passed through her mind. Marco, but he was in a relationship and Adelaide did not wish to come between that, Will was also out of the question, she knew how Caia felt, and Pyre was just wholly unbelievable because of the power dynamic off tilted.
Virgilius came to mind. She was fairly certain that he was single.
Yet,
there seemed to be a forbidding aura lingering onto the thought of approaching the head of Ravenclaw about the matter. Not only because of the fact that he already had a daughter, or was her professor
first
before they were equals.
"Now, I would be
delighted
to know who miss Rosier speaks so
highly
of," the question prodded at her, almost enclosing her in her lie and catching her onto the fabrication as Adelaide was given no time to truly think, other than give the most genuine answer to the question of
whom
she thought so highly of, for that was the truth and the whole truth of it;
"Virgillius Hildegard,"
the name escaped her so easily that it even surprised Adelaide at how natural it sounded, as if she hadn't been blustering barely a week back in the classrooms when she so boldly had declared Virgilius a
partner
. The heat that she felt crawling to her cheeks afterwards was both in that embarrassing realisation as much as that it unintentionally added to the realism of her lie.
For what seemed to be the umpteenth time Branok was taken aback at the declaration, his eyes widening in a disbelief and then covered in that cool collectiveness he carried with that lingering stench of anger and arrogant misplaced bias he beheld with him everywhere. "Is that so," he remarked, his voice chilly at the very mention of the one person he could possibly stand less than a impudent little pureblood witch that refused to conform. "I believe
that
to be quite be—"
"What you believe, mr. Carrow, is not a concern of mine,"
Adelaide interrupted, taking back the control of the conversation as she curtsied once more, the emphasis on herself made to clarify that this wasn't any business of her family either. The thought that this was the one forbidden person within her circles only came seconds after her concern of the reliability of such a claim being believed at all. Adelaide would make it work, however, even if Virgillius refused.
"Now, I must excuse myself, I hope you manage to find your daughter, she is an excellent student,"
Adelaide quickly interrupted whatever thought was to follow from Branok, her figure quick to step around the man as she wished for nothing more but to be away from
him
.
A hold onto her arm held her back, however, Branok's eyes glowing in a dangerous manner and anger as he tugged her towards him.
"If you know what's good for you, you know not to cross me,
miss Rosier
," came the final warning.
Text colour: #B4AAB6
Last edited: