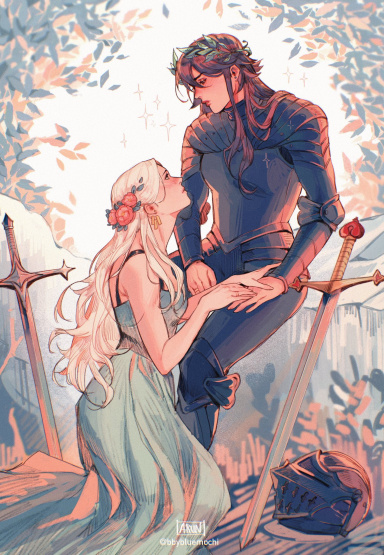 Just some guy who's a necromancer
Original poster
FOLKLORE MEMBER
Invitation Status
Genres

Fantasy Romance, Scifi
Angeline's blood cousin, Trixie... Always a problem child. Ironic how their lives had mirrored one another, though she would be remissed to admit that there were any similarities between them. Angeline was an ambitious candidate from a problem family of her house, yet Trixie was born to one of great standing and respect, yet she trounces upon that any chance she got. She claimed she'd be willing to show her what a barbarian was, and it irked Angeline. Still, she needed to keep up decorum. She bit her cheek in effort to hold her from, speaking, enough so that soon the metallic taste of blood started to drip to her tongue and diffuse across her taste buds.
She sighed,
"Please Trixie. I meant no disrespect to you in particular. It is not too late for redemption. You are my own blood after all."
She turned to the red-haired man who claimed to be affiliated with a business organization rather than any house. Peculiar for certain, but they held similar standing here.
"It's not too complicated. A warrior is simply one who fights. In other words, a barbarian is as much a warrior as a knight. The difference is decorum."
She took a sip from her glass.
----​
Taric, meanwhile, stumbled a little when Kai-li corrected him on her name. Fortunately she seemed to not really car at all. In fact, she even sorta liked it, and when she started suggesting certain nicknames for him, Taric couldn't help but start laughing.
"Oh man what a relief! I've been terrible with names and words all my life. You wouldn't believe the scolding's I've had because of that! Turns out, when your family cares about titles that much, people can get pretty upset when you mess them up. If you don't mind then, I think I'm gonna keep calling you Kali, in commemoration of this moment."
Taric took his glass, filled with wine, and raised it to the air.
"Cheers friends! May we best any adversary who crosses our path!"
And soon they would meet these adversaries. Who were these foes? Well that is the realm of seers and fortune tellers and gods. For now, their paths would lead them elsewhere.
---
The following day was the first set of classes for many of them, most of which were involved with daemonology and theory on Prima and Devotions, building off of the foundations that they were taught during basic training. Soon after, around 3 in the afternoon, they were all instructed to the Colosseum, a large amphitheater typically used in training and duels of honor between families and knights. However, as they approached, the new recruits would be greeted by an elderly man, shouting to workers in vehicles carrying large beasts trapped in cages. No doubt, every member would be able to tell that behind these force-field cages were none other than Primal Titans
They were small for titans, but even with that evidence in mind, each one still dwarfed their group. Soon the man turned around. He was perhaps in his mid 70's perhaps older. He was short, likely well beyond his golden years, and wore armor which took after the traditions of centuries ago.
"Oh. You're here. Good. I'd have expected a little more punctuality from the lot, but there is only so much that an old man can expect now that I've been relegated to beast duties.


The old man pointed at the beasts behind him, as a man passing by brought him a piece of paper. He slipped on a pair of reading glasses.
"I am Horatio, of a family of no renown. I am Man-at-Arms, and instructor for many individuals here. If it isn't already clear, you lot will be taking on one of these today. I've already split you all into groups"
He spoke in a clear and matter of fact voice, leaving no chance for anyone to interject. And any attempts to do so would likely be met with retaliation.
"Now then. I have before me a Dragon, a Serpent, A Dire Bear, and a Wurm. I've split you all up in groups and we'll take turns. Do your best. If you succeed today, you will be allowed access to apprentice missions and will receive your 'Squire.'

Now then! Line up with your party!

First off: Against the Dragon is Angeline, Izana, Replik, and Trixie

The Serpent: Ivo, Kai'li, and Naomi

The Dire Bear: Taric, Julian, and Ardent

The Sand Wurm: Bianca, Astrid, Lumikki, Taiki

Right! If you're not on deck, clear out to safety. This will get chaotic!"

@Ariel @Jessica @FireDrake150 @TreasureSniper @Psyker Landshark @Hillvale @Cresion Breezes @IceQueen @SilverPaw