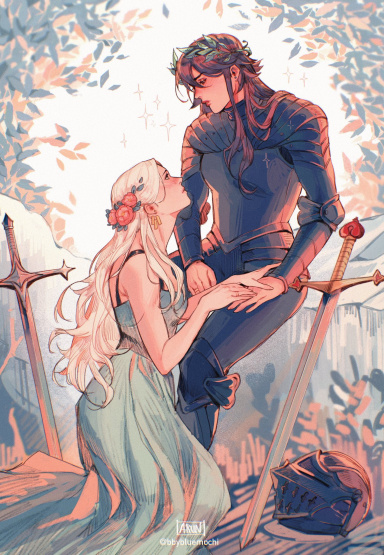 Just some guy who's a necromancer
Original poster
FOLKLORE MEMBER
Invitation Status
Genres

Fantasy Romance, Scifi
​
Fine Day Recruit
​
We call upon you as a member of Civilization. You have tested positive for high levels of Prima Brain Waves, thus stating that you are capable of Magic. As a wielder of this chaos, either by birthright or by chance, we request you uphold you Civil Duties and protect your home, your family, and your fellow citizen. While we value the freedoms and liberties of our citizens, we must also inform you that with the discovery of Prima Brain Waves, you will be required to register to our list of Potential Catastrophes. You will not be treated as any less of a citizen, but in order to ensure the safety yourself and your countrymen, you will partake in mandatory monitoring and research and will be restricted from any use of "Devotions" as a citizen. That is the minimum of your Civil Duties
​
​
However, with the acknowledgement of your abilities, a new door of opportunity opens up to you. We formally invite you to attend the Academy at A.R.M.S. At the Academy, you will be trained in the ancient art of melee combat as well as "Devotions." You will recieve a sizeable stipend for yourself and assurance that you and your future family will live comfortably for as long as you serve under the Banner of the King and after 6 years of service you may retire in comfort, following the rules of other Citizens who posses the Prima Brain Waves (Albeit with more leniency).
​
​
This is a duty that asks you to go above and beyond. There is no guarantee of your safety in the fight against the Primal Titans which seek to break our city walls, but there is a guarantee that by serving and fighting, you earn the honor, glory, and respect of all the citizens, the King, and of our Protector, Ordos. In this message you will find an application. You have 8 weeks to deliberate on your decision. If you have not submitted your application by the deadline, you will be treated as having waived your invitation. You may take the entrance exams next year if you change your mind.
​
​
​
Signed from the Seat of King Engrem and Arch-Bishop Lucemine
​
​
---
Hope I can capture some interest from everyone! This is a Future Fantasy Roleplay. I'm talking knights on tron-like motorcycles fighting demons and dragons in a futuristic "utopian" city. This is NOT a cyberpunk setting, in fact its more the opposite. "Cyberprep" if you will. Though slums and more gritty places may make an appearance and your character can be from such places, the Academy at A.R.M.S is in the finer parts of Civilis City
.
A few lore bits for you that you may have questions about!

MAGIC & DEVOTIONS
In this setting humanity has learned to harness a form of Energy called "Prima."
Prima is just the chaotic force of nature and the world. After a large catestrophic event nearly a century ago nearly whipped humanity to the edge of extinction
,
this energy was amplified beyond belief. This resulted in a few strange side-effects. Most notably was that of monsters: the Primal Titans. Dragons, Demons, Giants, Sea Monsters and the like. But one man managed to harness this energy. It was through his deep devotion to his family and fellow humans that he could channel this force of chaos and disaster into a coherent and constructive force. And soon humanity learned to convert this energy into power for their cities, dubbed the "Ordos Restraint" created by one of the first diciples of Ordos and his teachings to elevate Civilization and Humanity.

Devotions are what spells are considered, at least spells used by humanity. It is believed that magic and the power of Prima is too destructive for humans if they lack a proper place to focus their energy, and thus the bonds between man and his world around him help shape them. Though there is no science that directly supports this theory, there are some who think that the sort of thing that a person is devoted to affects how their magic manifests. A person's devotion can be to king and country, to religion, to family, to even pride or wealth. However, there is no devotion to one's self: That is because it draws upon the Id: a persons basic drives. In other words, the part of a person that is primal, and that risks the danger of that human causing a catastrophe.

WEAPONS AND GEAR
Knights utilize many forms of advanced technology including heavy advanced armors, high tech communications systems, S.T.E.E.D.S which are smart motor cycles installed with an A.I. called a Squire, and while firearms and energy weapons DO exist, they frequently lack the ability to deal lethal damage to Primal Titans. Primal Titans are surprisingly resilient unless struck with a weapon forged from a special ore called Disastrite which was formed and discovered after the calamity that brought Prima to the world. Because this ore is less abundant, they are not used for Munitions for general use for fear of wasting them. However, Primal Titans are susceptible to attacks from Devotions. If one is skilled enough, they may be able to turn normal munitions into something lethal to a titan. But this is a difficult feat to accomplish, keeping a bullet enchanted after leaving contact with a person.

Any questions?
Last edited: