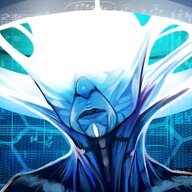 King of Kings, Devil of Devils
Original poster
Invitation Status
Posting Speed

Multiple posts per day
1-3 posts per day
Writing Levels

Give-No-Fucks
Advanced
Adaptable
Preferred Character Gender

Male
Female
Futanari
"I don't know who started this war...but i do know who will end it. Go now, little ones. It's all up to you now~ "
- Alfred Pennyworth
IN CHARACTER THREAD
Approved Character Slots
Bloodhound
Helios
Technokind
Phoenix
Red Queen
Alias Here
​
So, i don't know about ya'll, but for me i think my love for superheroes originally spawned from a little TV show that aired on Cartoon Network known only as 'Teen Titans'. I remember at one point when i was a kid i was watching this show with such a lovable cast and intricate character development and thinking 'this is the best thing ever'. Needless to say i was totally floored and i guess that is where my 'real' love for superheroes spawned. For those of you who might remember the show or are big fans, it is basically a series revolving around the conflicts a young group of teenagers pulled into the world of superheroes. The Boy Wonder, splitting off from Batman to come into his own identity, the Alien Ditz who was chased from her home world after a coup. The disfigured machine who was caught in an accident, the devil with a halo, running from her terrible fate. And the goofy outcast.
In this roleplay signup i wanted to bring things back around to this theme but set it in a slightly more 'realistic' and 'gritty' setting. Real teenagers, dealing with real issues, balancing their personal lives with their night life all while a mysterious organization rises from the shadows which causes the world to plunge into chaos. The Justice League is in shambles as heroes go missing by the day, the governments are issuing lockdowns and curfews in almost every major city by order of a president who seems to have a dark secret. And villains being released onto the streets with no one to stop them.
Seems a plot i brewing and with Superman presumed dead and Batman missing, a certain Butler has utilized the skills of his trade to seek out and unite young, wandering souls to join forces and assist him in not only salvaging what has been lost but also protecting all that remains. But with the fate of so many resting on the shoulders of restless, confused teenagers all that is for certain is that things may not go according to plan.
~
The Setup
​
So this roleplay will take place in the DCU and will be completely separate from any of the stories you have come to know and love to allow for some creative freedom. That also means that there will be no canon characters, only well made, well constructed OCs design to fit into this world. That being said however you are allowed so say, create the apprentice of a character you may enjoy or have a character be linked to a canon character in some way shape or form. Either way, i want characters with real weaknesses, real problems, and of course be somewhat understandable. This is not an RP designed for the 'Supermans' and 'Wonder Womans' that can go toe to toe with the biggest of baddies.
These will, in the end, still be 'kids' trying to find their way in a world that is changing all around them. Rather they are vigilantes, outcast trying to keep a low profile, or those who hide themselves and deny their powers. I would like to see some variety in the cast here. That, and this roleplay will only have a small collection of characters. This group will consist of about six or seven characters all together and each should have vastly different skills and abilities. Last thing we need are two robins on the same team, things will get redundant if we do that.
The Story will take place away from Gotham in the city of Los Angeles, California. Alfred Pennyworth using the vast Wayne Fortune to create something of a hideaway in the city after the Batman gave him the directive to find those who could rise to the challenge after The League was compromised. He then finds young people from across the world and gathers them, the way this story will begin is with a 'test' As all stories do.
~
Character Creation
​
Ok so, character creation for this roleplay will not be that complicated. I will not demand an entire essay about how your character came to be and long, drawn out histories. What i do require however is basic information about who they are, a brief, personality description which can be summed up in bullet points if you so wish. How they dress, their financial situation, and a brief synopsis of their backstory. Remember, these are kids, i doubt they will have 20 years of military experience so lets keep things nice and tight shall we?
Aside from those minor details, what i will need to be more explored is the 'powers' of a character. I do not mind strong characters, what i don't want to see is OP characters that can 'handwave' problems away because they are invincible or so intelligent they can tell you an entire solution to a problem designed to be difficult to solve. A mentioned above, these are kids. Most of them probably won't have that much of a grip on their powers so lets bare this in mind when creating them.
More importantly however. I want to see weaknesses in these characters. Powers to a characters should have soft and hard counters and every ability should have something it 'cannot' do. But not only do i want to see flaws in a characters physical abilities and powers, i also want to see flaws in them as characters. Deep insecurities leading to anxiety, temporary memory loss, perhaps a character gets a horrible stutter when nervous which makes it difficult for them to socialize. I wan't to see more than 'loner' or 'geek'. Try to give us something to latch onto!
Below will be a simple mock up of the template. Feel free to decorate and format to your hearts content.

Name: John & Jane Doe
Alias: Robin? Cyborg? Ect
Species: Human? Mutated Beast? Alien?
Age: 16-19 Please
Gender: Female/Male/Anything Else
Homeland: The UK? Russia? Mars?
Education: High School? Home School?
Occupation: Work at footlocker? Unemployed? Vigilante?

Personality: A brief Overview will do nicely, feel free to be as simple or complex as you'd like.

Appearance: How do they dress? Punk Rocker? College Kid? How about their costume?

History: I don't need to know how many archery contest their grandparents won. Just the important info is needed her. Car accidents, their struggles, ect.

Powers & Skills: This is where the meat should be and where i will be the most critical when it comes to approval.



​
Last edited: