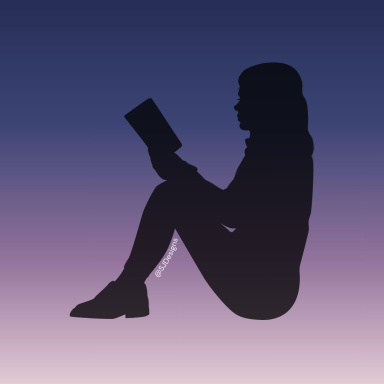 Always looking to write
Original poster
Invitation Status

Looking for partners
Posting Speed

1-3 posts per day, One post per day, 1-3 posts per week
Writing Levels

Intermediate, Adept, Advanced, Prestige
Preferred Character Gender

Male, Female, Primarily Prefer Female
Genres

Fantasy, Historical, Magical, Romance (usually within other genres), Dystopia, Fandom.

"Exactly, a few more days. It'll be so short compared to what we've already been through." He answered softly, reaching out to gently hold his mate's upper arms as he cradled their daughter to his chest. He then stepped forward into the little space that was left to kiss Anders' forehead, a hand came away from Anders' arm to stroke back some of Teddy's hair, after which he also pressed a kiss to her forehead too. He stayed close to them for a breath or two longer, eventually and reluctantly pulling away to let his mate go.

He smiled quietly, inwardly wanting nothing more than to be able to leave with the two of them to join them in their hut. But he knew that wasn't possible, at least not yet. "I look forward to it, an' I can't wait for what we have planned." He murmured, hands sliding into his pockets, all for the reason so he didn't keep reaching out to Anders. The more he did that, the longer it would take for him to leave and therefore for tomorrow to arrive.

Once his mate finally left, Ronan exhaled heavily and reached up to rub the back of his neck. It so felt like they were only in an impossible position at that moment, like nothing would ever be resolved. Of course he knew his and Anders' predicament was slightly different, because at least they had each other to get through their turmoil, unlike Luana who had to watch her mate love someone else. However, Anders' and Ronan's situation could be resolved by a simple announcement... which he could only imagine wouldn't be well received. He, like Anders, was determined for the truth to be out there some day, but that didn't mean he didn't feel sick at the mere thought of it. They were both anxious about how the pack would react, and it wasn't as if they would have anyone 'powerful' on their side when they told all. Luana was out of favour, incredibly so, and Anders' brothers hardly listened to Daisy.

Forcing himself to put aside his worries for at least that night, Ronan made quick work of undressing and changing for bed, slipping under the covers of the spare bed not long after. He laid on his side, facing Luana as she slept with her pup protectively held to her. The paste seemed to glisten slightly in the firelight, but at least it wasn't disturbing her. His mind turned to if that had happened to Anders, having to swallow back a growl at the mere thought. He would willingly bring down justice on whoever thought it wise to touch his mate, not sparing a moment to hesitate.

Having to shove aside that scenario too, Ronan pulled the covers up to his chin to settle down for sleep.


---


The next morning, it was a miracle for Luana to find Tala still sleeping beside her. Her body shifted so she could scoop to pup back close to her, a hand going to her back to gently scratch at the toddler's back. She could tell it was around breakfast time, with the bustle of the pack clear to hear. The fire was crackling, and there was the faint sound of wooden spoons and ladles banging against pots. Her eyes moved across to Ronan, who was also still sleeping, an arm hanging off the edge of the bed and laying flat on his back, body curving so his head was almost hanging off the bed too.

Kissing the top of Tala's head, she carefully untangled herself from the toddler to head over to the sink, grabbing the jar of paste from the table on her way through. She would need Anders or Ronan's help with the scratches on her back again, but she could at least check her eye.

She washed her face, gingerly doing so around the cut and the swelling which had gone down drastically. However, there was still some remaining, and the cut still had yet to completely heal. But it was close to closing, so that was all she could hope for.

Luana washed the small wound carefully, dabbing it dry afterwards with the hand towel nearby. Afterward washing her hands, she opened the jar and dipped two fingers in to gather some of the paste, which she then used to apply a thinner layer over the cut. She didn't want to saturate it, as it would need air to continue drying up.

"Mumma?"

Quickly, Luana screwed the lid back on the jar and left it by the sink, turning to face her pup who was sitting up in bed and rubbing her eyes.

"Hey, little bear." She whispered, glancing across to Ronan who merely released a heavy sigh and rolled over. The young woman walked over to her daughter and sat on the edge of the bed.

Not one to miss much, Tala's brow furrowed - almost cutely - and she lifted a finger to point at Luana's cut, "Wha' dat?"

She reached for her daughter's finger and leaned forward to pretend to gobble it up, earning herself a shriek of laughter and a giggle afterwards - the noise of which startling Ronan awake, who looked across to make sure all was okay before groaning softly and rolling back over, pulling his blanket over his head.

"Mumma had a woopsie when she was bathing yesterday. I was very silly an' accidentally slipped on some rocks." Luana replied, moving to sit fully back on the bed again as the girl clambered into her lap, clearly still sleepy. "Very silly Mumma." Tala agreed, a yawn appearing at the end of the declaration.

Luana chuckled, a warm smile on her lips and an eyebrow raised, one arm cradled the toddler to her while the other hand stroked the back of Tala's head, "Yes, very silly Mumma."