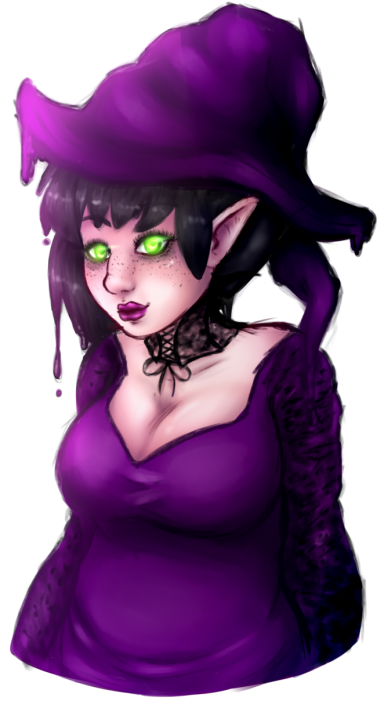 Ink-Dripping Elfmom, Word Bondage Enthusiast
SITE SUPPORT
DONATING MEMBER
Roleplay Invitations

One on One Roleplays
Posting Speed

Several Posts a Day, A Few Posts A Day, One Post a Day, A Few Posts a Week, One Post a Week
My Usual Online Time

11PM to 2AM EST, plus or minus a few hours in either direction.
Writing Levels

Adept, Advanced, Prestige
Genders You Prefer Playing

Male, Female, Androgynous, Primarily Prefer Female
Playing Style- Passive or Aggressive

Combination.

My strengths lie more in the direction of emotions and short-term ideas, where my ability to plan out long-term plots is weak. I do best with a partner who helps me cover that weakness.
Favorite Genres

I'm open to a wide range of genres. Obscenely wide. It's harder for me to list all I do like than all I don't like. My absolute favorite is mixed and multiverse, but I'm not limited to those.

• Mixed Genre
• Multiverse
• High Fantasy
• Hard Fantasy
• Low Fantasy
• OP Fantasy
• Science Fantasy
• Modern Fantasy
• Soft Scifi
• Science Fantasy
• Low Scifi
• OP Science Fantasy
• Modern Realistic (Strict)
• Modern Realistic (Loose)
• Urban Fantasy
• Alternate History (Fantasy Preference)
• Post-Apocalyptic Mixed
• Post-Apocalyptic Fantasy
• Post-Apocalyptic Scifi
• Post-Apocalyptic Modern
• Dystopia
• Displacement
• Military
• Dying Earth
• Supernatural
• Drama
• Mystery
• Horror
• Religious
• LBGT
• Crime/Detective
• Parody
• Comedy
• Tragedy
• Romance (Must Include Others)
• Erotic (Must Include Others)
Genre You DON'T Like

The list is short. because it's hard to find genres I don't enjoy.

• Yaoi/Yuri (Gay/Lesbian is fine!)
• Furry
• Fandom
• Historic Non-Fantasy
Beside Brock, Rare's eyes misted as she approached her adult daughter. The two looked almost identical, save the younger had more bust and appeared to favor blue over her mother's favored imperial violet. Separate to the mother for mere months, at least twenty years appeared to have passed.

Brock knew the woman who'd gained her freedom through years of trials still held milk, but he kept quiet and simply watched, a smile on his dark face as he watched Keeyo and Rare speak, occasionally joined by the two young men also in the library: one Onas and one prince whose name had not yet come up in conversation.

"Then, as long as they're coming, I want to go with you, Mother!" Keeyo beamed.

"One condition," Onas asserted, then looked between Rare and Brock, expression grim before his gaze settled onto Rare. "I don't want to live with you, Princess Anai."

Rare nodded. "Yes, that will be fine. We can arrange something different."

Brock's eyes flicked briefly towards the shades of teal along the walls and even on the trio of young adults. His attention returned more fully to the exchange inside the large, round library.

"As long as I get a chance to know my mother and visit her, I'm going to be happy," Keeyo added with a smirk as she flipped her smooth, black hair over her shoulder. In the next moment, her body hit the floor, limbs splayed limp.

Rare stepped towards her daughter, hands over her mouth in shock. "Keeyo?"

A voice came suddenly from all directions: male, accompanied by no scent. "Hunters. Neither she, Onas, nor the prince are harmed, and they will not remembering this meeting." At those words, Onas and the prince fell, and the voice continued. "Leave."

"Lady Rare," Brock breathed as she looked back towards him mouth covered as the scent of fear and sadness wafted toward him.

The voice spoke again. "I will not and can not allow you to take the heir to the throne. If you must take from our society, you may take only your daughter. Should you opt against taking her, she will continue with her life in this world, oblivious to your identity, and inevitably join the Unifiers, as she has planned for years."

Quiet, wrathful, in a tone so unlike her usual placid demeanor, Rare demanded to know one thing: "You'll stop me how?"

"Please turn your eyes downward. The floor on which you stand is carved from wall to wall with a banishment spell."

Silent, Brock's lady's scent shifted back to sadness—no, beyond it. Despair clawed at his nose as he watched Rare tremble, and he felt himself begin to burn, as though on fire. His vision shifted, though he couldn't understand exactly how, and he turned his gaze toward the floor. The spell stood out stark against the masonry, as though illuminated. Chanting came from somewhere below, and the world slowed around him as he leapt forward, eyes on Rare, locked as he leapt to chairs, tables, shelves—anything to keep from touching the floor.

He grabbed Keeyo in a pause that felt too long as he stared at Rare, then flung the girl towards her mother.

Eyes remained locked on the woman as she stumbled back, mouth and eyes open in shock. He couldn't remember when he came to the two young men, but his leap down from a bookshelf and their distance from the nearest table, and its distance from the rest of the furniture...

Brock felt how the spell sucked at his feet, forced them down, increased his weight against them. He threw the boys to Rare as well, and the impacts sent her and the children free from the room. There he stood, panting, as the world sped again, and his eyes remained firm. The sensation of stone began to climb his legs, and all he could think was to watch her as she shoved the children from herself and forward, towards him.

The woman smacked against an invisible barrier and began to claw at it as she screamed his name. She sounded far away. "Brock, Brock, call for Lady Jade! Just call Jade! She'll get you! Use your portable! Get out of there, Brock!" Her screams became shrill. She used her hands to pound the barrier, and then began to slam herself against it. With every ram of her shoulder, her expression grew more desperate.

The masculine voice surrounded Brock again. "Clever little martyr, but you've not helped her so much as you believe."

Still shouting and still ramming, the sounds from Rare cut off suddenly, though her mouth still stretched as she tried to reach him. Three more slams, all silent, left her shoulder to hang strangely as she stared through the unseen wall.

Brock forced a deep breath as he felt more of his body grow cold and stiff, and he moved his hands rapidly as the chants around him threatened to deafen him. Unseen winds yanked and clawed at him and his clothes.

He tapped his chest, crossed his heart with his arms as his hands formed fists, then pointed to Rare. He quickly followed with both hands pointing up, and then turning them forward, away from himself. Fingers and thumbs together on his right, he tapped his cheek near the mouth, then near the ear. Two hands again, he pointed up with the first two fingers and glared as he jerked them down and away from himself, similar to the sign for 'go' from a moment ago, but more aggressive.

"You are too late."

Rare glared at Brock. Her shoulders slumped, and her mouth formed several words. The boys fell through portals first, but Keeyo began to float as Rare's eyes remained on Brock. They shifted from a glare to hopeless depression, and after a moment, she looked back, then shoved Keeyo through.

He watched as she turned back to look at him and returned to the invisible wall.

Her signs to him begged he call Jade, but already his throat felt turned to stone. His vision blackened. Did she escape?

Someone once mentioned that banishment was akin to all the worst tortures experienced together in an instant, but instead Brock felt like he fell downward through cotton candy that choked him with sweetness and the flavor of peaches. He landed somewhere soft, and light filled his eyes. A woman stared down at him where he stood upon her soft stomach, and she laughed as though he'd always been welcome there. As he began to feel safe, like he belonged there and always had, her laughter became harsh.

"And now she is damned." The woman wrapped her hands around Brock, firm and insistent, and with as much ease as though she were ripping away a butterfly's wings, she tore his limbs from his body. With a breath, the pain erupted throughout him, and he lost consciousness.

He woke in a place of darkness, though he could see perfectly. "The prodigal son returns," an ancient voice intoned, then paused. "No. Not him. Merely his bastard get." The voice began to laugh, rasping. "I suppose you look enough demon that you are not damned here, but if you are as human as I see your heart, then you will suffer more beautifully than any other. Soon, you will feel it. Soon, the urges will come, and every soul in this place will scream mercy, and you will tell them 'NO!'"