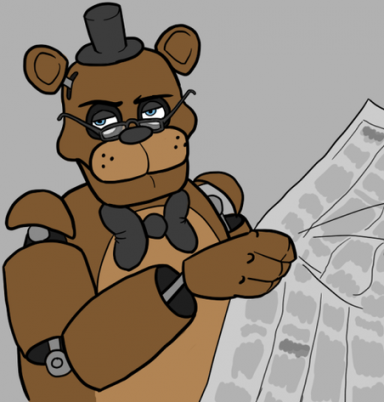 The Almighty Tallest
Original poster
FOLKLORE MEMBER
Invitation Status

Looking for partners
Posting Speed

Multiple posts per day
1-3 posts per day
One post per day
Multiple posts per week
1-3 posts per week
One post per week
Slow As Molasses
Online Availability

Usually from early evening all through the night into the morning hours.
Writing Levels

Intermediate
Adept
Advanced
Prestige
Adaptable
Preferred Character Gender

Male
Female
Nonbinary
Transgender
Primarily Prefer Male
Genres

I'm cool with just about anything...except the genres listed in the DON'T LIKE section.
After the events of FNAF 1, the mysterious management decides to move to a different location much farther away in an attempt to revitalize the business. They also decide to fetch the decommissioned Toys from their company warehouse, in the hopes that one day they might be able to put them back to work (even though they're wary to turn them back on. They're also considering repairing Foxy and putting him back to work, as well, so they spend a little extra to create another Pirate Cove for him. But a few weeks after they open, it's clear that they're not making nearly enough money. They decide to start sprucing up Pirate Cove, though they're leery about repairing Foxy (it'll cost a fortune). They also purchase some new animatronics at auctions, hoping that these new additions will help boost their profits. Now they all have to learn to live together and get along in one cramped space.
Freddy Fazbear




Played By: Mira-Charma13


Gender:

Male
Personality: A father-figure to the other animatronics. He is considered to be the de facto leader, so what he says goes (unless Golden or the Martionette have a problem with it). Freddy is extremely overprotective of his family, to the point where he can get gratuitously violent with anyone he deems to be a threat to them. He's a bit of a know-it-all. He loves to learn, especially from books--he even goes as far as to steal books from humans. He has a particularly caustic relationship with wild child Foxy. He loves to sing, and also loves to eat--he eagerly offers to taste-test when Chica cooks. Freddy is inherently polite when he speaks, even if he's speaking to someone he doesn't like all that much. He has a bit of a Southern twang to his voice.
Fun Fact: His nose actually makes that party favor noise when it's honked.

Foxy




Played By:

Mira-Charma13


Gender:

Male
Personality: Foxy is one dangerous-looking fellow, with his sharp teeth and claws and his lethal hook. But even though he can be a bit salty at first, nothing could be farther from the truth. He's a sweet guy, really. He loves his family to death, especially his best friend Bonnie. He doesn't always get along with Freddy, mainly because he's a wild child who likes to do his own thing. Foxy has the curiosity of about twenty cats, and the brashness to go along with it. He hopes to one day see the ocean with his own eyes. He's especially fond of games, particularly card games like poker (where he can win all the booty). Foxy likes to play pranks on his fellow animatronics for fun. He's extremely curious about the outside world and secretly wants to sneak out and see it.
Fun Fact: He's terribly afraid of thunderstorms.

Bonnie




Played By: Mira-Charma13


Gender:

Male
Personality: Bonnie comes off, initially, as being a bit of a douchebag. He's cold and combative at first, and he might threaten to beat up the object of his ire. To his family, and to those he's close with, Bonnie is an unshakably loyal friend with a heart of gold. He thoroughly enjoys getting up to no good with his best friend Foxy. Music, flowers, and animals are some of Bonnie's favorite things. He thinks he's a better singer than Freddy! Like Foxy, Bonnie is insanely interested in the outside world, but in spite of his size, strength, and tough guy attitude he's actually a bit of a coward and is afraid to leave the pizzeria even for a second. His guitar is his beloved treasure. Bonnie is especially fond of animals, particularly dogs and cats.
Fun Fact: Bonnie loves it when people pet his ears.

Chica




Played By: Mira-Charma13
Gender: Female
Personality: Chica is the sweetest thing in the entire world, friendly and loving to everyone she meets (though she's understandably wary around adults). She's a fantastic chef, even better than the human cooks that work at the pizzeria. Chica is the resident mother hen. She chases Foxy and Bonnie around and scolds them a lot to keep them from getting into trouble and maybe hurting themselves or damaging things in the process. She's very close with Freddy and spends quite a bit of time with him. Like Freddy, Chica also loves to learn new things. Especially about food, or pretty foreign places! She collects pretty and colorful things, like shiny buttons, colorful bottle caps, and carelessly misplaced jewelry.


Fun Fact:

She actually has a terrible and violent temper, but it takes a lot to make her that angry.

Fredbear/Golden Freddy (Golden)




Played By:

Mira-Charma13
Gender: Male


Personality:

More of a phantom than an animatronic due to his fascinating ability to teleport at will. Known simply as Golden to those he calls friends, he is extremely reclusive and spends most of his time holed up in the basement. He has the same amount of authority as Freddy, but since he prefers to stay out of the picture, Freddy is considered the de facto leader. Golden can be impish and likes to get up to no good when he's in a pleasant mood. He's also a father figure to all of the animatronics, including Freddy. He tends to avoid the other animatronics and only appears when his presence is absolutely necessary. To his friends, Golden is playful, kind-hearted, and gentle. To his enemies, he becomes a living nightmare.
Fun Fact: He secretly loves TV soaps and watches them all the time.

Toy Freddy (Fred)




Played By:

Mira-Charma13


Gender:

Male
Personality: Toy Freddy, or Fred as he prefers to be called, is starkly different from his predecessor. He's inherently sweet and friendly, and maybe even a little childlike in his mannerisms. Fred enjoys music almost as much as Bonnie and Toy Bonni, and though he's terrible at it he often asks to play both of the rabbits' guitars. He loves food, just like Freddy does, and oftentimes he can be found raiding a kitchen and making a big mess, much to Chica's absolute horror. He's extremely shy, especially around anyone he finds attractive. Fred is quite playful and enjoys games of all kinds. He especially enjoys children's games, such as tag and hide and seek.
Fun Fact: He's self-conscious about his weight, even though he physically can't lose or gain any.

Toy Bonnie (Bonbon/Blu)




Played By: Mira-Charma13
Gender: Male
Personality: A high-maintenance primadonna at heart, Toy Bonnie (also known as Bonbon or Blu) is the youngest of the Toy animatronics. He's used to being the baby, and in turn used to being spoiled by all of the other animatronics. He throws a fit when he doesn't get his way or what he wants. He's also quite possessive of those he's close with, particularly his big brother Bonnie. Though Bonbon is a bit of a bitchy drama queen and is prone to bouts of jealous rage, he's also amicable and loves to gossip. He has a passion for music and fashion--he likes to try on the spare employee uniforms when he has free time. He also enjoys practical jokes and plays pranks on his fellow animatronics whenever he has the chance.
Fun Fact: Bonbon likes to sing and dance when he takes a bath or shower.

Toy Chica (Tia)




Played By: Wolfiethehybrid123
Gender: Female

Mangle




Played By:

Wolfiethehybrid123
Gender: Female

The Marionette (Mari)




Played By: Mira-Charma13
Gender: Male
Personality: Wily, impish, and very protective of the other animatronics, Mari is a card if there ever was one. He's a bit eccentric compared to the other animatronics and he doesn't seem to properly get along with any of them. He spends the vast majority of his time either holed up in his box or checking up on the other animatronics. He likes to play pranks on the other animatronics, and he doesn't mind teaming up with others to get the job done. He's especially wary of adult humans, though he loves children. Mari can be a bit sassy when he gets angry or irritated and will often play tricks on anyone who makes him mad. He tends to be impatient, especially if he's teaching someone how to do something and they keep messing up. Mari loves to laugh and he has a fantastic, and somewhat sarcastic, sense of humor.
Fun Fact: He's fond of video games and can often be found hiding in the arcade, playing some.

Springtrap/Spring




Played By:

Mira-Charma13
Gender: Male
Personality: Two distinct personalities exist in this being. Spring, the lovable golden rabbit that once worked alongside Golden in Fredbear's Family Diner, and Springtrap, who is (of course) the mysterious murderer who took the lives of five innocent children. Spring and Springtrap fiercely battle for control of the Spring Bonnie suit they reside in. Though Springtrap has amnesia and does not remember his name, or very much about his life as a human, he remembers who he is and the murders he caused--his personality lingers on. Spring and Springtrap are on poor terms and bicker constantly. They are isolated in the basement, where Golden keeps a close eye on them. Spring is friendly, inquisitive, and a little bit shy. Springtrap is hostile, harsh, and surprisingly playful.
Fun Fact: Spring is terrified of mice and will run screaming like a little girl from them. Springtrap is actually quite fond of flowers and likes to receive them as gifts.


Riley




Played By:

Wolfiethehybrid123
Gender: Male


Appearance:

Riley is a rabbit covered in brown fur, his eyes are a bright purple while his hands, feet, ears, muzzle and around his eyes are a darker shade of brown. He likes to wear a dark green bow on his left ear. His stomach is a light tan colour.

Riley is the smallest of the three 'older' animatronics and looks more feminine due to his smaller size and thinner body shape.


Personality: Riley relays on Dusty a lot and often takes cruel things to heart, he's very shy when you first meet him but he's a great listener once you get to know him and can give amazing advice.

Kyle




​

Played By: Wolfiethehybrid123
Gender: Male
Personality: Kyle can be fairly dirty-minded at times but he is an intelligent Coyote who loves to write poems and short stories, although he does sometimes have trouble with his words and sounding too blunt he knows when to act serious and mature.


Dusty


Played By: Wolfiethehybrid123
Gender: Female
Appearance: Dusty is the slimmest out of her gang and is also the second tallest, covered in light grey fur which is missing is some places, allowing her endoskeleton to be viewed, her arms are completely covered in bandages from the shoulder down to the wrists, the fur around the bandages appears to be burnt/singed. He eyes are a cyan blue and the insides of her ears and tip of her tails are a lighter shade of grey. Dusty was designed to be able to drop down and walk on all fours, which is why she has oddly designed wrists and back legs compared to the others.
Personality: She's the most rational and mature of her gang, but can be annoyed easily be certain topics/Kyle, she is incredibly careful around children and has the terrible habit of lashing out at security guards if they touch her bandaged arms.

Runt




Played By: Wolfiethehybrid123
Gender: Female
Personality: Runt captures child-like curiosity perfectly, she's constantly trying to learn more and loves to explore, she also likes to colour and draw pictures. Runt can get attached easily and doesn't deal with being away from Dusty for long periods of time well. Runt views Dusty as an older sister of sister of sorts.



Eleven o'clock. Well past closing time at the brand-new pizzeria. The only humans left in the building were the haggard members of the cleaning crew, dutifully sweeping the place clean. When the last member of the crew moved on from the main party area to the arcade, all the way on the other side of the massive room, the eerie silence in the building was finally broken.

"Psst. Oi. Bon."

On the raised main stage, the massive purple rabbit stirred, a single tall ear twitching with interest. He didn't immediately answer the soft call. Instead his vibrant magenta optics refocused and he glanced furtively about the room, mentally noting the position of each member of the cleaning crew. Only when he was absolutely sure that none of them were within earshot did he turn his head toward the newly-constructed Pirate Cove. As expected, a single luminous golden eye greeted him from the minuscule space between the curtains. Bonnie sighed and averted his gaze, striving to keep tabs on the cleaning crew. They weren't supposed to move at all before the clock struck midnight, and if any of these busybody adults spotted movement...well, of course they would go straight to the management and claim that the animatronics were malfunctioning. Again.

"What do you want, Foxy?" He made a point of whispering, knowing Foxy, with his sharp sense of hearing, would be able to hear him even from this distance.

"You're gonna get us in trouble."

That single glowing golden eye narrowed into a tiny slit.

"I ain' got rocks fer brains, Bon. I ain' gonna get us thrown in the brig."

Another golden eye flickered into view--Foxy must have lifted his eyepatch.

"I'm assumin' ye heard the latest bit o' gossip?"

One of Bonnie's eyes narrowed.

"...Ehh..."

Gossip? What in the world was he talking about? Foxy poked his toothy face out from behind the curtains.

"Haven't heard anythin', have ya? The humans bin chatterin' about it all day long."





"Foxy..."

The hulking bear that previously stood motionless beside Bonnie at last stirred. Only his dark blue optics moved...to fix disapproving glowers on both rabbit and fox. "Get your head back in that Cove right this instant. If you're caught, we will all suffer for it." Foxy made a disparaging noise and pulled his ears back, but he obeyed anyway, backing up with a simple flutter of the curtains. "Yeah, yeah--I'm goin', ye scallywag. But aye!" Even though he moved back, Foxy lingered by the curtain, golden gaze somewhat uneasy.

"The humans bin' gossipin' all day long. Heard 'em from me Cove. Apparently..."

He scowled, eyes narrowing.

"We be gettin' some new crewmates."



"Really?!" The previously still Chica suddenly exclaimed, far too loudly. Several members of the cleaning crew jumped. The animatronics remained deathly still while they scanned the area, utterly confused. Eventually they returned to their work. "Chica..." Freddy sounded exasperated, like a burnt-out mother of triplets. The chicken pulled a face, shuffling her feet against the wooden boards below.

"I'm sorry. I got excited."

Her hot pink optics swiveled to meet Foxy's golden ones. "Are we really? But why? We have the Toys back. Why don't they just reactivate them?"



"Dunno."

Foxy grunted, disappearing back into his Cove.

"They're supposed ta get here tonight. I'm assumin' pretty soon."

Midnight was fast approaching, and the employees knew damn well that lingering for much longer would inevitably be the end of them. If they were going to bring in the new animatronics and avoid inciting the wrath of the resident animatronics and their lethal nighttime programming, they would have to do so in the next few minutes.



"I was not informed of this."

Freddy turned his eyes forward once again.

"I must admit, I'm intrigued. I suppose we will just have to wait and see."

"I hope one of them is a girl,"

Chica muttered, readjusting her cupcake on its small tray. "I be hopin' there ain' another pirate cap'n," Foxy growled, settling down in his Cove. He was impatient to see the newcomers.

"Otherwise, we're gonna cross cutlasses."

"I don't really care,"

Bonnie chimed in, ears perking upward.

"As long as they don't touch my guitar, that is."



With their bits said, they all finally fell silent, though they all kept an eye out for these supposed additions to their ranks.
Last edited by a moderator: