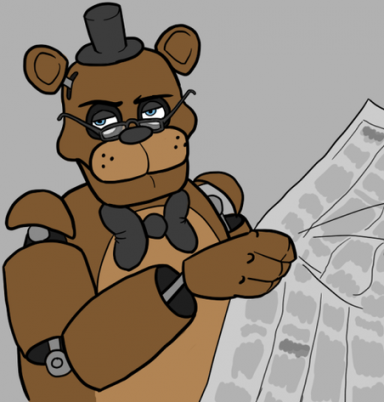 The Almighty Tallest
Original poster
FOLKLORE MEMBER
Invitation Status

Looking for partners
Posting Speed

Multiple posts per day
1-3 posts per day
One post per day
Multiple posts per week
1-3 posts per week
One post per week
Slow As Molasses
Online Availability

Usually from early evening all through the night into the morning hours.
Writing Levels

Intermediate
Adept
Advanced
Prestige
Adaptable
Preferred Character Gender

Male
Female
Nonbinary
Transgender
Primarily Prefer Male
Genres

I'm cool with just about anything...except the genres listed in the DON'T LIKE section.
The management is planning on bringing Foxy back after a decade and a half of him being out of order for biting someone (not the Bite of '87, but a less serious bite). But many local parents are uneasy about the idea. They think Foxy is inherently dangerous and should be scrapped. The management eventually comes up with another idea--to commission the building of a brand-new animatronic to work with Foxy and keep him under wraps. While Freddy and Chica are completely open to the idea of another animatronic joining their family, Foxy and Bonnie are less than enthused--Foxy especially, seeing as he'll have to share his Cove with someone else. The management delivers the new animatronic during the nighttime so he can get properly acquainted with his new family.
1) It's already taken. Sorry everyone. Feel free to read it, though. And if you wanna RP this fandom with me, please PM me.
2) If you have any suggestions for funny, fluffy, or even gory moments, PM me! Maybe we'll include it!
3) There will be cute MxM romance here. If you don't like that, then don't read it.
Freddy Fazbear




Animal Type: Grizzly Bear
Short Bio: The stalwart patriarch of the Fazbear family. Freddy is extremely overprotective of his family, to the point where he can get gratuitously violent with anyone he deems to be a threat to them. He's a bit of a know-it-all. He loves to learn, especially from books--he even goes as far as to steal books from the employee break room and employee lockers and hide them in his secret reading nook. He's the reason that a daily newspaper arrives on the pizzeria's doorstep every morning--he likes to read them. Freddy loves children, but despises adults. He has a particularly caustic relationship with wild child Foxy. He loves to sing, and also loves to eat--he eagerly offers to taste-test when Chica decides she wants to cook something new. Freddy is particularly quiet and inherently polite when he speaks, even if he's speaking to someone he doesn't like all that much. He has a bit of a Southern twang to his voice.
Likes: Singing, books, classical music, children, his comfort zone, learning new things, rain, autumn
Dislikes: Adults, threats to his family, hijinks, fire, Chica when she's angry, foul language, rule-breakers, being touched
Fun Fact: His nose actually makes that party favor noise when it's honked.

Foxy




Animal Type: Red Fox (is also a pirate)
Short Bio: The black sheep of the Fazbear family. Foxy considers himself to be vastly different from his more child-friendly counterparts. He looks dangerous, with his sharp teeth and claws and his lethal hook. But, as long as he isn't truly enraged, nothing could be farther from the truth. He's a sweet guy, really. He loves his family to death, especially his best friend Bonnie. He doesn't always get along with Freddy, mainly because he's a wild child who likes to do his own thing. Foxy has the curiosity of about twenty cats, and the brashness to go along with it. He's the only member of the family who occasionally slips out of the pizzeria at night when there's no night guard to chase--he goes straight for the roof to watch the stars. He hopes to one day see the ocean with his own eyes. He's especially fond of games, particularly card games like poker (where he can win all the booty).
Likes: Pranks, exploring, children, ships, stars, water (surprisingly), teasing Bonnie, games (of any kind)
Dislikes: Authority figures, adults, Chica when she's angry, accidentally scaring children, losing (in anything), sharing, mice, confined spaces
Fun Fact: Foxy likes to sing sea shanties, very loudly, whenever he gets a bath.

Bonnie




Animal Type: Rabbit
Short Bio: The second-in-command of the Fazbear family. Bonnie comes off, initially, as being a bit of a douchebag, especially to adult humans when no children are around. He's cold and generally unpleasant at first, and he might threaten to beat up the object of his ire. To his family, and to those he's close with, Bonnie is an unshakably loyal friend with a heart of gold. He thoroughly enjoys getting up to no good with his best friend Foxy. Music, flowers, and animals are some of Bonnie's favorite things. He thinks he's a better singer than Freddy! Like Foxy, Bonnie is insanely interested in the outside world, but in spite of his size, strength, and tough guy attitude he's actually a bit of a coward and is afraid to leave the pizzeria even for a second. His guitar is his beloved treasure. Bonnie is especially fond of animals, particularly dogs and cats--he often freaks out whenever a child or adult enters the pizzeria with a service dog, and sometimes he can be caught feeding mice if he finds them in the kitchen (much to Chica's horror).
Likes: Music (especially rock), children, dancing, the outside world, flowers, salty foods, teasing Foxy, animals (especially dogs and cats)
Dislikes: Chica when she's angry, outsiders, adults, getting his oil changed, asparagus, getting his feet wet, people touching his guitar, bees and wasps
Fun Fact: Bonnie loves it when people massage his ears, to the point that he'll grovel and beg for it if someone starts, then stops.

Chica




Animal Type: Chicken (technically a hen)
Short Bio: The peacemaker of the Fazbear family. Chica is the sweetest thing in the entire world, friendly and loving to everyone she meets (though she's understandably wary around adults). She's a fantastic chef, even better than the human cooks that work at the pizzeria. Chica is the resident mother hen. She chases Foxy and Bonnie around and scolds them a lot to keep them from getting into trouble and maybe hurting themselves or damaging things in the process. She's very close with Freddy and spends quite a bit of time with him. Like Freddy, Chica also loves to learn new things. Especially about food, or pretty foreign places! She collects pretty and colorful things, like shiny buttons, colorful bottle caps, and carelessly misplaced jewelry. She also has an impressive collection of round and sometimes colorful stones from Foxy's nighttime adventures outside. Chica is by far the most welcoming of the four animatronics.
Likes: Pizza, cooking, children, movies (especially if there's singing), colorful things, animals (especially birds), honking Freddy's nose, peacefulness


Dislikes:

Foxy's foul mouth, people in her kitchen, adults, thunderstorms, her shortness, mean bullies, scary things, weapons
Fun Fact: Chica actually has the worst temper out of all of the animatronics, but it takes a lot to make her truly angry.

Blair





Personality: Blair is a very happy person no matter what. He has an overall great personality, but there are a few blips in there. He's happy-go-lucky, hyper, and clueless at times. He is extremely book smart, but he doesn't have any common sense, reacting on impulses rather than thinking things through. He doesn't care about the consequences at times. Blair does have a small anger streak, and when you light the match, you're lighting a bonfire. He can get extremely upset if you don't do things his way and, surprisingly, he's very controlling.

Likes: Blair likes control, warm places, comfy places, sleeping, reading, paleontology and all of that.

Dislikes: Blair doesn't like thunder, mean people, irritable noises, and being confined into small spaces.



Small Facts:

Blair is very small, standing at 5'5".Extremely loud, too. Has no personal space. Very affectionate. Has no problem telling you how it is. Secretly loves verbal arguments. Is Scottish so he has a Scottish accent.

DISCLAIMER
Also, all of this is just for the FNAF!VERSE. Blair is an actual, thought out character of mine in his Main!Verse. He is SO much more complicated! This is just a small biography for this verse.


​
It was a shame, really and truly, that this was only the newbie night guard's second night on the job. Something felt...
different
about the decrepit building this time around. It was as if the air was charged with electricity or something similar. Upon checking the cameras, the new guy realized that all three of the animatronics were gone--to who knows where. And there were
just
three, right? He hadn't exactly been paying too much attention to what the messages left on his phone said--he was too distracted by the mysterious disappearance of the rabbit, the duck-thing, and the bear, frantically flipping through each camera to try and locate them. Now what the
hell?!
That guy on the phone said the bear rarely wandered off of the stage! And now he was gone! What the fuck was
this?!
That poor, innocent, unsuspecting night guard. He had
no idea
when he sauntered oh-so-confidently into the pizzeria on this evening that he would be walking into his worst nightmare. A certain pirate fox just received some piss-poor news from the management he despised so much.
"THIS BE AN OUTRAGE!"
The guard nearly jumped out of his skin. Who the
fuck
was that?! That voice was loud, echoing throughout the ancient building and bouncing off of the gaudily-decorated walls. No one was supposed to be here but him! And those apparently bloodthirsty monsters, of course.
"Now, Foxy..."
This was a different voice. Softer and gentler, with the faintest hints of a pleasant Southern drawl.
"DON'T YE 'Now, Foxy' ME, YE FLEA-BITTEN SCURVY DOG!"
The first voice hollered indignantly.
"I AIN' DOIN' IT! THAT BE CAP'N FOXY'S COVE! I AIN' SHARIN' IT WITH SOME LILY-LIVERED, STARRY-EYED LANDLUBBER! I'D SOONER WALK TH' PLANK!"
"Oh, come on, Foxy!"
This was clearly a female's voice, considerably higher pitched than the others and noticeably cheerful and bubbly.
"Cheer up! Please? For me? It won't be so bad! You'll have constant company! Someone to talk to! And don't forget--you need this new animatronic or the owners won't let you play with the children again!"
The female voice suddenly squeaked with fear--apparently, the one who had the roughly accented voice didn't take too kindly to that statement.
"Ye got bees in your brain?! I don' want company, ye sorry excuse for a parrot!"
he snapped.
"Oi!"
This was a new voice, somewhat androgynous and much more mechanical-sounding than the other three voices.
"That's enough, Foxy! Shut the hell up and leave Chica alone!"
Ignoring the ruffled
'BONNIE!'
and the exasperated sigh from the drawling Southern-accented voice he got in return for his cursing, the androgynous speaker continued.
"You know, I actually think Foxy's justified in being mad. Honestly, I don't want some fresh-faced punk stealing any of my thunder either. But really, guys, we're supposed to be hunting down that cute new night guard, not arguing like this."
"I CAN HEAR YOU, YOU KNOW,"
the exasperated young man bellowed from his cramped office.
"NOOOOOOOOBODY CARES,"
Bonnie called back in a deceptively pleasant singsong voice.
"We can get him later."
The owner of the gentle drawling voice was trying his best to calm everyone else down. Partially because he wanted this to be ingrained as a pleasant experience in the minds of his family members, as well as this new animatronic.
"We have more important things to take care of."
Near the frosted glass of the front doors stood the four resident animatronics, surrounding a heavy reinforced wooden box. Foxy sulked off to the side, currently ensnared in an unpleasant glaring match with Bonnie, who had his thick arms folded across his chest and his ears standing straight up. The hulking form of Freddy was closest to the box, his distinctive dark blue eyes poring over the note the management left for them one last time. Chica stood dutifully by his side, fingers twitching eagerly. She wanted to rip that box open right away!
"...I doubt that he--" "Or she!" "--will be in one piece when we open this box. We may have to put him--" "Or her!"

"--together."

Foxy snorted, gesturing wildly at the troublesome box with his hook. "You put the landlubber together, then! Cap'n Foxy's gonna get the night guard!" He made to bolt off, but he was stopped in his tracks by Bonnie, who reached out and grabbed a hold of his big bushy tail. "Like hell you are," he muttered through his teeth. "This is your headache, short stuff, and you're gonna help us deal with it." Foxy screeched, swinging at the rabbit with his hook--Bonnie simply leaned back to dodge the hit. Undeterred by Foxy's violent reaction, Bonnie dragged him over to the box by his tail, whistling all the while.

It took much longer than it should have, and there were bickering and squabbles along the way--Freddy had to whack a defiant Foxy upside the head a couple of times--but eventually, the box spilled open. The new animatronic's endoskeleton was in perfect shape, thank goodness. Each of them grabbed pieces of the suit. Even though Foxy and Bonnie were still less than enthusiastic about a newcomer in their midst, the two of them got to arguing about who would put which piece on. They eventually decided that because Foxy had to live with this animatronic that the pirate fox would get the honor of putting its head into place and turning it on.

Once the others were finished getting the other parts into place, Foxy stalked forward, the head in his hands. Bonnie chuckled, watching him go.

"You sure you can reach that high, small fry?"

"Shut yer mouth!"

Foxy huffed, hackles raising along his back.

"I ain' that short!"

Indignant over the insult, especially since this new animatronic was shorter than he was, Foxy reached over, fitting the head on over the endoskeleton. Still grumbling to himself, the furry fox shuffled around behind the sleeping animatronic. He yanked open the nearly-invisible panel on the back of its neck and flipped the correct switch, trudging back to join his family.

His ears were dropped and his jaw was clenched. Clearly, he still wasn't happy about all of this.