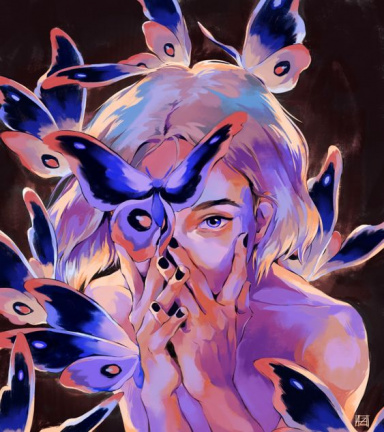 The Suffering Slav Problem Child
Original poster
LURKER MEMBER
Invitation Status

Looking for partners
Posting Speed

Speed of Light
Multiple posts per day
1-3 posts per day
Online Availability

Always online tbh lol
Writing Levels

Intermediate
Preferred Character Gender

Male
Female
Primarily Prefer Female
No Preferences
Genres

I generally like a little bit of everything, but my favorite would be Romance and Drama.

Hello!

So, I've come with a new post, since my last one comes off more like a corpse to me at this point. Anyway, here are some things about myself, that you should know I suppose before you reply to this post.
Also, it's discord only.
**Just gonna put this here, I am really, really craving a Harry Potter inspired rp, or one that is played out in the HP universe.**

About Me

​
I am an 18 year old art school student, who has to travel to school with both a train and a bus... Which is why I am usually awake by 5 am and if I am lucky, the wi-fi on the train is good enough for me to use.

​

English is my third language and I admit, I have room to improve. So, if you are looking to rp with a native speaker, then keep looking, fellers. (Even so I consider my english to be pretty darn good considering my situation)

​

I could get stressed. As everyone, I have my own life besides writing and roleplaying and such, but I will most definitely tell you if I'll be away, or won't be able to reply, or even if I want to drop the roleplay, so I would very much like you to do the same thing.

​

Discord is my biggest friend, really. I very much prefer to use discord as my main platform to roleplay on. The fact, that you can create servers with sepperate channels for ooc things and the rp itself really tickles my pickle, if you know what I mean.

​

I get pretty talkitive since I like to get to know who I actually am talking to, so I would like to find someone who's up for some talking with roleplay on the side.

​

I usually prefer to play the female characters, but I don't mind playing either gender as long as it's an OC and such, I suck at playing canon characters most of the time.

​

Ghosters annoy me. I've been ghosted without a word millions of times, especially since I started using Iwaku. So, yeah. Don't ghost me, just tell me upfront that you're gonna bounce, because I suck.

​

The Plots/The Cravings

So, here I'll just write down in a nutshell my ideas and cravings.
​
Harry Potter - Just as my older siblings, I grew up loving the HP series, reading the books and watching the movies, but lately I have been craving an HP story more. The whole idea would be, that it's set after the Great War, but we can discuss that either way. I don't have anything else in mind so I am open to suggestions. We could even do one during the happenings of the HP books and play a side character. I think that could be fun.​

Red Dead Redemption 2 - The story would be quite simply inspired by the whole western genre and the game. It's not entirely set in stone, so I am willing to go with anything.​

Anything with Mythology - I am a big sucker for both Norse and Greek mythology. While I know more about Greek, I prefer Norse mythology since it just comes across as more mysterious and such? Yeah. ​

Literally Anything with Angst and Mystical Horror stuff involving stupid teenagers who shouldn't be dealing with cult related stuff, but they are too dumb to know better - The name itself is is pretty self explainatory. So, like anything is good for me. Plus points if it's set in the 80s and in a small town!

​

Roleplays set in older ages such as the medieval ages with kings, queens and castles and such, or even ones set in the 1890s like the show 'The Alienist' (Which is by the way briliant if you are into thrillers and spooky stuff).. So yeah, historical roleplays are really fun!

​

Mass Effect - One of my favourite video games actually. Sure, I suck at shooting, but hey I am a good captain at least! So, I've actually got a plot in mind. It wouldn't really involve any combat, or anything just some heavy angst and maybe some fluff.

​

The Witch - As weird as the movie was, it was really interesting actually. Like I thought it was pretty well done. So, I thought of an rp involving settlers stumbling upon a witch of some sorts. This should be set up for some serious drama.

​

The Ritual - Another amazing movie to me at least. The story of 5 friends on a night out which ends tragically in one of them dying during a mugging. The remaining four friends take off to a hiking trip along the borders of Sweden and Norway called the 'King's Trail' if I remember correctly. It is for the memory of their lost friend. During the trip the friends bicker and there is some tension clearly between them. One thing leads to another and the friends are forced to cut through a thick forest to get to their lodge faster, since one of them has injured their knee. They find some creepy things and eventually they stumble upon an abandoned cabin. Now, this is what I thought I could work with. Let's take a few people in a totally new rp, maybe they go out hiking, get lost, find a seemingly abandoned cabin, decide to crash there for the night, but it could turn out that the cabin isn't too abandoned. I'm open to ideas eitherway.

​

Maybe an SCP inspired RP I guess.

​

Jurassic Park/World/Whatever the hECK, but yeah basically something like that.

​

Detroit: Become Human - I've got a plot in mind, but since both of my rp partners for this rp ghosted me without a word and then i was the bad guy for asking what I did wrong I decided that imma try looking for someone normal for this rp.

​

A cyberpunk sci-fi roleplay with a super cool new sport, where people wear Mech-Suits and 'play fight' in a way.

​

Underworld Supernatural stuff set in New York!

​
If anything tickles your fancy, feel free to send your Discord ID my way and we can just get to it.
Cheers.
Last edited: