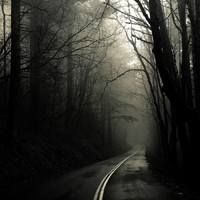 That Alley Down the Road...
Original poster
[tabs][tab=Overview]
This game may contain content that is not to be viewed for children. As such, please take caution as you read this info.
You are at a dilapidated academy filled with mice, bugs, and other creepy things. As you wake up, you have no inkling of who you are nor what you were doing. In addition to that, you have your own dorm room with a number on it.
That number becomes what your identity in this sad world. Although you may have a family, a life, and a true identity, the memory of them becomes dead.
In short, you are
NOTHING.
In fact, you don't remember anything else. Your personality is only 1/3 of what you had. But look out: Vicious monsters lurk around the vicinity of the halls. Once you lose, you die. All you have to do is go on a quest for your identity and escape this prison.
....
Before filing out their sheet, you must have gained permission. Sheets that do not follow this rule will be declined. For courtesy reasons, you may be asked to change your number.
The person who chooses zero is the child or grandchild of the Headmaster / Headmistress of the academy (a haunted one, at that!) As such:
* They have a surname (last name), but it's up to their discretion. However, they don't know any other name.
* They live in a posh room with clean clothes.
* They technically don't have a real number.
* They get two additional belongings, one of which includes a faded yearbook of the school. This opts room for FOUR more of your choice.
The people around you will only know your number, your appearance, and your personal belongings (if you carry them). They'll have an idea on who's the most mature. Do not add any fields aside from what is given.[/tab]
[tab=Rules]
Before You Join!​
1. You have a name, but you don't know it until you find... we're not telling you; you're on your own. You are referred by your number that is tacked onto your gown. Only Zero has a surname.
2. Your old clothes were stored away from view.
3. You have a scrapbook - an empty one - for something important.
4. You have three heirlooms that are clues to your identity. They are not pets, as those were killed.
5. Any info such as age and stuff should be revealed realistically. You must not reveal anything other than what is on your sheet; you're amnesiac, remember?
6. We will use random generators for events. You may or may not appreciate the aftermath!
7. If you would like for your character to have a preexisting condition (which in turn requires an extra space for the items), let me know.
Role Play Rules​
1. Please write at least a few, meaningful paragraphs with your character. Please do not speed post, as that bars opportunities for others to post. You're in that dilapidated academy with lots of rooms; don't rely on previous posts or the GM to whip up something.
2. Death is a high probability. No; you're reading this right. Based on your character's poor choices or lack thereof, your character will die. Upon character death, you will be allowed to make another. However, they must be placed in another room. If you read this part, add "We're not safe" to the bottom of your CS.
3. The name of the academy is undecided, but once 0 is chosen, their last name becomes part of the school name. If the position is not filled, an NPC will take their place.
4. Dare you reveal everything unrealistically, I will give you an opportunity to fix it. If you refuse to do so, or if you continue after being warned, I will grant your character the most gruesome death. If this happens, you will not be allowed to create another character. If you're just here for the LOLs about not knowing your identity, I will politely ask you not to partake in this game. I need you to care about what happens around the school. Treat your character like your baby! Besides, I shouldn't rely on half-assed posts!
5. Yes, there will be monsters, supernatural shit, and tensions in the game. Although you may want to simply your character was bad-ass, don't blame me if that puts you in a corner.
6. God Modding, Meta Gaming, or Power playing will not be permitted for any reason.
7. For courtesy reasons, only two characters per person. Upon character death, if any standard room is still available, pick a number that is not taken. The "Staff" board old rooms to use as funeral placements. As such, they will bar access to the rooms of deceased residents. We recommend that you play ONE.
8. Have fun, and don't die too quick!
9. Only the GM (and co-GM) play the staff members, monsters, etc. Please do not make up events on your own. I will determine the outcomes with a 1d6 die or a 1d4 die (in case of supernatural encounters).[/tab]
[tab=Cast List]Because of this sheet, you will have up to 48 hours. If you need an extension for any reason, let the GM know before you reserve.
Number: (0-15; 1 is taken; 0 is a special case)
Approximate Age: (around the early teens to late 20s)
Maturity: (1-10; 10 meaning you are nearly immune to being scared, upset and angered. For courtesy reasons, I will only accept a limited number of 10s.)
Appearance: (Go into the basics... like if you looked at yourself naked in the mirror; whether you look like a boy or girl is up to you. I prefer that you use realistic anime images, as that fits with the theme. Real life photos are okay as well.)
Personal Belongings: (three at the start; no more, no less - lots of stuff to have! These belongings are Chekov's Guns - they need to have a purpose to your character's identity.)
Current Events: (please leave this blank for now)
The Current Rooms
The Principal's Prodigy ~ Reserved
@Karakui
Dorm 1
Dorm 2 ~ Reserved
@Karakui
Dorm 3
Dorm 4
Dorm 5
Dorm 6
Dorm 7
Dorm 8 -
Number 8
Dorm 9
Dorm 10
Dorm 11
Dorm 12
Dorm 13
Dorm 14
Dorm 15[/tab][/tabs]
Last edited by a moderator: