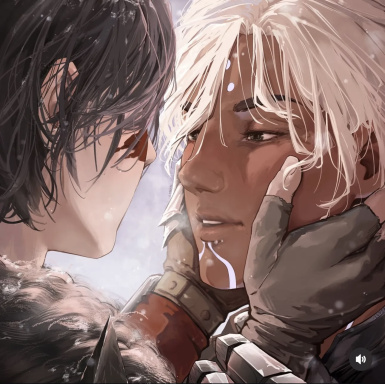 Inconceivable
Original poster
MYTHICAL MEMBER
Invitation Status

Not accepting invites at this time
Posting Speed

1-3 posts per week
One post per week
Slow As Molasses
Writing Levels

Advanced
Prestige
Adaptable
Preferred Character Gender

Male
Female
Nonbinary
Transgender
No Preferences
Genres

Fantasy (High, Low, Modern, Any), Romance, Supernatural Creatures, Fairytale Retellings, Mythological, Heroes' Journeys, Fandom (Bioware Games). Open to Trying Different Genres.

The afternoon sun was beginning to sink towards the horizon as the cool air of the night blew into the room. It carried with it the scent of flowers mingled with the sea. Rowan loved this time of the day and not even her present company could change that fact. She bit back a groan as her aunt Cassandra pulled hard on the corset strings. Rowan was certain that one soft hit to her side would cause her chest to cave in, but Cassandra seemed to think differently. She finished tying the string and tucked away the excess once she was through. "All that's left is the gown," she informed Rowan as she turned away and retreated into the closet nearby.

Rowan took the opportunity to rest, breathing as deeply as the corset would allow. She was grateful her aunt had agreed to help her prepare for the King's Ball, though she wished the older woman would be a little gentler while assisting. Rowan wasn't sure what she would have done if her aunt had chosen not to attend the ball. It probably would have been an awkward attempt to get herself ready which would have resulted in lackluster results. Tonight was too important for that.

Her aunt returned with the satin gown her father had bought for this occasion. It was dyed pale blue with a fitted bodice and wide sleeves all trimmed with white. The neckline was more modest than what was most popular which Rowan wasn't bothered by. It made it easy to hide the mother's wedding ring. She feared she would need to remove it for the important event, but it seemed luck was at least partly on her side. Rowan glanced in the mirror to examine herself now that her aunt had finished her work. Her dark brown hair was pulled up into a loose bun with a few waves framing her face. A dab of rouge had been used to highlight her cheeks, but her face was otherwise untouched. She met her own grey gaze in the mirror, shocked that her aunt had been able to do so much with her in so little time.

"Beautiful," Cassandra said with a smile, as she took a moment to check her own appearance. They looked nothing like each other for the obvious reason of not being related by blood.. She had fair skin and light hair which she grew long. Not only that, but her eyes were green, unlike most of the Keanin family who shared the same grey color.

"Never have I seen two more beautiful women. You, my dear aunt, are looking especially lovely. If only we were not related," a smirking voice quipped.

Cassandra turned with a disapproving frown, "Show some respect, young man."

Rowan hid a smile, knowing it would enrage her aunt if she saw. Frey was good at getting under her skin. He walked into the room, with his usual smirk on his lips, "I meant no disrespect, my dear Cassandra. I only meant to give you a compliment."

"I know exactly what you meant, boy. Please excuse me, Rowan. I must check on Michael to see how he is coming along. Don't dally. Your father will be waiting," Cassandra called as she swiftly exited the room.

Rowan cracked after Cassandra was out of earshot, "You really shouldn't abuse her so much, Frey."

"Abuse her? Why, Rowan, do you really believe I would be capable of such a thing?" He asked, feigning innocence before giving her another look, "You are a vision, dear cousin. My stars, will I need to act as bodyguard tonight?"
"I'm sure you'll be too busy with other things," Rowan replied with a shake of her head. Frey loved to live his life by the day, always drifted around looking for new adventure. Even as acting heir to the Keanin family, the man took nothing seriously. It was getting to the point that Rowan's father, the currently lord, was beginning to consider locking him away.

Frey laughed at her quip before sobering for a moment, "I mean it though. You look beautiful tonight."

Rowan allowed herself to smile, "Thank you."

Frey watched her for a moment before placing a hand on her shoulder, "Cousin, promise me something."

"What is it, Frey?"

He smiled her way, "Promise me that you'll treat yourself a little tonight."

Rowan frowned, "What do you mean?"

"I mean live a little," Frey replied, "Dance with a stranger and don't tell him your name or lead him out into the garden and enjoy yourself a little. Just promise me you'll do something fun tonight."

Rowan shook her head, "You're being ridiculous as usual, Frey. We can't play around tonight, there's work to be done. Tonight we'll have access to every noble line there is. I need to be there to help father forge his alliance however I can."

"Same stubborn fool," Frey smirked as he held his arm out to her, "Shall we then? I'd hate to keep the others waiting."

"You'd like nothing more," Rowan playfully punched his shoulder before taking his arm.

They walked downstairs together toward the main hall. The Keanin mansion was hardly worthy of the title. It was only two stories and, while larger than most of wealthier merchants in the city, it was nothing compared to some of the other noble families. It was to be expected of course. The Keanins had been in exile and living as lower class for many decades. Their fortune had long since disappeared and only recently had they begun to build it again.
At the bottom of the stairs, Lord Ethan Keanin stood with Henry, their longtime housekeeper and butler. The old man was helping Rowan's father with his cloak as he readied to leave. He noticed the pair before Lord Keanin. His eyes came to rest on Rowan as a grandfatherly smile appeared on his face, "While I'll be. You look lovely tonight, my lady."

Her father looked up from fastening his cloak and stopped cold. His eyes widened for a moment when he saw her. Silence hung heavy in the air as Rowan waited for his response. After a moment, he cleared his throat and went back to fastening his cloak, "Yes, very nice. Come now, we've taken long enough. Frey, your mother is waiting in her carriage. She wishes to have you ride with her and your sisters."

Frey released Rowan's arm, "Duty calls." He took his cloak from Henry, looking back at Rowan before leaving the house, "I'll see you there."

Rowan nodded, watching him go as Henry came over to her to help her tie on her cloak. She felt a little disappointed her father hadn't said more, though she didn't know why she expected more. This was the way it always was. After she'd finished, Lord Keanin offered her his arm. She took it and they headed out toward the carriage.

Last edited by a moderator: