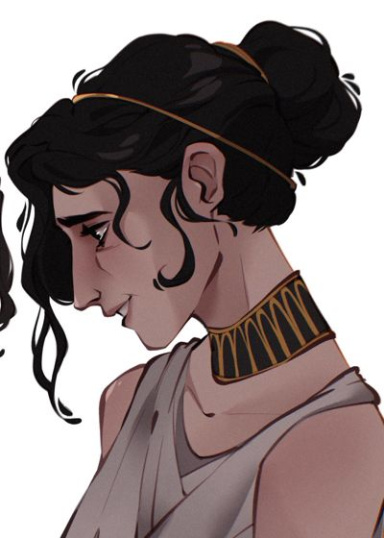 marigolds, poppyseeds and roses
Original poster
COMMUNITY DEPARTMENT
The Warrior
"I made a promise, and I intend to keep it."​
Brows creased together as a drop of sweat slid down between her brows and onto her eyes. While the perspiration stirred the sleeping girl, it did not wake her. No, not when she was too deep in sleep, too deep in her nightmares to be woken by small droplets of liquid. Nightmares that stilled her very body, but trapped her, having such a tight hold on her she could hardly breathe, fear consuming her entirely. Even as she laid there, washed up on the share of land, the water lapping her feet and legs, soaking her even further.
"I'm sorry Bo … He wasn't strong enough to recover from his wound with his illness."

"Where is he ..?" She swallowed knowing the exact answer. That Bai, her older brother, the person most precious to her in the world, the only one that made life worth living, the one who she cared for and loved with all her heart, her only family … was no longer with them. That he was gone and he would never come back. And yet, despite knowing it, she refused to believe it. "I need to see him."

"Bo. He's gone. He passed in his sleep only moments ago."

Shaking her head Bo pushed passed him, "no, you're wrong," mumbled the girl, barely breathing as her chest constricted, tightening and making her slightly dizzy. But she continued, step by step, repeating how wrong the doctor was. Who was he to say? Bai was stronger than he looked, a single jab with a sword couldn't kill him. He was taught tough for that to do him in. It was all a misunderstanding.

Bo reached the door, gently placing her hands on the handle. She hesitated. Why? She was too scared to open it, to see what lied ahead, even though she knew exactly what was inside. And again, she refused to accept the reality. She braced herself and slid open the door.

There, laying in the bedding was Bai. She had never seen him so still before, but the peaceful look on his pale face could have meant he was sleeping. Any moment now he would wake up and rap her on her head for being so stupid, for wandering in dangerous grounds, bandit grounds, for risking her own well-being and life. When truthfully, he shouldn't have come after her, no, not when he was already so sick, he had overexerted himself and ended up injured in her stead. And it was all Bo's fault.

"Bai …" She whispered, dropping at on her knees and crawling to his side.

There was no response.

"Bai … please, wake up." Her voice cracked, the lump in her throat growing larger and harder to ignore. "Bai, I beg of you. Wake up." Bo pressed her palms flat against his shoulders and shook his frail body relentlessly. No response. " Bai." Her hands slid away from his shoulders and took his hand instead, holding his limb from which the warmth was leaving. "Don't go. I was supposed to protect you." And she broke, crying and sobbing uncontrollably. "I need you."

Again, there was no response. Her brother had left her.. All alone.
Tears leaked from her closed eyes, the pain of her aching heart was too real to continue sleeping. Bo did wake up with a start, but rather somberly, her eyelids slowly fluttering open. For a moment, she laid against the wet and cool ground, staring into space. The nightmare was not a nightmare, it was a memory and a rather painful one too. She waited for the pain in her heart to subside before sitting up.
Her body felt heavy, but that could have simply been because of the pieces of metal armor she wore and the fact her clothes were soaking wet along with the rest of her body. First things first, she reached to remove her boots and pour the water from them. Yet, the girl did not put them back on because the moment she had finished emptying them of water, Bo realized her sword was missing! What followed next was her utter panic and confusion when taking in her surroundings. She had no idea where she was!
Only seconds after, she regained the memories that had escaped her. Only a days after Bai had passed, she ventured out with a set goal. To get back what was hers. To keep her promise, and that promise entailed finding her brother. And so help her, if it meant crossing the Styx river then she would do it. And that was exactly what she did. She had traveled far and wide until she met a mysterious old woman who knew how to cross over. Bo had given her everything she carried on her except for her sword and the clothes on her back. None of it mattered anyway. The woman gave her a boat and told her to cross the river and into the fog. All had seemed to be going well until the storm came in seemingly out of nowhere and crashed her boat onto land.
From where she stood, the fog was too thick to see far out into the river. With a huff, she began to search the rocky and sandy shore for her weapon. Bo would not take any step deeper into the greenery ahead until she found her sword. While she searched, she wrung the water out of long her ink black hair and tied it back. It was better that way, so it wouldn't get in her way. And just as she did, she discovered her sword.
Now, she was ready to venture. "Hello!" Her hoarse voice called out. "Is anyone there?"

Nemopedia