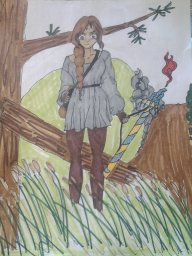 Authoress
Original poster
LURKER MEMBER
FOLKLORE MEMBER
Invitation Status
Posting Speed

Speed of Light
One post per day
One post per week
Slow As Molasses
Writing Levels

Intermediate
Adept
Advanced
Adaptable
Preferred Character Gender

Male
Female
Transgender
Primarily Prefer Female
Genres

Fantasy, Romance, A bit of horror, magical, and almost everything.
Everyone wants to be a hero.
It's a simple fact of life. Everyone wants to be the main character in their own story, the hero that saves the day and achieves their goals. As young children we dream that we can change the world, beat the bad guy, and save the damsel in distress.
Reality, however, is a cruel mistress.
You have never been the hero as you so dreamed. You've never accomplished your goals. However, all of that can change.
The world of Disney is in danger. Darkness clouds its optimism. The heroes you dreamed of being like are fading with each coming day.
Only you can change that.
Become a Guardian, and save Disney as you always dreamed.
~~~X Kbt Pxsflo Xoosbp~~~
​

"Welcome, group number 1,836." A mechanical voice reverberated in the darkness. A group of eight found themselves sitting in the darkness, only to be lit by the strange woman floating in the darkness. Her appearance sometimes fuzzed out with what could best be described as static. The whole woman looked like she was made of a dull gold, watching the group intently. "You have been chosen as Guardians who will save Disney from the impending darkness that haunts this land." The room started to lighten up, crystals surrounding the group bathing the whole room in a faint blue tint. As far as the eye could see there seemed to be endless amounts of large crystals, large enough to hold a person.

The strange woman moved on to her next task, pressing a button on a small pad she seemed to be holding. A large wall rose from the ground, full of weapons and books of all sizes travelling across the walls. "These will be your weapons with which you will fight the darkness. Each book will teach you how to wield your chosen weapon. As soon as you finish this step, you may continue with choosing your Guide." Blades glistened in the strange light while leather bound books sat neatly near whatever weapon they were meant for. The room the eight were in seemed endless, almost as if they were in some kind of fever dream.

However, this all felt too real. If they were to prick their fingers on a weapon, it would hurt. They could feel the steel of the floor, hear the whirring of what seemed to be electronics, and smell an earthy undertone to the whole room. It had no end. Those who tried to run away through the crystals would simply end up right back where they started. The holographic woman waited for the new group to choose their weapons, chiming in, "If you have any questions or doubts, you may ask me and I will answer to the best of my ability." With that the humans were left to their own devices.
​
~~~Vlr Xob Lro Kbt Elmb~~~
​