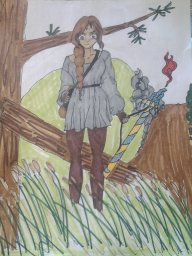 Authoress
Original poster
LURKER MEMBER
FOLKLORE MEMBER
Invitation Status
Posting Speed

Speed of Light
One post per day
One post per week
Slow As Molasses
Writing Levels

Intermediate
Adept
Advanced
Adaptable
Preferred Character Gender

Male
Female
Transgender
Primarily Prefer Female
Genres

Fantasy, Romance, A bit of horror, magical, and almost everything.



Everyone wants to be a hero.



It's a simple fact of life. Everyone wants to be the main character in their own story, the hero that saves the day and achieves their goals. As young children we dream that we can change the world, beat the bad guy, and save the damsel in distress.

Reality, however, is a cruel mistress.

You have never been the hero as you so dreamed. You've never accomplished your goals. However, all of that can change.

The world of Disney is in danger. Darkness clouds its optimism. The heroes you dreamed of being like are fading with each coming day.

Only you can change that.

Become a Guardian, and save Disney as you always dreamed.

~~~Tb Kbba Vlr~~~

Hello! This is a Disney Universe Rp!

​

You my fellow roleplayers play the poor suckers who are going to save the world of Disney from the evil darkness! This roleplay will start with all of you being dumped in some room, waking up from a sleep you don't remember falling into. Afterwards, we'll start our adventure! You all will be able to choose your weapons and can fight with them, but remember you all are just humans. I will play your guide to help you navigate the world of Disney!

We will visit whichever movies you guys want, however I may not get to all of them. We will eventually run into the big bad, so I will try and get as many movies in as I can. Though, some may have already been consumed by the darkness by the time we get there.

There will be combat in this story, just a bit of a warning. Some themes may start to delve into some dark stuff, so if you have some issues you need me to avoid, I will be happy to accommodate as much as I can!

Well, I guess that's all I really have to say here... I'll list the rules and the character sheets down below. See you there and I hope we all have fun with this!



~~~Axohkbpp Fp Zljfkd~~~

Alright those were a lot of rules...
Here's our lovely character sheet! Name:
Nick Name:
Age:
Appearance:
Personality:
Likes:
Dislikes:
Favorite Disney Movie:
Weapon:
Other:

And that's that! If you have any questions, please message me!

​




Please adhere to all site rules.

​

No Godmodding, Mary-suing, Gary-stuing, and perfect character creating.

​

All characters must be approved by me before you start doing anything rp related.

​

A maximum of 8 non-GM characters are allowed.

​

If you want or need to drop out, please send me a notice.

​

If you do not respond to the rp after 2 weeks, I am kicking you out and reopening the rp.

​

Respect your fellow roleplayers. We're all here to write and have fun so don't be a party pooper like that.

​

If you have an idea, please share it! I want this to be as much my rp as yours. I would love to hear any and all ideas you guys have. :)

​

Last but not least, HAVE FUN! This is for you guy's enjoyment!

​
Last edited by a moderator: