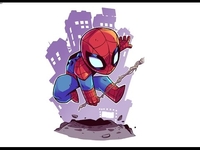 Aspiring Demonic Mafia Ninja Pirate Dragon God
Original poster
~~This as of now doesn't have a title. I'm open to suggestions~~
​
This RP will be set in the world of Demon Slayer albeit with a few changes. I absolutely intend to take creative liberties where I can to avoid being stale or having to follow the story elements beat for beat. It should be noted that I do not actually know much beyond the scope of the anime as I have not read the manga. I do not personally mind spoilers as I'll likely be looking things up as needed on average, but for now, there are a few things to note for this game.
The setting: This game will be set in modern times. Close enough anyway. I'm thinking sometime around the mid-2010s, likely around 2016, but I can be flexible on this. This gets us out of the Taisho period of Japan and gives a few more options for creativity when it comes to what we do and how we do it. The world will essentially take the stage of an AU and so some things may be changed at my and the potential Co-GM's discretion.

The weapons: Modern times always us a greater range of weaponry, items, medicines, etc. However, there are some things I'd like to steer clear of. First and foremost, UV lights and stuff I will say can help to weaken or ward off demons, but cannot kill them. I say this because while radiation and stuff from the sun is mimicked we cannot say for sure that this is what actually kills them. Guns will be extremely limited. Most bullets would serve as deterrents, but never actually kill them unless specially made either from the ore used to make Nichirin Blades or soaked in Wisteria poison. I'm not say no guns, but lower level things. Ideally, we'll try to stick to swords, daggers, and other melee weaponry. I'll be a bit more flexible on this.

Breath styles: You can utilize a Breath Styles from the anime, the manga, or create your own. Breath styles of your own creation will be a bit more scrutinized. You will be ask to draft at least a few specific moves.

Supernatural elements: The world of Demon Slayer is ripe with possibilities for supernatural elements. However, whether or not this extends to Breath styles, at least as of the anime, is a little shaky. It is often theorized that apart from enhancing the body, they don't do much more and most visual representations of abilities are just that, visual. However, for the course of this roleplay, I believe that they should be of mystical properties. I love the possibilities, but techniques that create water, fire, lightning, etc. will do as we expected, but doing so will take a lot of practice, skill, and be reserved for higher level techniques, if that makes sense.
For now, these are the key aspects of the RP that I planned on introducing and utilizing. Deeper story elements will be worked on, but I wanted to gauge interest, gather ideas, and try to write in a collaborative effort. I may need a Co-GM or two to help over the course of this game.

That said, it should be noted that this game will require communication and participation beyond the realm of Iwaku. We will utilize Discord more than the in-site OOC area, and are very likely to use google docs for collaboration as I've found this very useful when the GMs of another RP I'm in began to do so. If you are not comfortable with, or willing to use both of these mediums, I apologize but I think it'd be best if you do not join this game.

Additionally, 1 post will be required per week. This may be flexible so long as you communicate or let me and future Co-GMs know if you are unable to for whatever reason. You will not be questioned. However, if 2 weeks go by without a post or without hearing from you at all, you will receive a warning. 3 weeks will result in potentially being kicked from the game following the results of a vote by the Co-GMs and myself. This may seem harsh, but it is necessary to avoid a premature death to the roleplay. Note that I am very lenient. Potential Co-GMs may not be.

Please respond with interest and any questions you may have! Thanks for your time!
​