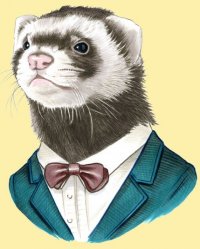 Ferret Dad
Original poster
FOLKLORE MEMBER
Invitation Status
Posting Speed

1-3 posts per week
One post per week
Slow As Molasses
Online Availability

Afternoons and evenings, some weekends.
Writing Levels

Intermediate
Adept
Advanced
Prestige
Douche
Adaptable
Preferred Character Gender

Male
Female
Primarily Prefer Male
Primarily Prefer Female
Genres

Fantasy, Science Fiction, Post Apocalypse, Horror, Romance, Survival...
This is one of the most common errors I've seen players make as a GM, across multiple forums and mediums. So let me teach to you the importance and nuances of actions, starting with the action-reaction wheel.

The Action-Reaction wheel is a fairly simple concept: Player A commits to an action. Player B reacts to that action and then proceeds with a new action as a response. Player A responds to the action with a reaction and responds with a new action. Repeat over and over into a cyclical motion: Like a wheel rolling out. Actions and reactions are vital to the progression of a story: Without actions and reactions, nothing physically happens in the story. In short, if a person posts without acting in the story, there is nothing to react to, and thus the post has no meaning. Enough of these back to back will make it more difficult for others to post in a coherent fashion, and then kill a role play with due haste.
​
Player A:
Samantha
travels down the road
and spots someone.
Waving
with a soft smile, she
quickly runs up to him
and introduces herself.
"Hiya, my name's Samantha! Most people just call me Sammy though. What's your name?"
Player B:
The gruff looking man in armour scratches his chin before thoughtfully responding with a weary voice.
"John. John Doe.
What do you want?"
He asks,
narrowing his eyes
.
Player A:
Samantha giggles and
looks over the shiny armour with slight amazement
in her eyes.
"I wanna know more about soldiers like you!"
She says with a squeak in her voice.
Pulling a small apple out of her coat pocket, she offers it to John. "Hungry?"
Player B:
John
smiles and shakes his head
,
motioning to a nearby tree on a hill
where they could sit together.
"I'm no soldier. I'm a mercenary."
He starts moving for the tree.
"I hunt demons for a living. Interested in knowing more?"
Action
Reaction
As you can see,
responding
to questions is a reaction to the action of the question, whereas asking a question is an action that asks for a reaction (response/answer) from another character. It's all about momentum, cyclical motion. Moving from one action to the reaction, to the next action as a result of the reaction. Once it gets going, it's pretty easy to stay in the flow for the rest of the scene.
Now that you understand what actions and reactions are and what they do, it's good to know the difference between a
passive
action and an
active
action. Passive actions ask for another character to act
upon
them, whereas an active action acts
upon
another and forces a reaction.
Note that passive and active actions are often important in the power games of dominants and the submissive as well. More quiet characters will tend to invite others to make inquiries, whereas more forceful characters tend to force responses out of others.
​
Example​
Player A:
"Hell yes I am!"
Samantha says with excitement as
she rolls an apple
in the palm of her hand. Unfortunately not as dexterous as she originally thought, the
apple slips from her hand and falls toward John
.
Player B:
John
catches the apple
, chuckles, and
tosses it back up to Samantha
.
Thumbing over a small cross around his neck
, he takes a deep breath and sighs.
Player A:
"Ah... Are you okay?"
Samantha inquires softly as
she catches the apple
,
before looking at the cross.
"What about that? What's the story behind that?"
Player B:
With a heavy look in his eyes
,
John's hand slips away from the cross
, allowing it to rest idly against the armour over his chest.
"My best friend wore it before he was killed by demons."
He glances up to Samantha.
"Are you aware of what a demon is?"
Reaction
Action
Action (Active)
Action (Passive)
​
As you can see, active actions
force
a reaction from another player, passive actions require another player directly investigate and inquire. Sometimes it's appropriate to force a reaction, such as in the event of a fight when you throw a punch, the other person is forced to react. Other times, you want to be subtle, such as a character examining a new scar in a mirror with others nearby and sighing in disappointment or beaming with pride. As a special note for passive actions, it's usually best to engage in an action-reaction wheel with someone
before
using them as they typically make for poor scene starters when there's usually a number of other, more pressing actions going on around said characters. As a special note for active actions, an active action is
not
an excuse to autohit and godmode!
"John swung at his opponent"
is still an active action, but frees up the opponent in question to respond their own way.
While actions and reactions are the most important part of a post, there are, of course, other tools you can use in a post. Usually for clarity. We're going to use one last example using a real post, and I'll go into detail about all of them.
---
So it was decided.
They had chosen to free the orc.

For what purpose, she had no idea, but she could only trust that they knew best—what was best for the mission, not for a single selkie. In a way, she was grateful that the decision had been taken out of her hands. Emotion should have no sway in the decisions that cost the lives of thousands.
And yet, that did not mean she had given up all hope Eüchia. With her cage remaining in the room, there was a slim chance she might find a way to free her.
Slipping through the crowd,
doing her best to not draw any undue attention
,
Aëyr made her way to the side of the room that bore Eüchia.
However, she gave extra caution to ensuring her shoal-sister would not be able to see her, blocked by the crowd
.
She couldn't afford to be distracted, nor discovered.
She finally took her position on the outskirts of the crowd, away from the dance floor.
She was still quite some distance from Deimos, making a throw difficult, but by placing herself at the edge of the crowd, she hoped to give herself a clear line of sight to the man—and a clear footpath towards him.
After all, she had two poisoned daggers.
---
Reaction:
Direct, physical acknowledgement of an action. Informs the other player that your character understood the action. These make the A/R cycle coherent by
directly
addressing an action before retorting to it with another action.
Action:
Directly acting upon the world. There should be at least one of these a post, though I've found it's healthier as a rule of thumb to have one per paragraph. As always though, it's up to the individual writer to decide when, where, and how often to use actions.
THESE ADVANCE THE PLOT
.
THESE ARE EVEN MORE IMPORTANT IN ROLE PLAYS THAN IN ANY OTHER STORY TELLING MEDIUM DUE TO PLAYER INTERACTION!
Action (Active):
An action which directly acts
upon
someone, forcing a reaction. ex: Throwing a punch at someone. Do not use to power play!
Action (Passive):
An action that subtly asks someone to investigate, asking someone to act upon this character. ex: Nervously glancing at a keepsake before a fight breaks out. Use to make subtle, visible character developments or display odd quirks!
Narrative Voice:
Third person storyteller, an actor that doesn't have any presence in the story. Used to convey storytelling tropes, to directly talk to the audience, to attempt to derive a specific emotion. Use sparingly, the narrator's voice can get pretty coarse if you use him instead of a character's perspective all the time. The narrative voice can sometimes be superfluous fluff if it doesn't actually set the tone or explain an action. Narrative voice is also used to give additional insights to a character's thought processes from a non-character point of view: "
Jeremy stood near the crowd,
in order to ensure he'd be close to the enemy
.
Little did he know that he stuck out like a sore thumb.
"
Inner Monologue:
A character's inner thoughts or beliefs, thought processes, planning or plotting, or otherwise a character's introspective mannerisms. This is most often mistaken for actions, when they aren't. All these do is give a reader a look inside a character's mind, which, while interesting and sensible, isn't particularly
useful
to any other characters around them, though
can
be useful to players in understanding the mindset of the character. I've found "advanced" posts tend to abuse this more than any other narrative tool, often to their own detriment. The main difference between inner monologue and narrative voice is that the inner monologue is tied directly to the character's point of view, whereas narrative voice is divourced from it. Therefore, IM is personal, NV is non-personal. The two can sometimes be hard to differentiate.
Both Inner Monologue and Narrative Voice can be Superfluous Fluff if abused too often!
The rule of thumb is if the inner monologue or narrative voice describe things that are not tied to an action, they're superfluous because they're not conveying useful information to another player! Flashbacks are a perfect example of non-useful fluff to another player.
Modifiers:
Statements that exist to modify the description of an action. Instead of just going "
sally walked to the store
", you get "
sally walked to the store
, quietly ensuring that she didn't get spotted doing so by her mother
, who she wanted to surprise with a gift.
" These are quite useful to ensure that the intent of an action is conveyed properly should you be uncertain that the action in and of itself is clearly understood.
Superfluous Fluff:
This content is wholly unnecessary and should be the first to go should you need to shorten a post. If you have entire paragraphs of fluff, you have a severe issue with pacing and it's hurting your writing, I guarantee it. If you want a good place to start, ensure you have at least one action per post that others can react towards.
NOT ALL SUPERFLUOUS CONTENT IS BAD!
Think of superfluous content like the spicing you put on a steak: You can easily overdo it, but a little spicing here and there just services to flavour the text from being a dry, monotonous series of actions into something with your personal, artistic touch.
In this post, Holmishire gives a clear process of actions indicating what the character is leading themselves up to: An assassination. It's paced effectively and gets its message across clearly, and leaves it open for a player or GM to interfere before they can execute on their next, planned actions, which they've inferred through narrative voice and inner monologue.
((
Post can be found here
, written by
@Holmishire
who is a player in one of my role plays. Hi Holmishire!))
If you have any further questions about posts, feel free to ask here. If you'd like me to write another guide about plots, characters, or other such content, feel free to make a request here.​