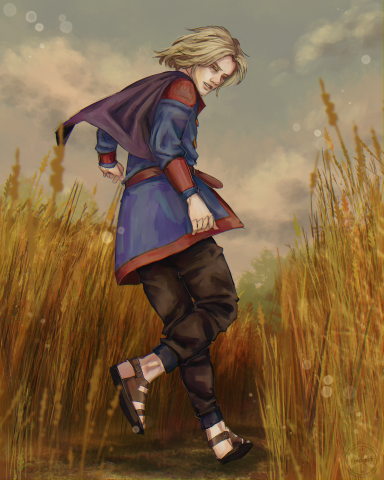 Love yourself to death
Original poster
FOLKLORE MEMBER
Posting Speed

1-3 posts per week
One post per week
Slow As Molasses
Writing Levels

Intermediate
Adept
Preferred Character Gender

Primarily Prefer Male
Genres

A little bit of everything so long as I can fit one of my existing characters into the RP
Check out this awesome copy and paste work of my crappy writing..BAM!
It had been years since the humans came to our planet. They were professionals in the art of combat, yet only three survived. Sent here on a mission from Earth's leaders they were ordered to scout the planet, to see if it was habitable for humankind. The one thing they did not know was that the planet had evolved to prevent what had happened to it billions of years ago. The planet was once inhabited by man. The same thing that is happening on Earth now, had once happened here. The humans polluted the air and water, tore up the forests; they destroyed the land for their own selfish needs. The planet fought back and soon mankind had disappeared. Then, mankind came again.
The defences the planet created wiped man out one by one. The soldiers did not realize the planet was fighting against them and that it did not want them there. Soon after the ninth soldier died they decided to leave. The survivors decided that it was not worth staying any longer, or maybe they decided it was not what they were looking for. I do not know the answer to that. What I do know is that they are back. The one I saved, and who later repaid the favor, is with them. This time they came with a special request. These humans, these hairless creatures that need to use technology to survive, want to do what no other creature has succeeded at.
They want to travel through hell and visit the other side of the planet..
..and they do not want to go alone.
Name: Reikon
Species: Wolf hybrid (wolf with scale designs). He is also known as a Pure. This means he is only one type of wolf, not mixed like most of the others.
Eyes: Brown
Fur Color: White
Scales: Yellow/Gold
Personality:
History:
No Picture Availabe (See bottom of post for what to do)
Name: Taipan
Species: Cat hybrid (cat mixed with snake)
Eyes:
Fur Color:
Scales:
Personality:
History:
Some soldier that I need a name for
No Picture? Here is what to do (since I am too broke to commission right now. *hides in corner*)