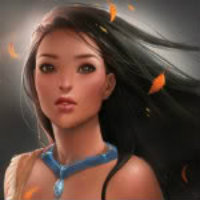 Daughter of the Villiage Chief
Original poster
Hello there! Thanks for looking at my thread! I usually find it easier to get straight to the point so I'll go ahead and do just that.
I am only involved in one roleplay right now, and though I am quite immersed in that one I've been wondering if I could swing one or two more. So we'll try and see how it goes! Below are two old ideas that I've never gotten to do longterm and one is a new one that came to me recently. All three have the potential to be platonic, romantic, or mature. Just let me know what you're up for.
I myself would like to say I'm a flexible roleplayer and fun (or at least decent) to talk to outside of roleplaying (if that's something you want to do - I won't force you, lol). Within the rp I accomodate kinks and interests if I can, and try to make the experience engaging for us both. My only "requirements" are that you use decent grammar and provide at least one paragraph each post. If you are wanting to rp FxF (with any three of these): I don't have much experience with that pairing but I'll give it a shot!
And, finally, without further ado I give you my roleplay ideas! If you find one that catches your eye give me a shout! I'm looking forward to meeting and/or roleplaying with you!
It was another night she had to get away. Run, run... Those were the only words that her brain could process. She'd been running for what felt like a mile; her legs were tired, threatening to give out any second like her lungs. And just when she thought there was no chance of escaping, she saw an alley to her left, just a few more strides ahead.

BEEEP

The girl heard the screeching horn of her father's car not too far behind, the sound piercing her ears and motivating her to run faster. Just a few steps more. Oh God-

"Mph!" Suddenly, she rebounded backward to the hard cement sidewalk after running into what felt like a wall.

"Oh!" A masculine voice said with concern, eyeing the girl he'd just ran into by accident. He extended a hand to offer assistance up, however it seemed the girl could handle herself and got up in a hurry. "I'm sorry miss, are you-"

"Shh!" The girl hushed the man sharply while pulling him into the alley beside them. Then they both stood against the brick wall, their backs glued as the wide eyed girl held her heavy breath. "Stay quiet."

A dark car drove down the hill at a slow, steady speed. The driver's window was rolled down, giving the driver a good view to find his daughter. "Oh Jaaane!" An amused male voice called out tauntingly. This was a game for him, like hide and seek. Luckily the dark night sky made her silhouette almost invisible in the alley, which possessed even less moonlight.

"III'm gonna getcha!" He laughed almost maniacally before finally passing the alley after what felt like eternity.

Just as the vehicle was out of sight, the girl, now identified as Jane, let out a loud exhale that she'd been holding the whole time, almost gasping for breath as she slid to the ground, heaving for air. She felt she was on the brink of crying, but didn't want to break down in front of this stranger she accidentally pulled into hiding. With her knees up by her chest she kept her head low as she tried to catch her breath.
If there was one word to describe this night, it'd be... arbitrary. Loud. Bright. Blurry. And if describing Abby it'd be wasted or remorseful, angry. She used to be a poster child for the perfect kid. Driven, passionate, caring, and all that other bullshit, as she'd say now. Where'd she go wrong? After making new "delinquent" friends in her early teen years she was now a spawn of the devil? Sure they influenced her negatively, but what teenagers didn't drink, experiment with drugs, steal, and other things? It wasn't like she was doing stuff other people weren't.

Still, her new persona strained her relationship with her parents. Abby's actions were dividing them into two sides; her mom wanted to help her daughter and steer her back into the right direction. But her father, he knew there was no stopping her. Abby, she began to resent both of them. She would sneak out the house just to get away from their presence. Like tonight, she and her mother got into a big argument, and Abby just left. Her father was out, and she didn't even think he'd be back tonight anyway.

And so here she was, aged eighteen with a fake ID, at a club a few houses down from one of her friends' house, with her criminal group of friends. Though... she wasn't sure where they were now. They were all at the bar with her, ushering her drinks to clear her mind. And then they were gone... Weren't they? Already too drunk to stably stand, she bumped her way through the sweaty, dancing crowd, looking for her friends. Thinking maybe they were in the back alley, she went to the back of the club.

After opening the door and walking out into the cool air she tripped and stumbled down the few stairs, falling into someone's arms which caused her drink to fly from her hands and shatter on the ground. Little did she know she just fell into the arms of the first person to maybe get through to her and help her get her life back on track. "Ssor...ry..." She slurred with her cheek pressed against the stranger's body.
As you can probably tell by the lack of prompt, this is the new one.

I was thinking that my character somehow loses her parents/family in some sort of event, then is taken in by your character. This is very vague and can be anything I suppose.

Maybe my character loses her family in a car accident and is taken in by your character who is the paramedic who saved her. Maybe your character is son of a family who is looking to foster and my character falls in love with yours. Perhaps it upsets the rest of the family. I don't know, the possibilities are almost endless, lol.
Last edited: