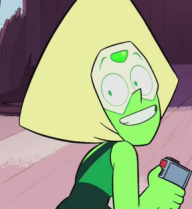 (゜▼゜*)
Original poster
FOLKLORE MEMBER
Invitation Status
Posting Speed

Multiple posts per day
1-3 posts per day
Writing Levels

Give-No-Fucks
Beginner
Elementary
Intermediate
Genres

Gijinkas, Modern, Magical, Romance, Slice of Life... I'm pretty cool with most all genres except the few that I'm not too fond of.
It's been thousands of years since the war for Earth. A pointless endeavor that ended with Homeworld losing and wasting valuable resources on a chunk of rock they decided the traitors could just keep since they fought so hard for those creatures, humans, that barely lasted a century, and that was when their fragile hides weren't damaged.

Blue Sandstone in particular wished she'd never partook in it. She thought it was such an honor at the time, to be chosen to lead gems into battle for her previous successes in leading voyages to the stars. She spent so much time leading gem after gem armies. Coming back with barely less than half was considered a good day on the battlefield. Those Crystal Gems could have their Earth. They could have their humans. Fine. But they could never bring back the gems who were sacrificed for those short-lasting creatures and their vapid 'home'.

She navigated through the vast expansion of space with her small ship, provided for a very simple mission: check on Earth. While being high-rank, Blue Sandstone knew she was never in any position to negotiate, so she did as she was told, even if the planet brought back... less than savory memories. She could see the blue and green planet coming up. She could recall nights spent stuck there, wishing she was free in space instead of planted on the battlefield. She still enjoyed going through space, but something was missing. The carefree nature of her 'youth', so to speak, was eroded in the war. So be it. It gave her a better work ethic.

She carefully landed the ship on the specific location, near where there should have been a kindergarten that was active during the war. She stepped out of the automatic doors, and already she felt like she was trapped. She couldn't get this over with soon enough.
Last edited: