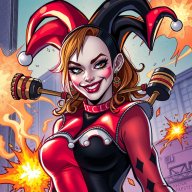 Edgepeasant
Original poster
Welcome!

Hellp everyone I'm Forevveru or Evv. As you can probably tell, I am new here but not new to roleplaying. I've roleplayed for over five years and thought I'd try out some new sites. So here I am!

Rules;
Follow all site rules
I do prefer playing female but I'm willing to double.
I've only ever played straight pairings but if we double I could try a slash rp.
Romance in a roleplay is a must! It doesn't have to be the certain of a roleplay but I just prefer to have it in my rps. Now that's not to say I won't add other stuff because I love things like drama and conflict!
I do prefer canon x oc, but again I'll possibly do canon x canon or oc x oc in the event of doubling.
I prefer forum rps but I may try a private message one. I also am open to email as well.

Fandoms
I'm going to put a * beside the pairings that I want to play the oc in

The Originals (Craving!)/Vampire Diaries
Klaus x oc*
Kol x oc*
Elijah x oc
Damon x oc
Stefan x oc

WWE
Dean Ambrose x oc*

Walking Dead
Daryl x oc*

The 100
Bellamy x oc*

Twilight
Alec x oc*
Emmett x oc*
Jasper x oc

Avengers
Thor x oc*
Iron Man x oc*

Game of Thrones
Robb Stark x oc*
Jon Snow x oc

Cirque Du Freak
Vancha x oc*

Original Pairings

Demon x witch
Vampire x human
Vampire x witch
Master x slave
King/prince x princess
Lord x lady
Knight x princess
Suggest!
Last edited: